Sports
Grip on Sports: In a world that is constantly changing, Gonzaga has been remarkably consistent against UW
Wed., Dec. 5, 2018, 8:30 a.m. A GRIP ON SPORTS • There is one constant in life – and in college basketball. That constant is there is no constant. Everything changes. Heck, there was a time when Gonzaga playing Washington in hoops was a chance for the Zags to earn a resume-building upset. Read on.
••••••••••
• The wheel has turned. Tonight in McCarthey, top-ranked Gonzaga will try to avoid the classic trap. A home game against a foe it has dominated recently sandwiched between two higher-profile road games.
(OK, Tennessee isn't really a "road" game, but playing the Volunteers on Sunday in Phoenix certainly isn't a home game. And, considering both teams are in the top seven nationally, it's a pretty big deal.)
The Huskies have certainly improved in the last two seasons under coach Mike Hopkins. But that's relative. Washington had fallen so far, so fast in the final years of longtime coach Lorenzo Romar even a few wins would have been an improvement.
There were more than that last season. And though this one hasn't started as well as UW fans would have like (though the football team's success – look, the Rose Bowl! – has served to distract most of them), tonight is a chance to make a mark that may reverberate in March.
The Huskies had that chance early, playing at then-No. 11 Auburn a month ago. That didn't work. The Tigers rolled, 88-66.
Since then UW has defeated two WCC schools – USD and Santa Clara – and faced one opponent Gonzaga played: Texas A&M. The Bulldogs routed the Aggies 94-71 in McCarthey while UW edged them 71-67 up the road in Vancouver.
This is the Huskies penultimate chance to make a statement – UW faces Virginia Tech in couple weeks – before Pac-12 play, and its resume-killing opponents, begins.
• Speaking of change, you want to know where the balance of power in Pac-12 football lies these days?
All you need to know is USC, the school synonymous with the conference's success the past 7,492 years, placed exactly, let's check again, oh yeah, zero players on the all-conference first teams. None. Nada.
The offensive player of the year? That would be Washington State's Gardner Minshew. The defensive player of the year? Yep, Washington's Ben Burr-Kirven. The freshman of the year? Oregon State's Jermar Jefferson. And the coach of the year is Mike Leach.
In other words, most of the major players in the conference this season resided in the Northwest.
As far from the capital of college football these days – in location and in national attention – as you can get without leaving the continental United States.
Do you think if all those players wore USC uniforms, the conference's national profile would be in the dumpster, even if the Trojans were no better than, say, Washington State? I would posit if USC was 10-2 and had Minshew as its star, the Trojans would be Fiesta or Sugar Bowl bound. And the Pac-12 would have been in the national championship picture until the last minute.
•••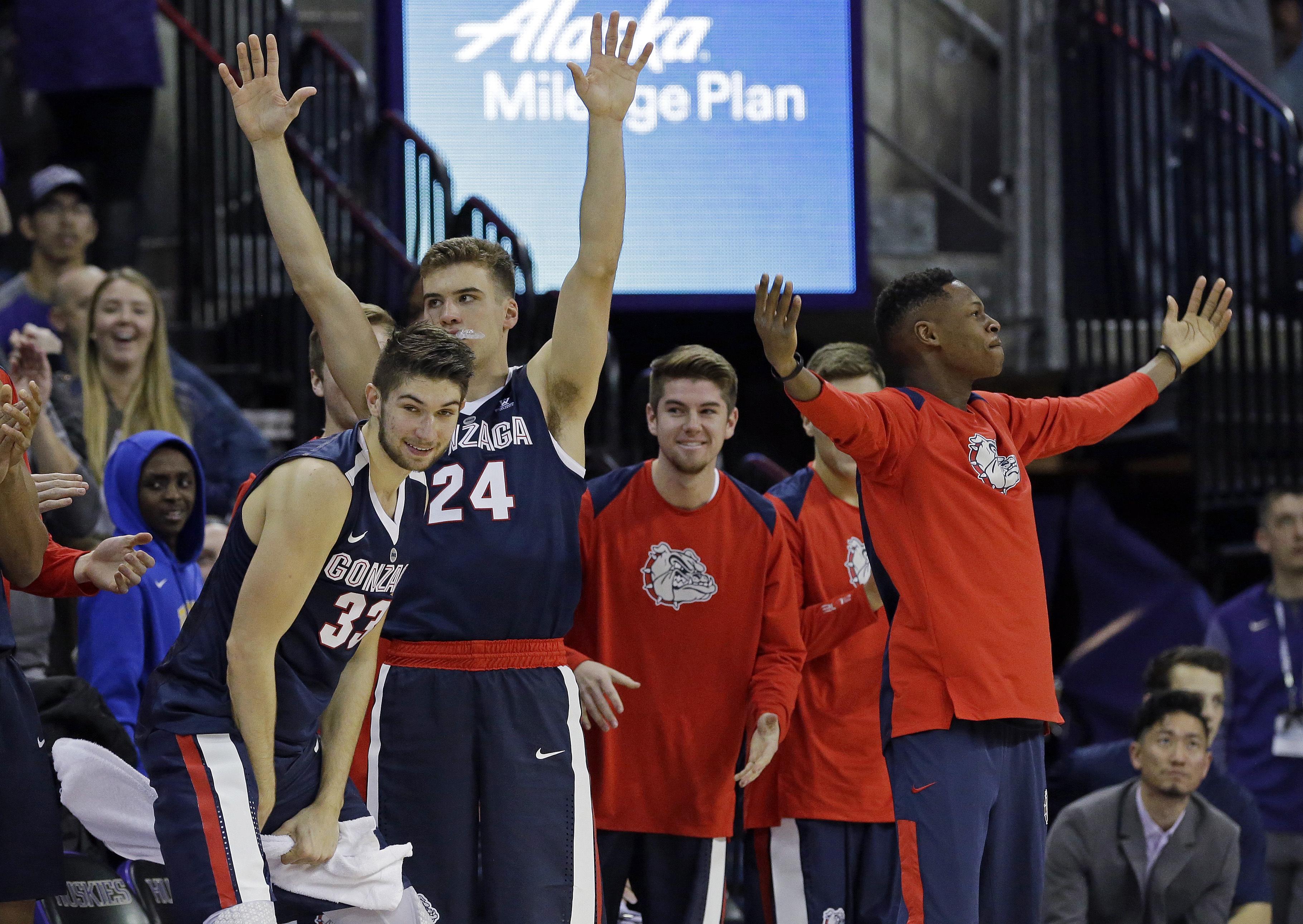 Gonzaga: Tonight's late matchup – it tips at 8 – will be broadcast by ESPN. And Bill Walton will be in the house. It will be interesting to see what he thinks of the cold weather in Spokane this week, the Kennel Club and Bing Crosby's legacy. Maybe not in that order. And I would bet the house he will tell us. … Jim Meehan has his preview of the contest as well as the key matchup. … Jim also spoke with Larry Weir yesterday for the Press Box pod. … Washington knows it will have to play its best to win tonight. … Around the WCC, there are two other interesting games tonight, with USD taking on in-city rival San Diego State and BYU welcoming back Nick Emery, back from his NCAA punishment. The Cougars, who have lost their last three, host Utah State. … Saint Mary's earned another home win last night.
WSU: It is the season of awards, so Theo Lawson covers all the hardware the Cougars picked up yesterday. Washington State had a dozen players make one of the All-Pac-12 teams besides Minshew and Leach picking up the big awards. … Next year's football schedules were announced yesterday as well – Honestly, is the conference silly or what? Why not wait a day so both the all-conference teams and next year's schedule have their own news cycles? – with WSU playing just six home games. The Cougars and most everyone else, have two byes next season. … There is basketball tonight, with WSU hosting its longest-running rivalry game: The Battle of the Palouse with Idaho. It's been played more than 100 times. Theo has a preview.
Elsewhere in the Pac-12, so the two big news releases yesterday – no seriously, why do them both on the same day? – concerned the all-conference football honors and next year's schedules. They dominate the news from Washington to Oregon State, from Oregon to Stanford and beyond. … The biggest news in Los Angeles is USC about to bring aboard former Texas Tech coach – and Leach disciple – Kliff Kingsbury as offensive coordinator. And coach in waiting? … Colorado seems to have zeroed in on its next coach. … Urban Meyer is "retiring" after the Rose Bowl. He was pretty sure he wouldn't last that long back when he coached at Utah. … Yes, it is time for an eight-team playoff. … In basketball, Colorado picked up a win over South Dakota.
EWU: The Eagles' offense has always been known for its ability to light up the scoreboard. But this season, the defense has tried to keep up, and it has been defensive scores that have turned games Eastern's way. Ryan Collingwood looks at that phenomenon in this notebook.
Chiefs: Spokane has a couple of players headed to national camps and a roster still in flux.
Preps: Tuesday nights are basketball nights around these parts and last night was no different. Dave Nichols was at Gonzaga Prep's GSL season-opening win over Mt. Spokane. He has the game story, which focuses on Anton Watson's 36-point performance. … There is also a GSL girls roundup and roundups from boys and girls play throughout the region.
Seahawks: Is it really true? Did Russell Wilson do something that shows he's not perfect? No way. He is almost perfect, right?
Hockey: The NHL is coming to Seattle. To a remodeled Key Arena, precisely. It will be a few years, but the league is expanding to the Northwest. It seems a big deal to my hockey-loving friends. Now if only we could get a major league baseball team back.
•••
• You done with your Christmas shopping yet? Me neither. You started your Christmas shopping yet? Well, that I have done. Until later …
Subscribe to the sports newsletter
Get the day's top sports headlines and breaking news delivered to your inbox by subscribing here.
You have been successfully subscribed!
There was a problem subscribing you to the newsletter. Double check your email and try again, or email
webteam@spokesman.com
---