Sports > Gonzaga basketball
TV Take: Gonzaga gives ESPN's Bill Walton a warm welcome to the Kennel with last-second win over Washington
Dec. 5, 2018 Updated Wed., Dec. 5, 2018 at 11:43 p.m.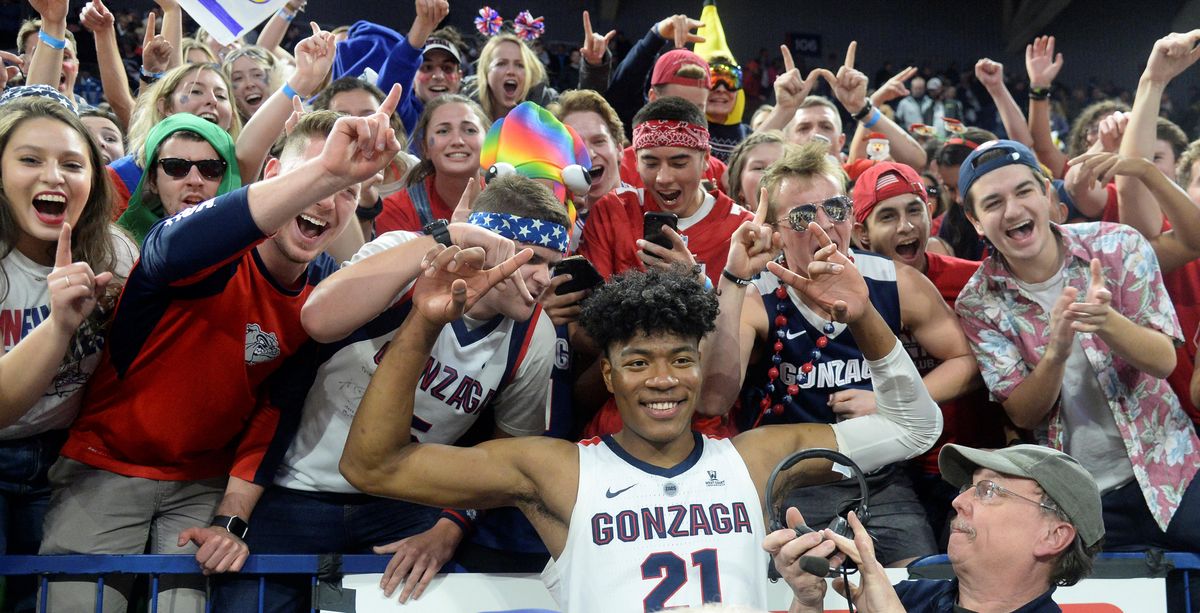 Gonzaga's Rui Hachimura poses for a photo with fans after Gonzaga's 81-79 win over Washington on Wednesday, Dec. 5, 2018, at the McCarthey Athletic Center in Spokane. (Dan Pelle / The Spokesman-Review)
When Bill Walton is the analyst on your local college basketball game, you're treated to many different experiences.
There is the travelogue, as he tries to spread his joy with wherever he is. There is the marriage counseling, as he and whoever is paired with him bicker over just about everything. And, finally, there is the game.
All were on display Wednesday night as Gonzaga survived Washington's upset bid 81-79 in Walton's first visit to the Kennel. And you can thank Rui Hachimura for the outcome, as the final two of his 26 points came with less than a second left and broke the Huskies' hearts.
"And the No. 1 team in the country, Gonzaga, stays undefeated thanks to Rui Hachimura," ESPN2 play-by-play voice Dave Pasch said as the Huskies' last-ditch effort from half-court fell short.
What they saw …
• The atmosphere in the McCarthey Athletic Center seemed to trigger a Walton flashback.
"This is like being in the front row of a Grateful Dead concert," he said while standing in front of the Kennel Club, one of whom was carrying a back-to-his-Trail-Blazer-days Walton big head.
"This crowd, my goodness," Walton said later. "This is incredible. This is really, really cool."
The game itself, however, wasn't. At least not for Gonzaga fans. Throughout the first half, as Pasch continually pointed out how poorly every Zag except Hachimura was playing, Walton kept pointing out that Gonzaga was winning.
That lasted for less than four minutes of the second half.
• Then Walton turned on Gonzaga, at least for a while.
After Washington tied the game at 42, the Zags were unable to get the ball inbounds. They called timeout.
"How can you expect to win if you can't even get the ball inbounds?" Walton asked. "Please. That's just completely unacceptable. To burn a timeout to save possession."
"Or good defense by Washington," Pasch said, adding a bit of perspective to Walton's lack of the same.
"They seemed to put it on cruise control," Walton said of the early second-half Zags, who were outscored by 13 after building a 10-point halftime lead. "Gonzaga has stopped playing here."
• The rest of the game was back-and-forth, the Zags finally building an eight-point lead with 2 minutes left.
"That's where the foul trouble comes into play for Mike Hopkins' team," Walton said after Brandon Clarke's putback gave them that lead, not mentioning the Zags were also dealing with the same problem. The Huskies had two players, including Noah Dickerson, foul out while Gonzaga lost Zach Norvell and had Clarke finish with four.
Gonzaga didn't score after Clarke's follow until Hachimura's final shot.
Neither Clarke, Josh Perkins nor Norvell played all that well. Combined, the trio was 10-of-28 shooting from the floor. It was something Pasch caught early and Walton finally came to acknowledge down the stretch.
What we saw …
• How did the Huskies rally and take the top-ranked Zags to the buzzer?
"They went away from Rui," Walton said of the difference between the halves.
Hachimura finished with 26 points, but hadn't really been a factor after halftime.
"Every time they kept going to him, Gonzaga was in control," Walton said and he was right.
• He was also right early on, when he spoke about Killian Tillie and his stress fracture, which has sidelined the junior big man all season.
Pasch mentioned the Gonzaga doctors expected Tillie back around the first of the year, and Walton urged caution.
He knows what he's talking about.
Walton's professional career was derailed by a series of fractures in his feet that never fully healed. They took what may have been a Hall of Fame career and shortened it into the subject of more than a few books critical of the NBA.
"Don't rush back, Killian," Walton said at one point and, for once, he didn't sound as if he was playing a role. It was a statement of support built on experience.
• If the game wasn't your biggest concern, then you probably enjoyed big Bill's tour of Spokane's Riverfront Park with Spike, the Gonzaga mascot. There was the obligatory gondola ride, the trip around the Looff Carrousel and the slide down the big red wagon.
It was Walton at his finest, with his tie-dyed shirt and his perpetual smile.
Pasch did have a question after the video of the slide: He wanted to know if Walton's doctors had approved of that activity.
Something tells us it wouldn't have mattered.
Local journalism is essential.
Give directly to The Spokesman-Review's Northwest Passages community forums series -- which helps to offset the costs of several reporter and editor positions at the newspaper -- by using the easy options below. Gifts processed in this system are not tax deductible, but are predominately used to help meet the local financial requirements needed to receive national matching-grant funds.
Follow along with the Zags
Subscribe to our Gonzaga Basketball newsletter to stay up with the latest news.
---