Sports > EWU football
Round 2: Big Sky foes Eastern Washington and UC Davis meet again for a trip to the FCS semifinals
Dec. 7, 2018 Updated Fri., Dec. 7, 2018 at 10:22 p.m.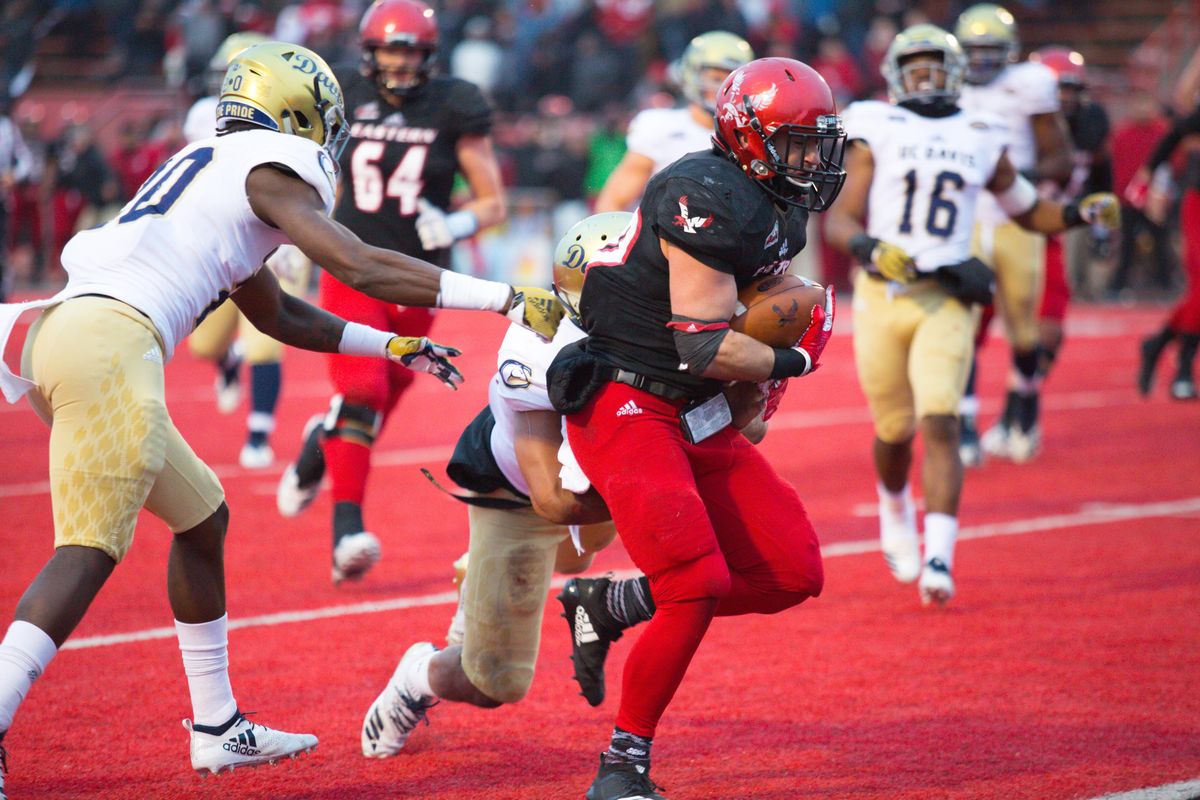 Eastern Washington's Sam McPherson scores on a 12-yard touchdown run during a game against UC Davis at Roos Field in Cheney on Nov. 10. (Libby Kamrowski / The Spokesman-Review)Buy a print of this photo
Moments after UC Davis quarterback Jake Maier had one of the worst performances of his college career last month in a 59-20 thumping at Eastern Washington, he made a premonition of sorts.
"We'll see you in the playoffs," Maier said during postgame handshakes as the late-afternoon skies turned dark at Roos Field.
Third-seeded EWU (10-2) welcomes the rematch with sixth-seeded UC Davis (10-2) in an FCS quarterfinal Saturday at Roos Field.
The Eagles, who split the Big Sky Conference title with the Aggies and Weber State, forced five turnovers and racked up 669 yards of total offense in the Nov. 10 rout.
Maier, a Walter Payton Award candidate who'd thrown just four interceptions going into that game, was picked off twice and held to a meager 195 yards through the air, well below his average (326 yards).
Now the stakes are higher.
EWU looks to advance to its fifth national semifinal in nine seasons after handling Nicholls State 42-21 in Cheney last week.
UC Davis hopes to advance to its first semifinal in program history. When the Aggies edged Northern Iowa 23-16 in Davis last week, it was the program's first Division I postseason win.
Hosting rights are also at stake for the winner.
With Maine's upset of Weber State on Friday, the seventh-seeded Black Bears will have to travel to either Cheney or Davis, California, for a semifinal game.
EWU head coach Aaron Best was quick to remind reporters Tuesday of the 10-0 first-quarter deficit his team was in before it shifted gears.
"(The rematch) won't be as easy," said Best, who split Big Sky Conference Coach of the Year honors with UC Davis' Dan Hawkins. "They have one of the best quarterbacks (Maier) and receivers (Keelan Doss) in the land, so they'll be ready. They'll probably throw a few more things at us."
EWU safety Dehonta Hayes agreed.
"It's nice to know we've already played them before and know some of the things that they're doing," Hayes said. "But at the same time, but at any time they can change what they're doing, and show us a bunch of other stuff."
Doss, an NFL prospect who led the FCS in receiving in 2017, was held to five catches for 70 yards the first meeting.
EWU cornerback Josh Lewis said limiting the duo was key. Doing again will also be a chore, he said.
"We held their explosives, especially in their passing game, which is where they take a lot of pride," Lewis said. "They like getting the ball to Doss, and they'll be stressing that even more in the playoffs."
The encore will again pit two of the country's top offenses, but it was EWU's defense that turned the tide in the November matchup.
When EWU corner Nzuzi Webster turned Maier's early third-quarter pass into a 45-yard interception return and touchdown, the Eagles went on to give up just three points in the second half.
EWU, which allowed 16.9 points in conference play and 21.2 overall, ranks 18th in scoring defense, 16th in forced turnovers (25) and first in defensive touchdowns (six).
Running backs Antoine Custer, Sam McPherson and Tamarick Pierce all ran for two touchdowns against the Aggies, whose only FCS loss this season was to EWU.
"You look statistically at everything, offense and defense, they're a good football team," Hawkins said about EWU, which has never lost to UC Davis.
Doss said his rematch isn't about revenge.
"If we play the revenge factor, it'll get us off our game," Doss told the Sacramento Bee this week. "We just play."
Local journalism is essential.
Give directly to The Spokesman-Review's Northwest Passages community forums series -- which helps to offset the costs of several reporter and editor positions at the newspaper -- by using the easy options below. Gifts processed in this system are not tax deductible, but are predominately used to help meet the local financial requirements needed to receive national matching-grant funds.
Subscribe to the sports newsletter
Get the day's top sports headlines and breaking news delivered to your inbox by subscribing here.
---