Sports > Gonzaga basketball
Rui Hachimura, Gonzaga wings will have their hands full slowing Tennessee, North Carolina standouts
UPDATED: Fri., Dec. 7, 2018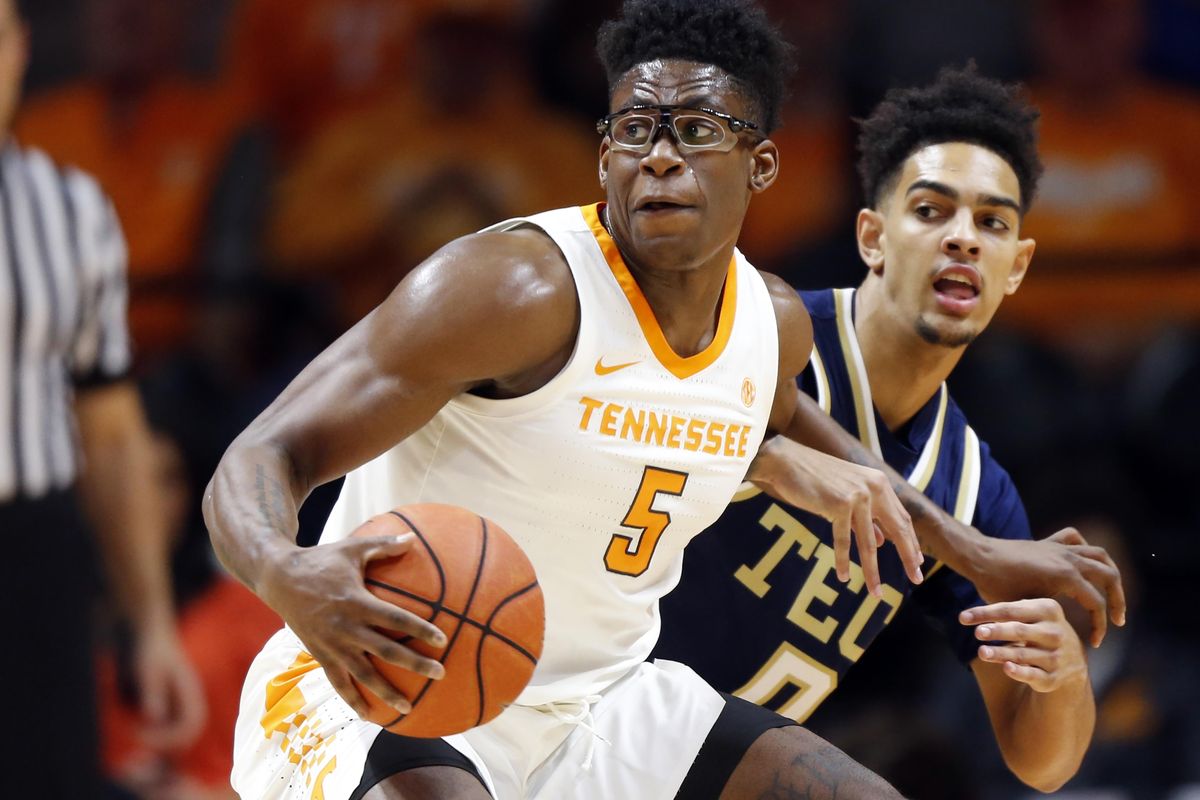 Tennessee guard Admiral Schofield works against Georgia Tech guard Michael Devoe during a November game. (WADE PAYNE / AP)
Gonzaga is down to two prime matchups left on its arduous nonconference schedule.
Both could double as Elite Eight or Final Four contests as the top-ranked Zags tangle with No. 7 Tennessee on Sunday in Phoenix and No. 14 North Carolina on Dec. 15 in Chapel Hill.
You might recall we speculated on Gonzaga's potential individual matchups prior to the Maui Invitational and, thankfully for college basketball fans, they unfolded as the Zags defeated Arizona and former No. 1 Duke en route to the title.
No speculation needed this time. These are the must-see matchups coming up for the Zags.
Tennessee's Grant Williams vs. Rui Hachimura
Williams, the reigning SEC player of the year, is a handful at 6-foot-7, 236 pounds. He's a three-year starter who can score in a variety of ways. He hits just enough 3-pointers (five) to make defenders honor his perimeter shot, but does the majority of his best work posting up anywhere from 15 feet to the low block. Sound familiar? Hachimura has a similar approach.
Williams averages 20.4 points, 8.9 rebounds and an impressive 4.3 assists. He was Tennessee's primary option down the stretch against Kansas, and he usually delivered, taking bigger defenders inside for baskets and once dishing when double-teamed to Admiral Schofield for an open 3-pointer. Williams can create his own shot and he's a willing passer.
Tennessee's Admiral Schofield vs. Corey Kispert/Zach Norvell Jr.
It'll be interesting to see how GU defends Schofield, who presents matchup issues with his 6-6, 241-pound frame. Schofield used his strength to bully smaller Kansas defenders en route to 21 points. Two nights before against Louisville, Schofield made four 3-pointers and scored 20 points.
Corey Kispert, 6-6 and 215, probably has the strength to defend Schofield, particularly if Hachimura is busy guarding Williams. Norvell would be giving away roughly 35 pounds but probably will see time on Schofield with reserve Jeremy Jones another option.
Schofield averages 16.1 points, 6 rebounds and 3.4 assists. Williams and Schofield rank second and third on the team in assists, respectively.
North Carolina's Luke Maye vs. Hachimura
Hachimura has had several intriguing matchups this season, including Duke's Zion Williamson. This could be another one involving two preseason All-America candidates.
Maye, a 6-8, 240-pound senior, is a crafty scorer who frequently steps outside to take 3-pointers. His numbers are down – 13.7 points on 43.4-percent shooting – but he remains an elite rebounder (9.3). He recently had a three-game stretch against Texas, UCLA and Michigan connecting on just 13 of 37 shots.
Maye's effectiveness has diminished, with his 3-point percentage plummeting to 31 percent after two seasons at 40 percent or higher. He averaged 16.9 points last season.
North Carolina's Nassir Little vs. Norvell/Kispert
It's been an interesting start to the season for Little. The MVP of last year's McDonald's All-American game is coming off UNC's bench, which isn't all that unusual during coach Roy Williams' tenure. Little is projected third overall in ESPN.com's latest mock draft, surrounded by Duke players at one, two and four.
NBA scouts are well aware of the 6-6, 215-pound Little's explosive athleticism. The true freshman has been a solid scorer in limited time (12.0 points, 19.7 minutes per game) but hasn't consistently knocked down perimeter shots. He's nearly 62 percent on attempts inside the arc, but he's made just two of his last 14 3-pointers. He's a strong offensive rebounder, draws fouls and finishes in the lane, particularly in transition.
It's difficult to predict how the Zags will defend Little. Some of it probably depends on the rest of UNC's lineup at the time. The Tar Heels start Maye, 6-9 forward Garrison Brooks and 6-9 guard Cameron Johnson, but there's an option to go small, too. Kispert is almost exactly the same size at Little and Norvell is just an inch shorter and 10 pounds lighter.
It would be another high-profile matchup for Norvell, who spent time on Duke's RJ Barrett in Maui.
Local journalism is essential.
Give directly to The Spokesman-Review's Northwest Passages community forums series -- which helps to offset the costs of several reporter and editor positions at the newspaper -- by using the easy options below. Gifts processed in this system are not tax deductible, but are predominately used to help meet the local financial requirements needed to receive national matching-grant funds.
Follow along with the Zags
Subscribe to our Gonzaga Basketball newsletter to stay up with the latest news.
---