Sports > Gonzaga basketball
Analysis: Admiral Schofield helps Tennessee sink No. 1 Gonzaga with clutch baskets
Dec. 9, 2018 Updated Sun., Dec. 9, 2018 at 6:15 p.m.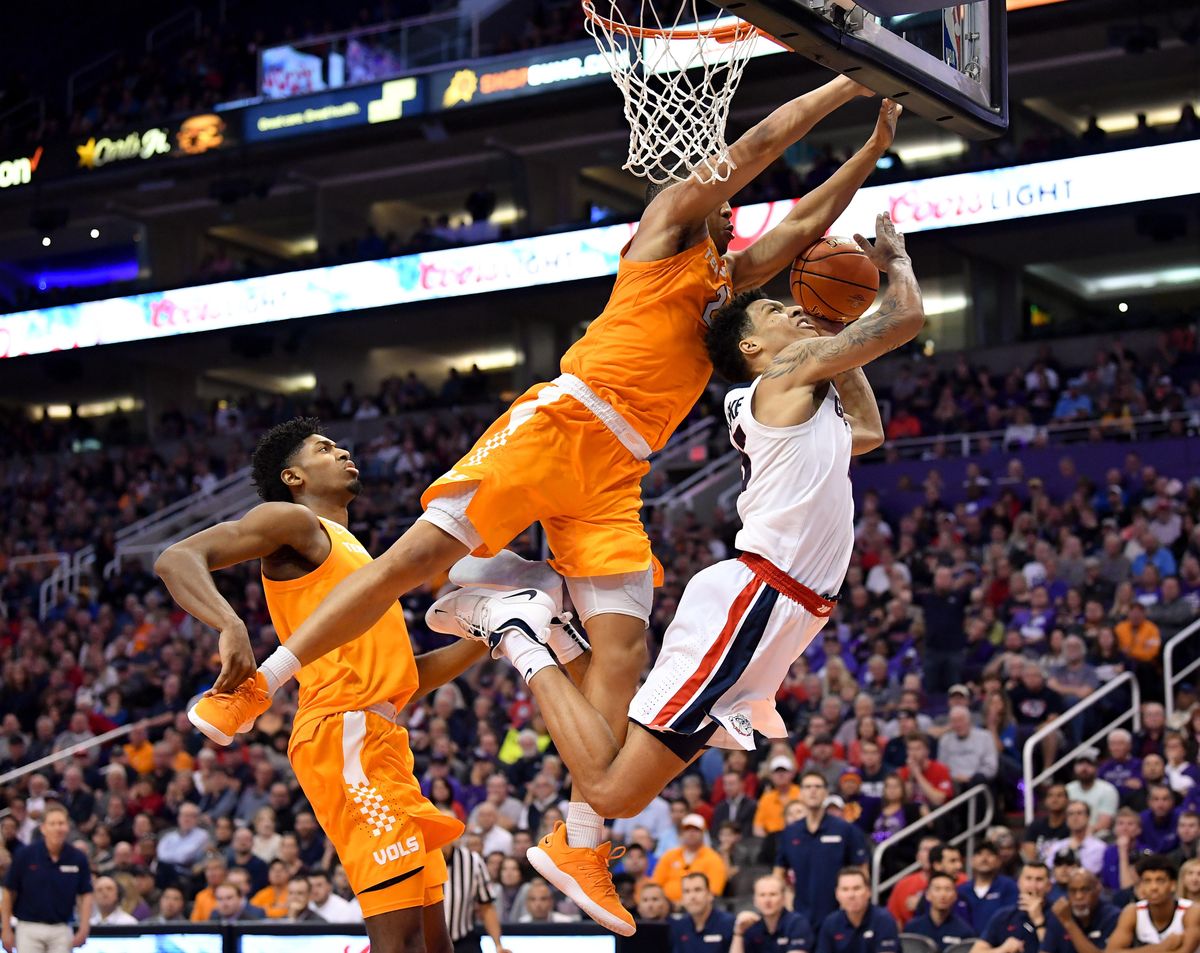 Gonzaga Bulldogs forward Brandon Clarke (15) is fouled by Tennessee Volunteers forward Grant Williams (2) during the second half of a college basketball game on Sunday, December 9, 2018, at Talking Stick Resort Arena in Phoenix, Ariz. Tennessee Volunteers won the game 76-73. (Tyler Tjomsland / The Spokesman-Review)
PHOENIX – It was all lining up for the Zags.
Brandon Clarke was enjoying a big afternoon in his return to his hometown. Zach Norvell Jr. was doing Norvell things, heating up in the second half as Gonzaga's lead reached nine.
Tennessee's Grant Williams, the 2018 SEC player of the year, was on the bench after fouling out with 2:30 remaining.
But the top-ranked Zags, as they've done in several games in recent weeks, couldn't protect a late lead. Worse, they lost track of Admiral Schofield, who carried Tennessee's offense throughout the second half on his broad shoulders.
Schofield's banked 3-pointer gave the Volunteers the lead and his pure 3-pointer on a GU defensive mistake with 22 seconds remaining spurred No. 7 Tennessee's 76-73 upset victory Sunday in the Jerry Colangelo Classic at Talking Stick Resort Arena.
There was no mystery where the ball was going on most of the Volunteers' possessions. Schofield scored his team's last 11 points and he had a 12-point run earlier in the half that kept Tennessee (7-1) within striking distance.
Gonzaga (9-1) couldn't find anybody to stop Schofield. The Zags tried a zone defense, but had to abandon it when Schofield and the Vols, not known for their 3-point prowess, started connecting from distance. They tried Norvell, Corey Kispert and finally Rui Hachimura. None of it slowed Schofield en route to his career high.
Hachimura tied it at 73 with two free throws with 45.8 seconds left. Tennessee called time out and coach Rick Barnes said the ensuing play came off as scripted.
Schofield set a screen near the top of the key for Jordan Bone, who was defended by Josh Perkins. Bone took one dribble to his left, drawing Perkins and Hachimura, who dropped into the key below Perkins. Bone zipped a pass to Schofield who connected on the last of his six 3-pointers from beyond the NBA 3-point line before Hachimura could recover.
Norvell and Hachimura each missed long 3-pointers, sandwiched around Kyle Alexander's missed free throw, that would have tied it.
"Just don't give (Schofield) a catch, but we gave a catch and he was on his rhythm. He made a big shot a couple times," Hachimura said. "I was supposed to switch, but I didn't switch on the last play so he was open."
Gonzaga coach Mark Few called it a "miscommunication. I tried to remind the guys coming out of the timeout, but we probably should have gone over it 2-3 more times. Obviously we didn't want to leave him open. He'd been making 3s all night."
Schofield hit three 3-pointers in the final 3:18.
"I didn't call bank," Schofield said of his second-to-last trey. "Honestly it was just our offense. We really executed in the second half and we had a lot of good looks for guys on our team."
The 6-foot-6, 241-pound senior wing scored 23 of Tennessee's last 33 points.
"I will tell you once he shot (the last 3), I thought about how many hours he's spent in the gym," said Barnes, who earned his first win over a No. 1-ranked opponent in 32 years as a head coach. "I've sat at my desk watching him for four years now work at it. He's a guy that when he gets his feet set, he's going to make shots and he's not afraid of the moment."
Neither is Norvell, who rebounded from a scoreless first half with 13 points. Norvell and Schofield seemed like they were playing a game of H-O-R-S-E for a stretch, both hitting shots from all over the court and letting each other know about it.
"Just two competitors, just going at it," Norvell said. "Nothing really disrespectful, just telling each other, 'Hey, let's go.'"
Norvell cooled off late, partly due to the defensive work of Jordan Bowden, and so did the Zags' offense. Only five Zags scored: Hachimura and Clarke both had 21, Norvell and Kispert each had 13 and Filip Petrusev added Gonzaga's five bench points.
The Zags didn't have a field goal in the final 4:10 after Kispert's driving layup gave Gonzaga a 68-63 lead.
Tennessee kept finding Schofield, kept capitalizing on Gonzaga's 11 turnovers (16-3 edge in points after turnovers) and kept working the offensive boards (16, leading to 14 points).
"You can't take anything away from them," Norvell said. "They played really well down the stretch, made some big-time shots. We just have to buckle down and get shots on our terms. I felt like we were a little rushed, starting with my 3-pointer, and at the defensive end we didn't get enough rebounds."
Local journalism is essential.
Give directly to The Spokesman-Review's Northwest Passages community forums series -- which helps to offset the costs of several reporter and editor positions at the newspaper -- by using the easy options below. Gifts processed in this system are not tax deductible, but are predominately used to help meet the local financial requirements needed to receive national matching-grant funds.
Follow along with the Zags
Subscribe to our Gonzaga Basketball newsletter to stay up with the latest news.
---