Sports
Grip on Sports: Despite Wilson's off night, the Seahawks smothered Minnesota
Tue., Dec. 11, 2018 A GRIP ON SPORTS • Let's get this out of the way quickly. Russell Wilson had his worst professional game passing last night. And yet the Seahawks still won 21-7. Progress or warning sign? You decide. Read on.
••••••••••
• The Seattle Times had a story Monday asking why Wilson wasn't being mentioned in the MVP debate. Then he posted a quarterback rating that was akin to Lester Hayes' jersey number. His 37.9 was the lowest of career and seemed high, considering the ducks he tossed around most of the night against Minnesota.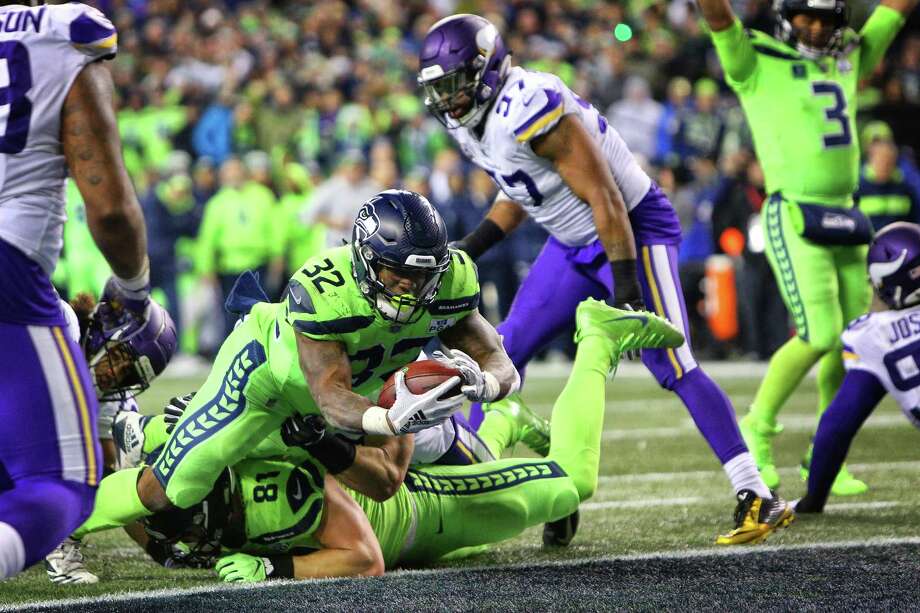 Then again, the most important offensive play of the night was when Wilson scooted around left end for 40 yards, ensuring the Hawks would win and move within spitting distance of the postseason.
Russell wasn't Russell, as Steve Raible might say, but against a Viking team that spent more than $80 million on a quarterback in the offseason, Wilson was good enough. Wait, let's refine that. The Seahawk offense was good enough.
In the first half it dominated the statistics but scored just three points. The second half it didn't move the ball as well but still scored 11 more. And the seven the defense put up and the Hawks looked downright prolific.
Mainly because of the opposition. See, Seattle's offensive ups and downs can be attributed to the Vikings' defensive goals. They weren't about to let Wilson beat them with his arm. So Seattle ran and ran and ran – finishing with 214 yards against a team that, coming in, wasn't even yielded 100 a game. That those numbers didn't translate into multiple touchdowns is also a credit to the Vikings' red zone defense, one of the NFL's best.
This isn't the most polished of Seahawk teams. They probably won't make a Super Bowl run – thanks to two close losses to the Rams, the road to Atlanta will be just that, played all on the road as a wild card.
But they have figured out how to win. And that's made each of the past four weekends really fun.
Now if Russell Wilson could just stop throwing balls into the cheerleaders, we would all be a bit happier.
•••
Gonzaga: The Tennessee loss cost the Zags three spots in the AP poll and two more in the coaches'. Jim Meehan has the news. … Theo Lawson is the S-R's voter and he has his ballot. … After the loss, Mark Few talked with Yahoo about the FBI investigation and the NCAA. There was one paragraph in the story we linked yesterday – it has since been deleted – that interpreted one comment as a blast at North Carolina. Few told Jim that was not his intention. … The women moved up in the AP poll. … Larry Weir's latest Press Box pod covers the GU loss as well as Washington State sports with Theo. … Around the WCC, Saint Mary's has won four consecutive games. … Pacific has eight wins after last night's victory against visiting Long Beach State.
WSU: It is awards season and Mike Leach is up for a national coaching trophy. … Andre Dillard was named to the AP All-America third team. Theo has both stories. …  Elsewhere in the Pac-12, the conference's major line awards both went to Washington players for the first time since 1991. Meanwhile, Ben Burr-Kirven was a first-team AP All-American. … Bowl foes Oregon and Michigan State have met before. … Arizona State is ready to head to Las Vegas for a Saturday showdown with Fresno State. … In basketball, there are other poll votes available for examination.
EWU: Eastern kicker Roldan Alcobendas won the Fred Mitchell Award, given to the best non-FBS kicker in the nation. Ryan Collingwood has more in this story.
Whitworth: The Pirates routed D'Youville 104-74 last night as Ben College hit a school-record 11 3-pointers en route to a career-high 37 points.
Seahawks: The first stop is with John Blanchette's column on the near-playoff-clinching win. … Yes, it was Wilson's worst night. But it may have been the defense's best. … George Fant caught a pass. And fell. … Mychal Kendricks was back and made a few plays. … The defense did score a touchdown. … Doug Baldwin is hurt and did not play.
Mariners: Edgar Martinez is at the Winter Meetings. He's there to make himself available to Hall of Fame voters. This is his last chance. Early results actually look good. … The 25-year stadium lease is finally done. Now we can find out what it will be called. Maybe Safeco Insurance can step up. Safeco Field has a ring to it.
•••       
• My house phone rang at 6 a.m. this morning. It was a telemarketer. It made me angry. OK, I know most of you stopped at "house phone." Let me tell you, there was a time when all the cool kids had them. Now it's just folks in my demographic. Another 6 a.m. call and nostalgia won't be enough for me to keep it. Until later …
Local journalism is essential.
Give directly to The Spokesman-Review's Northwest Passages community forums series -- which helps to offset the costs of several reporter and editor positions at the newspaper -- by using the easy options below. Gifts processed in this system are not tax deductible, but are predominately used to help meet the local financial requirements needed to receive national matching-grant funds.
Subscribe to the sports newsletter
Get the day's top sports headlines and breaking news delivered to your inbox by subscribing here.
---