Prep wrestling preview: Mt. Spokane, Mead stocked with talent again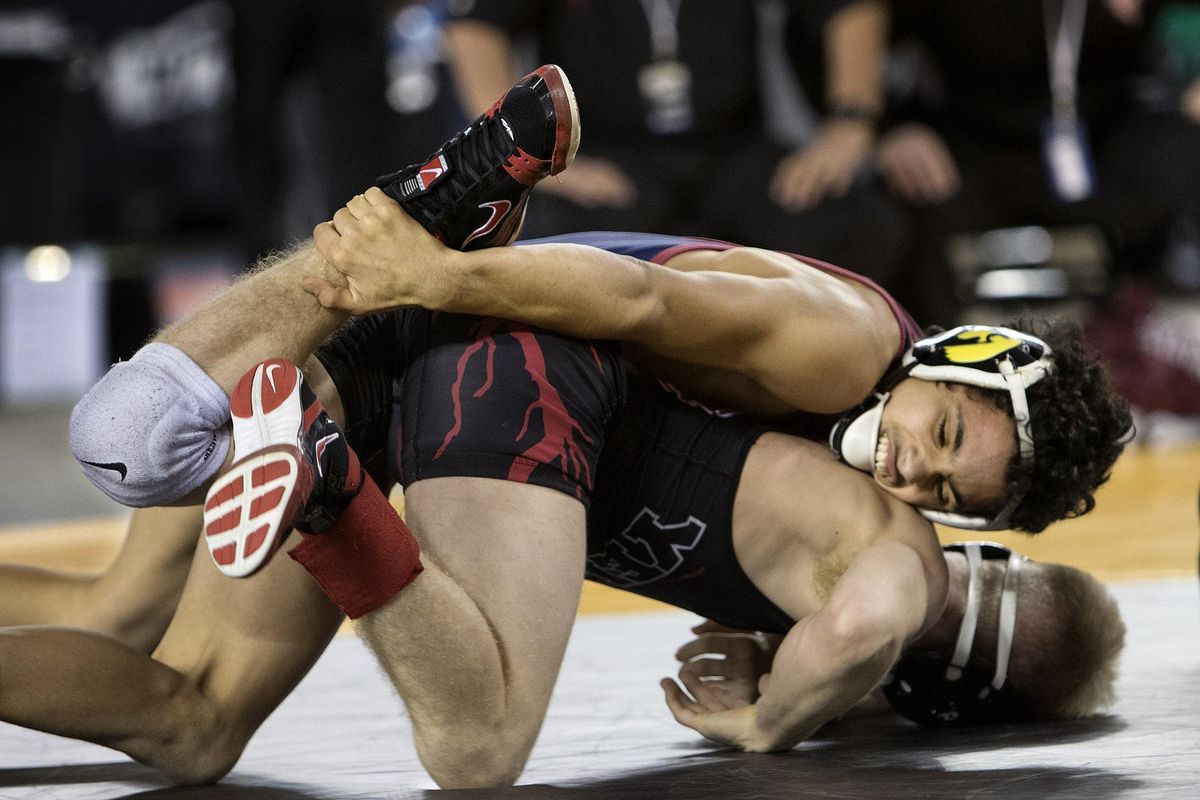 Hawthorne Road separates the two top wrestling programs in the Greater Spokane League from the rest.
Well, that and a horde of returning state medalists.
Mead and Mt. Spokane, ranked first in the 4A and 3A classification, respectively, by Washington Wrestling Report, have the means to live up to their billing come February.
Mead, the defending GSL champion that placed second at the State 4A tournament, was the prohibitive league favorite a year ago.
That distinction now belongs to Mt. Spokane, the defending State 3A champion.
The majority of GSL coaches picked the Wildcats, who return eight medalists from last year's tournament, including 126-pound state champion Blake Haney.
Mt. Spokane head coach Travis Hughes disagreed.
"They're being generous," Hughes said. "Mead is the one to beat."
Haney didn't go that far.
"We're pretty even, to be honest," Haney said. "Mead has pretty good lightweights."
Two-time state champion Chase Tebbets (120) is one of them.
The Panthers return five who placed at state last season but graduated 10 seniors.
Mead coach Phil McLean said developing a group of talented underclassmen will be key.
"Last year, our depth in the middle weights was great. This year, we will have to develop some young guys in the middle and lower weights," McLean said. "We have some very talented freshmen in the lower weights, and all of our upper weights return."
The GSL has had three schools win state titles in the 2010s, including University (2010, 2013), North Central (2014) and Mt. Spokane (2018).
"Every team in the GSL has a stud, it seems," Hughes said.
University, a tradition-rich wrestling factory led by veteran coach Don Owen, gained a key transfer in 126-pound Drew Roberts, who won a 5A Oregon state title last season at Crescent Valley.
Roberts' father, former Oregon State assistant wrestling coach Kevin Roberts, is now a coach at U-Hi.
GSL coaches are also impressed with Central Valley's Braxton Mikesell and NC freshman Kenndyl Mobley, who both won Greco Cadet national championships last summer.
Greater Spokane
The cupboards are still stocked with talent at Mt. Spokane. Eight state medalists are back for the Wildcats, a loaded roster featuring defending state champion Haney, runner-up Jarrett Sharp (113) and third-placers Mason Miethe (195), Ky Haney (132) and Casey Howerton (120). Jacob Carr (106), Riley Buth (120) and Zach Clark (145) all placed sixth. "Good team. Great kids and athletes," Hughes said. "Should be a great year. We will see what happens. … After finishing second at the State 4A tournament last season, Mead welcome back 12 starters and five state medalists. Tebbets headlines the talented group, which includes Chase Randall (state runner-up, 106), Cameron Crawford (state runner-up, 182), Ben Voightleander (fifth, 182) and Justin Mason (seventh, 120). … University lost 11 starters to graduation and one injury but gained Roberts. The Titans return state qualifier Danny Guzman (120) and defending 152-pound district champion Kyle Angstrom." Owen likes his team's potential. "We have some great sophomores and should be tougher at the end of the season," Owen said. … The young Central Valley Bears are stocked with talent in their freshman and sophomore classes but also return a pair of state medalists in senior Zach Stratton (third, 170) and junior Braxton Mikesell (fifth, 220). Fourth-year CV coach Shaun Williams, who returns nine starters, is excited to see how much his team will grow. "Our kids just need maturity and learn what it takes to be high school wrestlers," Williams said. "I am sure that by the end of the season we might surprise some people." … North Central lost three of its five state medalists to graduation last season, but second-year coach Mike Bundy expects another crop to step up. Clayton Gilliam, a runner-up at 132 pounds last season and a state champion in 2017, leads NC along with fellow senior Kadin Shaw (fifth, 145) and Thizzelle Walton (state qualifier, 195). Bundy said Mobley (106), a Greco Cadet national champion, aims to be a four-time state champion. … First-year Ferris coach Nate Desantiago inherited a wealth of experience from last year's fourth-place GSL squad. The Saxons, who welcomed back nine starters, boast three seniors who qualified for state last season, including Josh Anastasi (138), Chris Homen (182) and Conner Irvin (126). "We have great senior leaders and a room that isn't afraid to work," Desantiago said. … Of Rogers' nine returning starters, four advanced to last year's state tournament. Three placed, including Vadim Bobrovnikov (fifth, 220), Tre Phillips (seventh, 170) and Josh Guzik (eighth, 285). Rogers coach Rod Tamura said this is the most returning state qualifiers the program has had in 30 years. "We are led by a strong senior class who model hard work, mental toughness, extreme determination and character," Tamura said. … Shadle Park standouts Klouse Albers (138) and Juan Escobar (152) look to build off their respective fourth-place finishes at the State 3A tournament last season. The Highlanders return eight starters. "Very hard-working kids that will improve every time they step on the mat," Shadle Park coach Shawn Howard said. … Lewis and Clark, led by first-year coach Brett Hamilton, returns five regional qualifiers, including Duncan Carson (195), who advanced to last year's state tournament. "Mixed team with experience and newcomers," Hamilton said. "We should be tough and competitive this year, with an opportunity for some breakout performances." … Tenth-year Gonzaga Prep coach Danny Pearson said he may field the program's first full lineup in several years. G-Prep returns the bulk of its starters, including heavyweight Darius Johnson, a district and regional finalist last season.
Great Northern
East Valley placed sixth in State 2A for coach Craig Hanson, entering his 24th season with a young team. Avery Sundheim, who placed third last season, returns, as does state participants Noah McDermott, Jake Kessinger and Jacob Halvorsen. … Pullman returns 11 lettermen, including state champ Kiran Srikanth (183), who is headed to Brown University. "This year we will show some definite improvement over last year as we have quite a few returning wrestlers with experience," fifth-year coach Art Powers said. …West Valley coach Geoff Hensley enters his 11th season. His squad is led by state participant Gaje Caro (160/170), with several others who had success at regionals. Hensley has 34 wrestlers with 16 freshmen and six girls, including state finalist and two-time placer Jasmine Fryer. … Cheney has a young roster, with just two seniors – Michael Bozeman (132) and Shonto Pete (220) on first-year coach Jason Connor's squad. … Clarkston coach Duane Benton has a young team but returns 15 to a squad that went 5-2 in duals.
Northeast A
Colville returns 14 lettermen to a 14-2 team that finished second in State 1A for the fourth consecutive year. Veteran coach Randy Cloke has six state placers returning, including three-time state champ Trent Baun (132), who is undefeated in league, district, regional and state three years in a row. Two-time champ Trevor Morrison and state champ and three-time placer John Knight, who quarterbacked the Indians' state title football team, also return. … Deer Park looks to defend its State 1A title and has four state placers back, including two state finalists: seniors Brent Hodgson (170) and Everett Pierce (138). "Our team is small, but we should compete well if we stay healthy," 15-year coach Matt Jorgensen said. … Freeman placed third at state for 14-year coach Chad Ripke, but lost five state placers to graduation. Nolan Doloughan (152), one of two seniors, finished second at state. The squad has 15 freshmen and sophomores out of 19 wrestlers. "We will get better as the season progresses," Ripke said. … Lakeside was eighth in state and second-year coach Scott Friedman returns four state-placing seniors, including state champ Jeff Friedman (113), Andrew Smith (126, third), Lane Young (132, fourth) and Akio Yamada (195, second). … Medical Lake second-year coach Matt Leehouts has three state placers back, including state champion Ethan Davis (132), Alex Gonzalez (126, sixth) and senior Weston Thomas (120, eighth). … Newport third-year coach Adrian Bojorquez looks to improve upon last season's 3-14 record in a tough league. "We are looking a lot better this due to increased numbers (which fills more weights) and returning wrestlers who have a lot of experience," he said, noting the Grizzlies have 12 freshmen on the squad. Sierra Mason is one of the top girls wrestlers in the state.
Northeast 2B
Chewelah placed 17th at State 1A last year and drops down a class, led by champion Kaden Krouse (182) who enters his sophomore season. Junior Jake Jenneret (170) and sophomore Justyce Acosta (120) also placed at state for third-year coach Tim Slater.
IEL 5A
Coeur d'Alene went 10-4 with a 12th-place finish at state for 18-year coach Jeff Moffat. He has five state placers returning, including runner-up Dom Jessos (113) and a pair of third-place finishers, Hunter Schueller (126) and Payton Keough (132). … Post Falls won a state title in record-setting fashion for 10-year coach Pete Reardon – his third – and another may be on tap. Ten state placers return, including three-time state titlist Ridge Lovett (138) and fellow champions Roddy Romero (98), Isaac Jessen (126), Tyler Morris (160) and AJ De La Rosa (138).
IEL 4A
Lakeland 20-year coach Rob Edelblute, who has won 10 consecutive league titles, has five state placers returning: state champ Sam Edelblute (126), runner-up Alex Edelblute (120), third-place Ryan Quimby (145), third-place Cage Hendry (152) and fifth-place Riley Siegford (132).
IML 3A
Kellogg coach Scott Miller enters his ninth season with four state placers: junior Taylor Bush (126, second), junior Judson Hall (132, third), sophomore Dakota Eixenberger (106, fifth) and senior Austin McKennon (106, fifth). "We have a good freshman class that should pay dividends as they get more matches," Miller said. … Timberlake was ninth at state for fifth-year coach Kelly Amos and returns two placers: runner-up Isaiah Evans (126) and Caleb Miller (152, fifth). "(Our freshmen) are a solid group but need to develop into high school wrestlers and start filling in some of the gaps we have." Amos said.
CIL 2A
St. Maries sixth-year coach Dennis Humphrey hopes to contend for a league title coming off a sixth-place finish at state. Three state placers return: senior Caden Hall (195, third), sophomore Dylan Sotin (98, fifth) and sophomore Sam Martin (113, fourth).
---