Sports > NCAA basketball
Former Lewis and Clark guard Justin Martin sets NAIA Division II single-game scoring mark
UPDATED: Thu., Dec. 13, 2018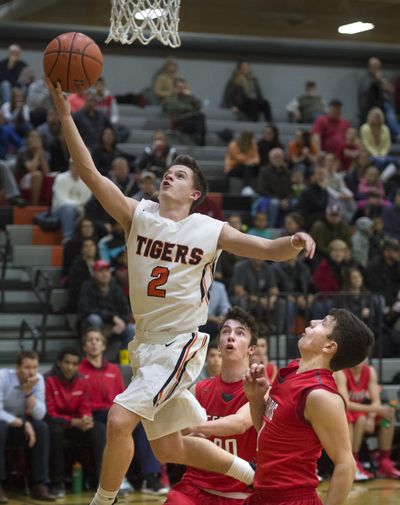 Scoring a lot of points has become a habit for Justin Martin, a former Lewis and Clark High guard who now lobs 3-pointers for the NAIA Division II Multnomah (Oregon) Lions.
But in a 126-124 win over No. 17 Warner Pacific on Dec. 4, Martin outdid himself – and everyone else that came before him.
The 5-foot-7 guard set an NAIA Division II single-game scoring record with 71 points. He made 15 of 19 from beyond the arc – the second most 3-point makes in an NAIA game.
Martin hit 21 of 33 field-goal attempts and went 14 of 17 from the line.
Oh, and he hit the winning shot.
With the clock winding down, Martin drove from the top of the key and floated a shot just over a Warner Pacific defender for the win. It was Multnomah's first victory over a NAIA Division II Top 25 opponent.
"It's pretty unreal," Martin said. "Obviously, I have a very unselfish team and teammates who feed me the ball to get that many shots up."
Martin wasn't aware he was approaching a record as the game went on.
"I had no clue," he said. "I was at the free-throw line late in the game and thought I might have had 40 or 50, but I had no clue I was even close to 70."
It was a big win for his team, which ran its record to 9-3 with another win on Friday, in which Martin scored 19 points on 5-of-11 shooting from beyond the arc.
"I'm super-proud of these guys," he said. "We have a senior who this is the most he's even won in his four years since he's been here. And we're not even close to being done this season."
As with basketball programs more often around the country, his team's offensive strategy is centered around the arc.
"The first open 3 that we get, we want to take it," Martin said. "On the other end, on defense, we want to make them take the tough 15-foot midrange jump shot."
Not bad for a former Greater Spokane League defensive player of the year and honorable mention all-league selection.
Martin was not recruited out of high school and had to do some legwork just to get an invitation to walk on at a junior college.
"At Lewis and Clark we had some studs playing around me – Dominick Oliveri, Naje Smith, Isaiah Hernandez … the list goes on. I was just a defensive player, played my role, whatever we needed to do," Martin said.
"I emailed the Wenatchee Valley coach (assistant coach Brett McGinnis) at the time, and he said I could come up and do a walk-on and scrimmage with the guys. I ended up playing really good and he offered me."
Martin averaged 22.1 points and nearly 37 minutes as sophomore at Wenatchee Valley last season, earning first-team all-east region honors.
Though listed on the team website at 5-foot-9, Martin copped to not quite reaching that modest height for a collegiate basketball player.
"I have a kind of an underdog mentality because at 5-7, I kind of have to have that," he said.
It's a chip on his shoulder that drives him.
"The other team's crowd thinks I'm the mascot when I come out there at 5-7, so I just have to go out there and prove them wrong," he said.
Martin's success is a testament to his persistence, hard work and hustle.
"I'm one of those guys that loves to be in the gym and I hope I can show a lot of kids that you don't have to be some top big-name recruit," Martin said "If you put in the work, you'll get results."
Martin said he was riveted to LC's journey to its third-place finish in last year's State 4A tournament.
"That was awesome," he said. "I was following along with that the whole time."
Martin, a junior, was named this week's Cascade Collegiate Conference Player of the Week for second time this season and the NAIA Division II national player of the week on Tuesday.
Through 10 games, Martin is the NAIA's leading scorer, averaging 31.8 points. He has scored at least 30 points in five games and eclipsed 40 in three. He is leading NAIA Division II in 3-pointers made per game, total 3-pointers made and total scoring – and he's second on the Lions in assists per game.
The previous NAIA Division II record for points in a game was 64, set by Rob Engle of former member Notre Dame (New Hampshire) in 1994. The overall NAIA record is 113, set by Clarence Francis of Rio Grande (Ohio) in 1954.
Martin's performance was one point shy of tying the NCAA Division I record of 72, set by Kevin Bradshaw of U.S. International in 1991.
Local journalism is essential.
Give directly to The Spokesman-Review's Northwest Passages community forums series -- which helps to offset the costs of several reporter and editor positions at the newspaper -- by using the easy options below. Gifts processed in this system are not tax deductible, but are predominately used to help meet the local financial requirements needed to receive national matching-grant funds.
Subscribe to the sports newsletter
Get the day's top sports headlines and breaking news delivered to your inbox by subscribing here.
---