Sports
Grip on Sports: How the heck did Washington State give its fans such a great football season as a Christmas present?
Thu., Dec. 13, 2018 A GRIP ON SPORTS • Time is running short. Christmas will be here before you know it. Heck, it is so close, Washington State has begun practicing for the Alamo Bowl. Yep, it's that close. Read on.
••••••••••
• Why does Christmas seem so far away in late-November and then so close by in mid-December? Time always messes with us, doesn't it?
Heck, it seems like only yesterday the Cougars were picked to finish 3-9 or 4-8 by just about everybody and now here they are, 10-2 and facing a chance to win 11 games in a season for the first time.
Weird, huh?
Not that time passes. That happens. And, as my dad used to say, it's better than the alternative. No, what's weird is the Cougars won 10 games this season.
How the heck did that happen? Let's examine a few elements that played into the Cougars success.
• Gardner Minshew. This is the most obvious one. Everyone knows the Washington State offense revolves around its quarterback. All Mike Leach offenses have since the Air Raid began. But no one, and I mean that in the universal sense, knew what the Cougars were getting in Minshew. Probably not even Minshew himself.
Yes, Leach asked him is he wanted to lead the nation in passing when he recruited him, but the coach does that with every quarterback he's recruiting. That Minshew did it is a testament to how perfect a fit the transfer turned out to be.
• Peyton Pelleur's healthy sixth year. Not only did the inside linebacker earn an extra season from the NCAA, he was able to play in every game. That was big, even if he isn't.
We're talking size here, not stature. See, Pelleur is more than his abilities, more than his statistics, more than the measurables. He's one of those guys that make his teammates better by his presence. It's not just the sure tackling or the voice before the snap. He's so well-respected, his teammates don't want to let him down. That leads to extra effort. And a better unit.
• The offensive line. There were big losses up front following last season – in more than one way. But the emergence of Abraham Lucas – a freshman All-American at right tackle – and the two guards vaulted the line into a place it hadn't been before. This group rates with some of Mike Price's old groups as the Cougars' best.
• Camaraderie. We're not talking about the players, though that's shown itself throughout the season too. We're referring to the coaching staff and some addition by subtraction.
When a handful of assistants left after last season, there were lamentations and garment-rending among the faithful. But in many cases, the replacement was an upgrade – or at least not a step back.
Offensive line coach Mason Miller, defensive coordinator Tracy Claeys and the other newbies to Pullman not only did the job on the practice field, they also, by all reports, are a tighter group in the offices. That helps make life more enjoyable for everyone.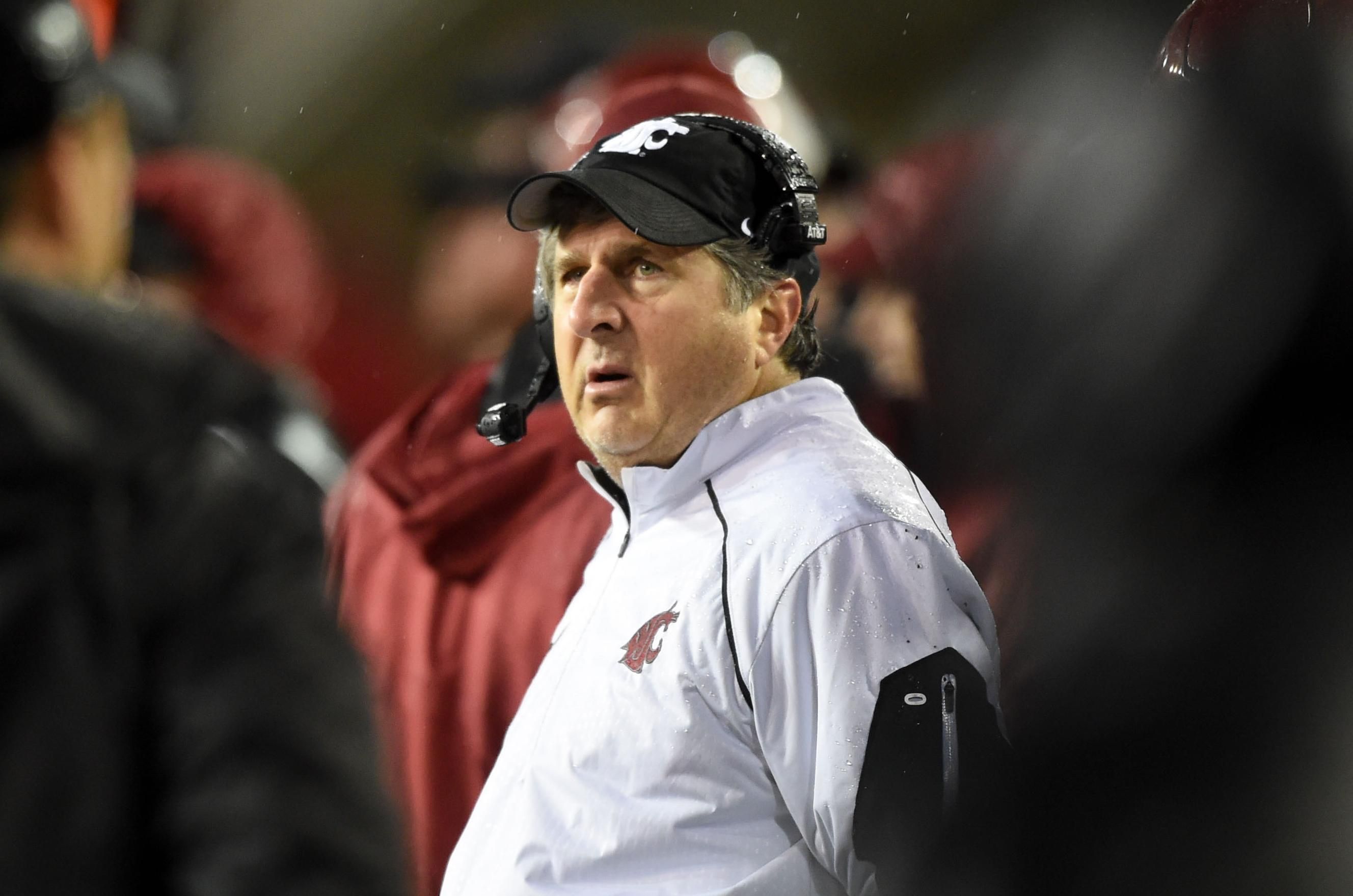 • Mike Leach can coach – and recruit. The latter category might be the most important for long-term success. Heck, there's no "might" about it. Leach knows the type of player he needs to succeed. And he is able to entice enough of those players to come to the Palouse to ensure the Cougars don't fall back too far.
Yes, attracting Minshew was a bit lucky. But the depth built on the offensive line, at wide receiver, in the linebacking corps, that wasn't luck. That is a direct result of hard work throughout the last few offseasons.
• Will it continue next season? Hard to say. Quarterback is still the key position at WSU and no one outside of the program knows who will develop as the offense's leader. But remember, Leach seemed to have a prolific passer emerge each season at Texas Tech. And he seems to have built the same pipeline here.
Look at the roster, look at the schedule and pick the Cougars to finish 4-8 at your peril.
•••
Gonzaga: We have passed along a lot of Rui Hachimura stories this season. But no one in the journalistic community has spent more time around Hachimura the past three years than our Jim Meehan. So when he writes about the Japanese import, you know it comes from experience – and a shared timeline. And that it is worth reading. … Around the WCC, TJ Haws scored a career-high 30 points as BYU pulled away from Portland State, 85-66. … USD turned the ball over too many times to stay with Oregon and lost 65-55 in Eugene. … USF will host Eastern Washington tonight.
WSU: As we mentioned above, Abe Lucas was named to USA Today's freshman All-American team. Theo Lawson has a story. … Elsewhere in the Pac-12, John Canzano takes another look at conference finances, this time zeroing in on the problems at Oregon State. Funny, the Beavers' financial woes are still not as bad as the trouble in Pullman. Maybe that's why Kirk Schulz has been asking some tough questions. … The bowl season begins the weekend. So it is time for picking the winners. … Arizona State kicks off the Pac-12's bowl slate with a matchup with Fresno State. … After getting a sixth year, a UCLA offensive lineman is transferring. … Washington expects to haul in a huge recruiting class in the early signing period next week. … In basketball, Oregon won at home. … Arizona needs to bounce back from a bad defeat. … UCLA has a pass-first point guard.
EWU: The Eagles are tough at home. They rarely lose at Roos Field. But in the recent past, their football seasons have ended three times in the semifinals – at home. Dan Thompson looks at those facts and tries to understand how they both can exist.
Chiefs: First-place Everett came to the Arena last night riding a nine-game winning streak. The Silvertips left with a 4-3 shootout loss. Kevin Dudley was there and explains what happened. … There is also coverage from former S-R contributor Josh Horton and the Everett Herald. … Portland picked up a 7-2 win at Victoria.
Preps: Gymnastics usually isn't the most highly publicized high school sport but today it earns the spotlight, as Dave Nichols previews the GSL season. There is also a roundup of last night's action. … Wrestling is a bit more high profile around here and Ryan Collingwood has a look at what the season may have in store. We also have a roundup of its action as well. … A Mt. Spokane volleyball player, Malina Ama, earned 3A player of the year honors.
Seahawks: A lot of news from Seattle yesterday but maybe none more important than the surprising fact Mychal Kendricks broke his leg in the Viking game. … The Hawks are not only winning, they are fun to watch. … Bobby Wagner's field goal block was the result of some hard work. … Doug Baldwin is not practicing but he says he will play. … The Hawks can clinch a playoff spot this weekend.
Mariners: The M's will have a lot of young players they may want to start in the minors next season. To do that, they need some veterans to bridge the gap. … It won't be easy to trade Kyle Seager due to a clause in his contract.
•••       
• The weather isn't perfect in Pullman, especially considering the Cougars are preparing for a game in a domed stadium. They will probably be indoors a lot the next few days, though their indoor practice facility leaves a lot to be desired. (The surface isn't the easiest on the legs and the acoustics aren't state-of-the-art either.) It's why, despite the debt problem in athletics, Pat Chun and Schulz are trying to raise enough money to build a new indoor facility. Until later …
Local journalism is essential.
Give directly to The Spokesman-Review's Northwest Passages community forums series -- which helps to offset the costs of several reporter and editor positions at the newspaper -- by using the easy options below. Gifts processed in this system are not tax deductible, but are predominately used to help meet the local financial requirements needed to receive national matching-grant funds.
Subscribe to the sports newsletter
Get the day's top sports headlines and breaking news delivered to your inbox by subscribing here.
---