A&E > Food
A votre Sante: Decade-old downtown Spokane restaurant Sante plans to close in 2019
Dec. 14, 2018 Updated Mon., Dec. 17, 2018 at 12:47 p.m.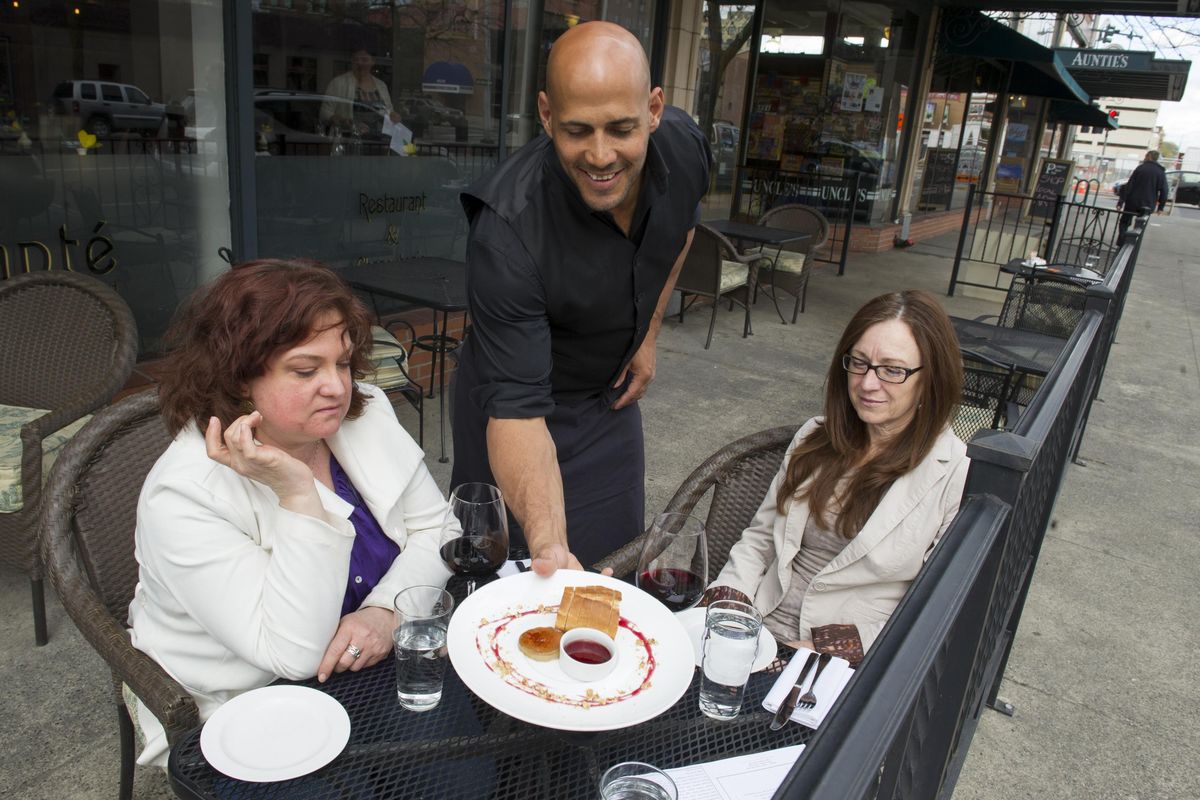 Santé waiter Shawn Kingsburg delivers foie gras to outdoor diners Deborah Sinclair and Rena Brand in this 2014 file photo. (Colin Mulvany / The Spokesman-Review)
Sante Restaurant and Charcuterie, Jeremy and Kate Hansen's decade-old downtown eatery that helped launch Spokane's farm-to-table food scene, is closing in 2019.
Chef Jeremy Hansen said he informed staff this week.
He still plans to host one more New Year's Eve celebration, Valentine's Day dinner and Inlander Restaurant Week before ending the Sante era in the Liberty Building on West Main Avenue.
"It's over," he said. "It's big time. We're going to redo it."
Hansen said he plans to shutter Sante in the next three to six months. After a short closure for renovations, he said he wants to reopen the space as a steak-and-burger saloon-style establishment.
"I want people to come here every day," he said. "I want to turn this into a Hogwash-type place."
Hogwash is the Hansens' downstairs whiskey den in the old Washington Cracker Co. Building in downtown Spokane. The menu is approachable; it features snacks, such as wings and cracklins, and hand-helds such as the popular Hogwash burger, meatloaf sandwich and grilled cheese sandwich.
The plan is to transform the space that's been home to Sante for the last 10 years into the new Smoke & Mirrors Saloon.
"I think it'll brighten up the neighborhood," Hansen said. "It'll bring a lot more business in here."
Sante opened in the middle of the Great Recession and helped elevate and redefine Spokane's growing restaurant scene.
"For me, what it did was give me an opportunity to reinvent what I thought the food scene was in Spokane into something I thought it should be moving towards," Hansen said. "It gave me a way to express my food style – and the art of it – by making everything from a scratch standpoint. And it gave me a way to give back to the community and help the community grow."
He's not done yet.
"I want to grow," he said. "I want to be creative."
And, "Honestly, I would love Sante to continue to be here."
But business has dropped off, especially at lunch. Spokane's food scene has evolved; there are many more options now than there were 10 years ago.
"At the end of the day, we're not in the red," Hansen said. "But we're not making money anymore. We've become a special occasion kind of place, and I want IPK to be that."
IPK is Inland Pacific Kitchen, the Hansens' intimate and elegant restaurant that opened two years ago across the hall from Hogwash in the Washington Cracker Co. Building. The focus there is on creative small plates, presentation and experimentation.
The Hansens also own and operate Biscuit Wizard and Common Crumb Artisan Bakery, which is slated to reopen for retail in early 2019.
Sante could close as early as March, after the end of Restaurant Week. But, "It depends on how everything works itself out," Hansen said. "Definitely in the next six months, this is going to happen."
Plans call for a bar to be added along the west wall of what is now Sante's main dining area. The saloon is slated to serve craft cocktails as well as local and regional craft beers. Hansen said he expects to add 12 taps.
He also plans to add seating along the front windows, red velvet along the walls, and new chandeliers and light fixtures. He expects renovations to take two or three weeks.
He also expects the menu to be meat-forward and include a couple of elements that helped make Sante special from the start: house-made charcuterie and whole-animal butchery. At Smoke & Mirrors, Hansen plans to serve New York strip steak by the ounce, starting at 6 ounces, as well as meatballs that can be ordered one at a time or in batches.
He also plans to offer a couple of burgers, sandwiches, soups, salads and smoked meats. And he's considering offering a whole or half chicken.
He also said he plans to price menu items at $20 and under.
The idea is to be open daily and serve food until 2 a.m. every day except Sunday and Monday, when the saloon is slated to close early. Hansen also plans to continue to offer lunch as well as weekend breakfast.
Butcher Bar, added to a back area of the Sante restaurant space in December 2013, is slated to house top-shelf spirits and wine. Plans call for Butcher Bar to keep its name but get a new look, including purple velvet draped around the top of the walls to help enclose the space. Some of the walls encircling Butcher Bar are shared with Auntie's Bookstore next door and don't extend all the way to the ceiling.
"I love the location," Hansen said. "I have 10 years of memories in this space. I don't want to leave."
But, he said, "I want people in here every day, not just once a year."
He also wants Sante to go out in style. "I want to have a big New Year's bash. I want to book this place out because it's the end of an era. It really is."
Sante was the Hansens' first restaurant. It opened in fall 2008 with a focus on local, seasonal ingredients prepared with classic techniques, a philosophy of limiting waste and utilizing whole animals, and preparing everything from scratch in-house, including its signature charcuterie.
In a story that ran in The Spokesman-Review just before Sante opened, Hansen said something about charcuterie that also helps explain his philosophy toward all food: "You gotta make it yourself. You respect the food a lot more. You respect everything in the kitchen that you're doing. You put a lot more care and time and effort into it, and you can really see that. … Without the food, what are you? You're nothing. You can't do anything."
Sante is at 404 W. Main Ave. Call (509) 315-4613 or visit www.santespokane.com.
Local journalism is essential.
Give directly to The Spokesman-Review's Northwest Passages community forums series -- which helps to offset the costs of several reporter and editor positions at the newspaper -- by using the easy options below. Gifts processed in this system are not tax deductible, but are predominately used to help meet the local financial requirements needed to receive national matching-grant funds.
Subscribe to the Spokane7 email newsletter
Get the day's top entertainment headlines delivered to your inbox every morning.
---