News > Business
Seaview Global, maker of mounts for marine electronics, opens Liberty Lake office
Sun., Dec. 16, 2018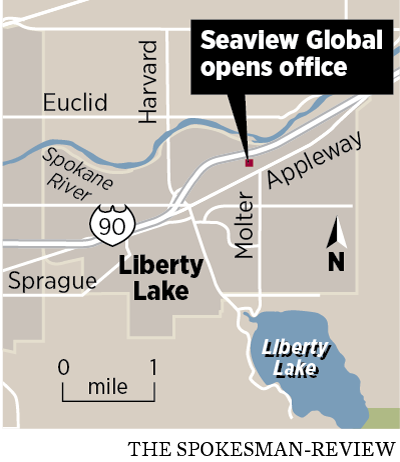 Seaview Global has opened an office and warehouse in Liberty Lake, employing five people.
The company designs and makes mounts for marine electronics on vessels, including radars, satellites, GPS, and navigation lights and searchlights. The office is at 2225 N. Molter Road, Suite 105.
Seaview Global's three owners bought the brand from a company they previously worked at in Lynnwood, Washington, said Jason Romesburg, president and product manager.
Romesburg said the lower cost of doing business was a factor in the relocation. The company also has business associates in the Spokane area, and Romesburg and his wife grew up in the Inland Northwest.
Greater Spokane Incorporated helped Seaview with the relocation.
The business organization has been recruiting companies from the Interstate 5 corridor, touting the Spokane-area's affordability and quality of life.
Doing business in the Spokane-area costs about 35 percent less than in larger markets, Todd Mielke, GSI's chief executive officer, said in a news release. – B.K.
16 cottages planned
for property in Valley
Plans have been filed by Spokane-based Moher Construction LLC to develop 16 cottages on more than 1 acre of vacant land in Spokane Valley.
The proposed development, Grace Cottages, will be built on two parcels southeast of University Road and Fairview Avenue.
The development also will feature more than 6,400 square feet of open space and 24 parking spaces, according to site plans filed with the city.
Property owner Mark Lentz purchased the site for $159,800 in 2014, according to records with the Spokane County Assessor's Office. – A.E.
Campfire Couture opens in downtown Sandpoint
Kimberly Stoddard has opened Campfire Couture in Sandpoint.
The shop at 319 First Ave. sells heirloom quality clothing and accessories from independent designers and local artists.
Stoddard said she designed Campfire Couture with "a cozy, casual atmosphere" in mind. A leather studio in the back of the shop lets visitors see how the pieces are created.
Stoddard made a leather handbag for a friend from an old jacket about 10 years ago and got hooked on leather working. She started an Etsy site and later opened a leather studio in a downtown Sandpoint location.
Campfire Couture expands her retail offerings. Besides leather handbags and accessories, the store features local artists' jewelry, shaving razors and grooming products for men, Pendleton wool jackets, items made from vintage textiles and women's and men's apparel. – B.K.
Reporter Becky Kramer may be reached at (509) 459-5466 or beckyk@spokesman.com.
Contact reporter Amy Edelen at (509) 459-5581 or amye@spokesman.com.
Local journalism is essential.
Give directly to The Spokesman-Review's Northwest Passages community forums series -- which helps to offset the costs of several reporter and editor positions at the newspaper -- by using the easy options below. Gifts processed in this system are not tax deductible, but are predominately used to help meet the local financial requirements needed to receive national matching-grant funds.
Subscribe to the Coronavirus newsletter
Get the day's latest Coronavirus news delivered to your inbox by subscribing to our newsletter.
---