News > Spokane
Gonzaga President Thayne McCulloh responds to report on Jesuits sending abusive priests to live on campus
Dec. 18, 2018 Updated Tue., Dec. 18, 2018 at 11:15 a.m.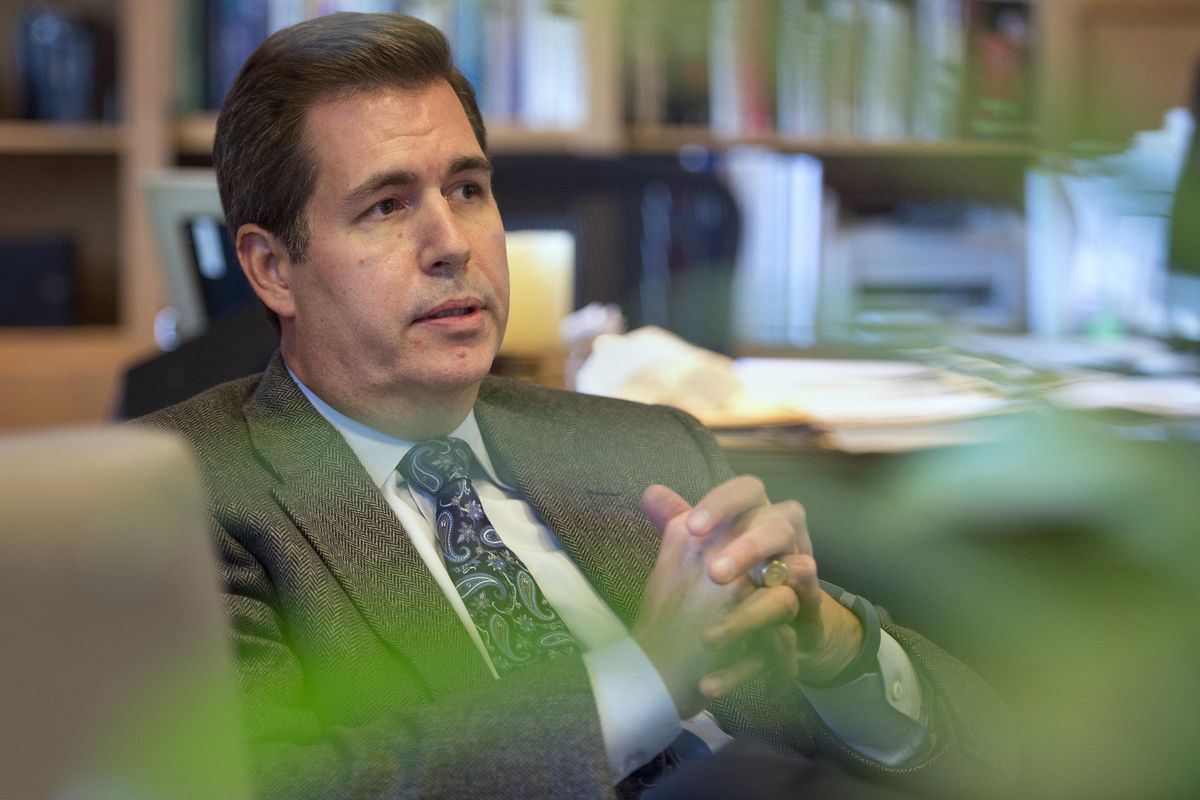 Gonzaga University President Thayne McCulloh (Dan Pelle / The Spokesman-Review)
Gonzaga University's president responded late Monday to an investigative report detailing how Jesuit priests accused of sexually abusing children were sent to live in a retirement home on the school's campus near downtown Spokane.
In a forcefully worded statement, President Thayne McCulloh said he was disturbed by accounts published over the weekend by the Northwest News Network and the Emeryville, California-based Center for Investigative Reporting. He said no priests accused of sexual abuse are currently living in Jesuit retirement homes on or near campus, and he demanded guarantees that no such priests would be assigned there again.
The news story, which appeared in print and on the center's popular podcast "Reveal," covers many aspects of the Catholic abuse scandal previously reported by The Spokesman-Review. But it adds new details to the story of the Rev. James Poole, a priest who admitted under oath that he molested indigenous women and girls during his time with a radio station in Nome, Alaska.
Perhaps the most troubling revelations involve the Rev. Frank Case, a prominent Jesuit who is currently a vice president of Gonzaga and chaplain for the school's nationally ranked men's basketball team.
According to the "Reveal" report, Poole's misconduct was first documented in a 1960 letter by another Jesuit leader, the Rev. Segundo Llorente. Llorente wrote that Poole regularly had long, one-on-one conversations with young girls about sex, and speculated that Poole had "a fixation on sex; an obsession; some sort of mental aberration that makes him see sex everywhere."
But Poole's abuse continued for decades in Alaska, until 1988, when he was removed from his position at the KNOM radio station. The following year, Case, then the head of the Jesuits' Oregon Province, recommended Poole for a new job as a chaplain at St. Joseph Medical Center in Tacoma, according to the "Reveal" report.
Poole got the job and worked at the hospital until 2003, when he retired to Cardinal Bea House, a home for Jesuits just west of St. Aloysius Church within the Gonzaga campus. He died in March and appeared on a list of "credibly accused" priests published earlier this month by Jesuits West.
According to the "Reveal" report, Case said in a 2008 deposition that he had not reviewed Poole's personnel file before writing the letter because he had no indication of misconduct. In a statement sent to "Reveal" from Gonzaga's public relations office, Case said he had not had access to Poole's personnel file.
President McCulloh's statement on Monday made no mention of Case. Earlier Monday, Gonzaga spokeswoman Mary Joan Hahn said the school would not make Case available for an interview because he "is not a spokesperson for the Jesuit community."
McCulloh wrote that he had not known of Poole's history in Alaska until the "Reveal" report was published. He noted that Cardinal Bea House is owned by Jesuits West, not Gonzaga, and said the university "is not aware of any reports of abuse or misconduct involving retired priests during the time they were living in Cardinal Bea House."
McCulloh said he was disturbed by "the revelation that the Society of Jesus had knowingly sent a man with Poole's record of sexual abuse to live in their facility within the parameters of our campus – which serves not only as the home of college students, but regularly hosts grade-school children and visitors of all ages – without notification by the province to the university."
McCulloh concluded: "Fully repairing the pain of abuse may never be possible, but we must be and remain committed to continuously love, support and care for those who have been victimized, and resolve to seek justice with and for them."
Local journalism is essential.
Give directly to The Spokesman-Review's Northwest Passages community forums series -- which helps to offset the costs of several reporter and editor positions at the newspaper -- by using the easy options below. Gifts processed in this system are not tax deductible, but are predominately used to help meet the local financial requirements needed to receive national matching-grant funds.
Subscribe now to get breaking news alerts in your email inbox
Get breaking news delivered to your inbox as it happens.
---