Lewis and Clark's Xavier Guillory takes meandering journey to where he started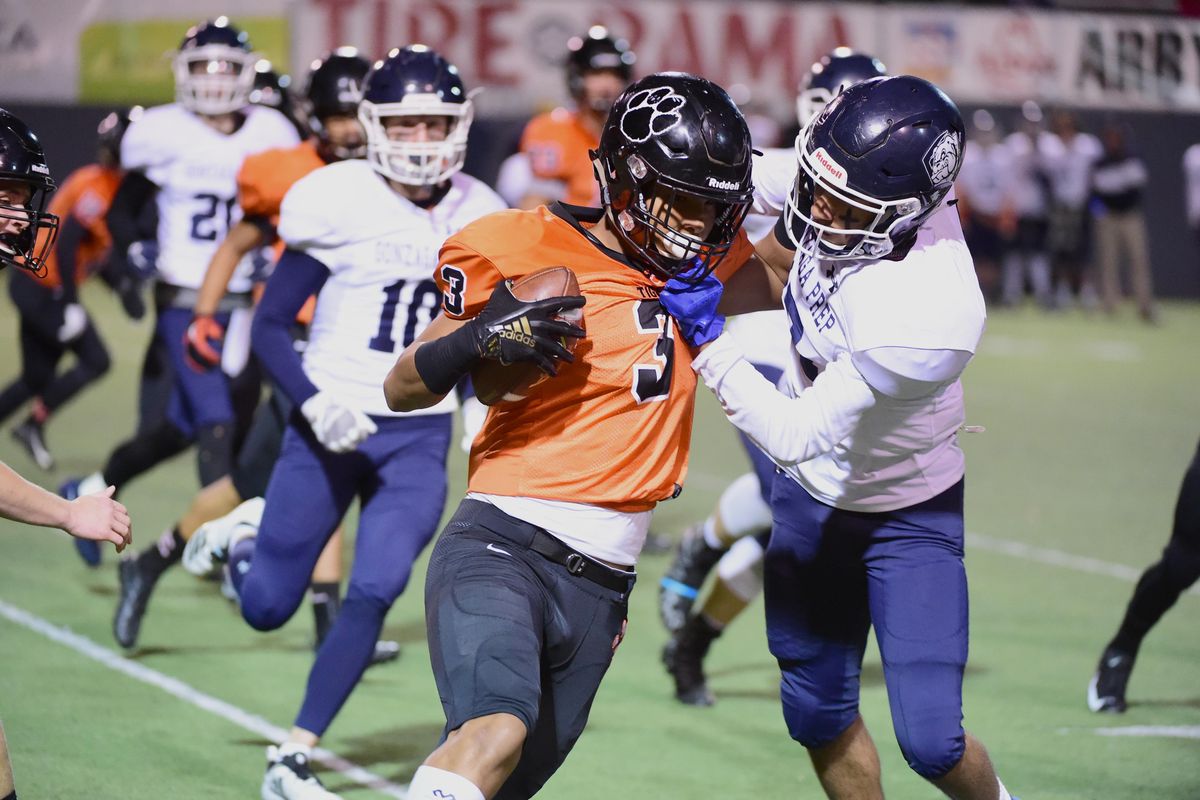 If you judge Lewis and Clark wide receiver Xavier Guillory by statistics alone, you're missing out on the complete package.
As a wideout in a run-based offense this season, Guillory posted 31 catches for 499 yards (16.1 average) with nine touchdowns. Good stats, but not outstanding in the age of run-and-gun offenses.
What separates him from other receiving recruits is his size – 6-foot-3, 200 pounds – and his superior leaping ability and body control. Add an intense work ethic and it's not surprising Guillory had his choice of offers from Big Sky and Missouri Valley football programs.
But it was a visit to a different service academy that swayed him back to the Air Force Academy, where he committed on Tuesday on the first day of the early signing period for football players.
"That Army visit, it's a whole different animal," Guillory said about touring the famed campus at West Point. "It just gave me an idea of how serious the academies are and I could judge schools and their intensity level against the Army experience."
What the experience told him most, though, was to go back to where he was wanted first. And though he might have had more options, perhaps even at Pac-12 schools if he had waited on his commitment, he knew what decision was best for him.
"I wanted to go to the school that wanted me," he said. "I didn't want to wait for schools that have more interest in other players where maybe I was a second option. Air Force offered me off my junior year. They've had faith in me from before."
Guillory had his parents and sisters with him and was surrounded by teammates on the football and basketball teams as he signed his appointment letter at Lewis and Clark High School in a ceremony before school on Wednesday.
"It shows the impact they have had on me," he said. "My family has been there since before I had any offers. My teammates have believed in me. I had to bring them in today. I'm glad they could be here to share this with me."
"We've very excited for Xavier and his family," LC coach Dave Hughes said. "This is a great opportunity for him to both play football and serve his country."
"We're so proud of him," LC athletic director Michelle Grafos said. "He's really dedicated to his studies and an all-around good kid. He's really respected and respectful. He treats everyone around him well."
His father, Rafael, played free safety at Eastern Washington on the 1992 Big Sky champion team, so he had personal experience with the recruiting process.
"As a parent, I couldn't be prouder," Rafael Guillory said. "My son has worked unbelievably hard and has been so blessed in so many different ways. He's not only an exceptional athlete, but he's an even better son."
Rafael Guillory noted that several family members served in the military, including Rafael's uncle, who is an Air Force lifer.
But he said the process with his son took an unexpected turn.
"This was a journey that I didn't expect, especially with the military service piece," Rafael Guillory said. "When we started out on this I thought to myself, 'OK, we wanted to play college football,' but then it took on a whole different meaning when Air Force and Army called."
He reinforced the impact the Army visit had on the decision-making process.
"My mind started to change when we took our first visit to West Point. When we saw the history and the amazing opportunities … and that gave me a different perspective on Air Force."
The Falcons must have appreciated the boost their rival service academy provided.
"When it first started, I wasn't even considering (military service)," Xavier Guillory said. "I didn't know what the military was all about until I took the time to learn about it."
He said getting to know the football coaches and what they would expect out of him made a big difference. Guillory also noted the impact the Air Force Academy would make on his life after football.
"When I took my visit, that really changed the game for me," he said. "I got to know what the benefits are and my life is set now.
"Knowing that I can help my family really made my decision."
Guillory, who is not one to shy away from a challenge, said he's anxious to get started on the field and in the classroom.
"The rigors of school are really hard, but it's all going to be worth it when I graduate."
He's interested in health science or leadership, but undecided on a major at this point – or how he'll serve his military commitment after college.
"I'm going to use every resource that's there," he said. "They are there for you so I might as well take advantage."
One thing about his studies he knows for sure.
"If you find something you love, it'll make school that much easier."
As for the football aspect, he has a good idea how he'll fit in with the Falcons, as they traditionally play a run-based offense similar to what he did in high school.
"It's high-level football in the Mountain West Conference," Guillory said. "They wanted a taller receiver to make the plays. When I get there, I'm going to work really hard to be that guy for them."
Guillory is used to making the most of limited opportunities to make plays downfield.
"(In high school) if I can get the ball 10 to 12 times a game, I can score two or three times because I stretch the field. I pulled a lot of (defenders) out more which made room for the running backs.
"You can look at the stats, but look at the results. I took pride in getting the extra blocks downfield. It's a team game. My stats aside, I wanted to get the 'W.' "
"He made a lot of great catches for us this year," Hughes said. "We believed in putting the ball up in the air for him and letting him go get it. He's definitely a talented individual."
Guillory knows that blocking is going to continue to be a part of who he is at receiver.
"I'm a big receiver," he said. "I'll be able to get my hands on (defensive backs) and put them in the dirt. They want me to be a blocker, but they want me to catch the ball, too."
He'll put his strong work ethic to practice for the Falcons.
"When I get there, I'm going to find your weakness," he said. "I'll watch film religiously. I've got a great coaching staff."
That staff includes receivers coach Taylor Stubblefield of Davis High in Yakima, who played with Drew Brees at Purdue and left college as the NCAA career receptions leader. Stubblefield played parts of two seasons in the NFL and CFL before starting his coaching resume.
Between his junior and senior seasons, Guillory trained with Ford Sports Performance in Bellevue, where he played 7-on-7 against other elite-level prospects.
"Being in that system and playing against that level made me who I am today," he said. "It gave me the idea of what the next level is like. I know what I can do and I'm confident in that. I just have a lot of work to put in."
"I think Xavier was the best-skilled kid in the Greater Spokane League this year," Hughes said. "He's both a very good offensive receiver and defensive back."
"With his particular athletic skillset, his strength is his body control," Rafael Guillory said. "And his ability to adjust to whatever situation is needed. Whether it's to play cornerback, receiver – then in basketball he can play the 2, 3 or 4 and sometimes he's had to play the 5.
"He's been able to make those adjustments. At the next level, they recruit athletes first."
Rafael sees Xavier as a pass catcher.
"Ever since he was a little boy, I would throw the ball with him," he said. "Literally, even when he was as young as a year old. I've got pictures of him in diapers with a football in his hands.
"I wanted him to learn how to play the game and to be a football player first. Because there are a lot of great athletes, but it doesn't translate on the field. His game translates."
Guillory was proud of the accomplishments he and his Tigers teammates made this season, winning as many games as the previous two seasons combined. LC went 7-0 before losing the final three games.
"We started out on fire," Guillory said. "The Mead loss (42-21) really hurt. But things happen. It was a great season for us."
The basketball team, which finished third in state last season, is just 2-5 in its first month. Guillory isn't letting that get him down on the season.
"I'm always a competitor. I'm never going to quit," he said. "We've had a bit of a rough start, but that's not going to stop us."
Brooks picks Vandals
Mt. Spokane's Tanner Brooks will get the chance to play offense and defense at Idaho as a tight end and outside linebacker.
"I'm super excited," he said on Tuesday after the Wildcats topped LC 56-38 in basketball. "Idaho's been one of my schools for a long time. I'm super excited to get the opportunity to play there."
Brooks likes the idea that Moscow is close enough that his family can continue to follow his playing career in person.
"Family is really big with me, so the fact that they'll be able to come to every home game, and a lot of the away games, is really big for me," he said.
Brooks had some other opportunities, but the chance to play right away swayed him to the Vandals.
"The ability to play early factored in to it," he said. "I was offered some preferred walk-ons, but I really wanted to play early. I took my official visit down there and it was a really good fit."
Coeur d'Alene offensive lineman Noah Gunn also committed to Idaho.
Other signings
DE Jacob McGourin, Cheney (Montana, football); Katie Rhodes, Mt. Spokane (Carroll, volleyball/track & field); Grace Thompson, Mt. Spokane (Multnomah, track & field).
---