North Central girls turn up defensive pressure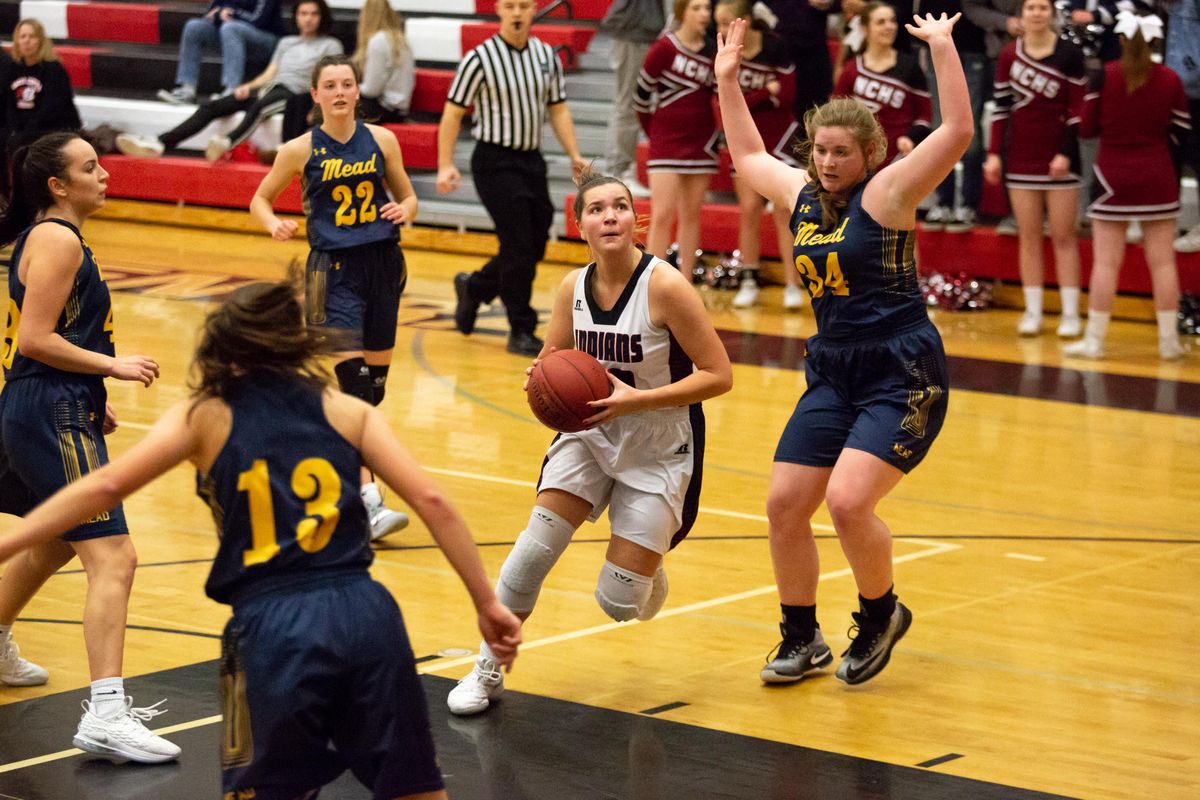 The changes were apparent from the opening tip of the season.
North Central entered the 2018-19 season with a new coach and a new attitude.
Tim Lamanna, an assistant coach the last few seasons, moved up to replace Jake Martin as the program's head coach. With the new season debuted a new approach to the game.
NC will put a premium on playing defense.
In their first win over Pullman to start the season, the team allowed the Greyhounds just five first-quarter points and 12 for the first half.
Impressive, but only until the team took the court for its second game.
NC allowed Hanford a single free throw for the entire first half.
"That was, wow – we can really stop people with our defense," senior Quincy McDeid said. "Before, the emphasis was always on scoring. We had to score if we were going to beat people. Now we know we can stop them from scoring."
"This group has really bought into everything the coaching staff has asked of them," Lamanna said. "They're keeping an open mind. And defensively, they've just bought in."
That's putting it lightly.
NC rolled through its first five games undefeated. It wasn't until its third game that the team allowed an opponent to score in double digits in a single quarter. Twice this season, they have blanked an opponent over a quarter. On four occasions, they have held rivals to a single field goal.
"I think it's a personality thing," Lamanna said. "We're having fun. These girls are enjoying being out there playing. They love coming to practice every day and they work really, really hard."
McDeid begs to differ.
"If I'm being honest, it's the coach," she said. "He's just done a really good job of teaching. He's done a good job of executing. He just has a way of communicating with us that works, and he makes it all so much fun. He just has a great way of connecting with the girls. We're really enjoying one another."
It's not that Lamanna has made wholesale changes to the way the program does things, and it's not as if the team didn't have a track record of success. NC finished better than .500 a year ago and lost just two players from that team.
"I haven't changed things very much," he said. "I tweaked a few things here and there. The difference is that we talk a lot about playing defense. We're not all that tall, but we have a lot of length and we do a nice job of disrupting an opponent. We get to a lot of balls, we get a lot of deflections. And we rebound hard.
"I tell them that we can have a bad night shooting the ball. But you don't have a bad night rebounding and you don't have a bad night playing defense. You can always rebound and you can always play defense."
It all comes down to developing a consistent effort, he added.
"I think we are the best-conditioned team of any team we've played so far and we want to keep it that way," Lamanna said.
"That's something I think everyone complains about at the end of practice," McDeid said. "But it's pretty cool to still have something in the tank at the end of a game and they don't."
Lamanna has put an emphasis on team building, and that happens on the court and off. Team dinners are a regular occurrence. NC will have a group trip over the Christmas break when they travel to Lewiston to play in a three-day tournament at Lewis-Clark State College.
"We played in that tournament last year and we lost in the semifinals," McDeid said. "But the team that beat us discovered they had scheduled too many games and had to forfeit the championship game. So we got to play the final game instead and we won.
"It's going to be pretty fun to go back this year and have a chance to prove that we weren't a mistake and that we weren't a fluke by winning it outright."
"This a great chance at team bonding," Lamanna said. "We have families that are going down with us and we'll be playing in a really cool environment at the Lewis-Clark State gym. And since we play early on the first day, we're going to have a big team dinner with everyone that first night."
An outstanding outside shooter, especially from beyond the 3-point arc, McDied is on the cusp of a rare spot in the NC record book. With more than 940 career points, she's a few games away from topping 1,000 – something Lamanna said may be a first for the school.
Averaging 11 points per game and with an ability to rain 3-pointers in bunches, it could come as soon as that trip to Lewiston.
"It's something that I know will happen," she said. "But it's not like I'm thinking, 'Wow, I need to go out and score 30 points tonight and 30 points in my next game to get it done.' No. With this team, I don't feel that kind of pressure to score. In fact, when teams overplay me, I feel really good passing the ball to a teammate, because I know it's going to a good place and we're going to score."
Lamanna said he's working to build something special at NC.
"That's why we go out and have a team dinner," he said. "We're building a culture and we're building a team atmosphere. We want to build a culture where the girls want to play for each other. They might not always love me, but if they do it for one another, it's going to build.
"You always get those things where there's a team drama and the team is not together. That makes it tough. We want to get beyond all that."
---