Sports > EWU football
Eastern Washington embracing rare underdog role against FCS juggernaut North Dakota State
Dec. 20, 2018 Updated Thu., Dec. 20, 2018 at 9:34 p.m.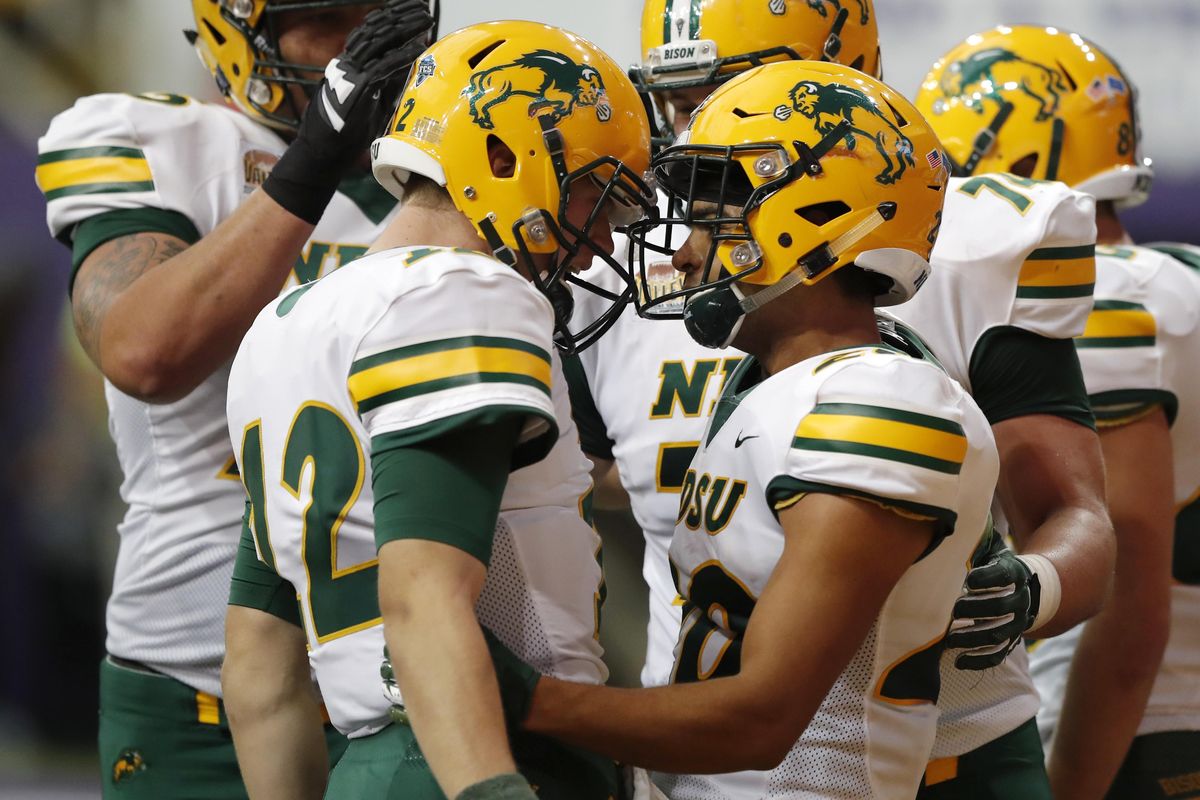 North Dakota State wide receiver Darrius Shepherd, right, celebrates with quarterback Easton Stick, left, after catching a 20-yard touchdown pass during the first half against Northern Iowa on Oct. 6 in Cedar Falls, Iowa. (Charlie Neibergall / AP)
Underdog is a rare label for Eastern Washington.
Over the span of three seasons, Vegas oddsmakers have pegged the Eagles to lose four FCS games.
Three were against North Dakota State, a program that's captured six of the last seven national championships.
The Bison lived up to the prognostication, edging EWU 50-44 in overtime at the Fargodome in 2016 before steamrolling the Eagles 43-13 in Cheney last year.
When EWU (12-2) locks up with top-ranked NDSU (14-0) in the FCS national title game on Jan. 5 in Frisco, Texas, the Bison will be 13.5-point favorites.
Eagles running back Antoine Custer isn't surprised.
"I'm pretty sure we're a big underdog, and that adds a little fuel to the fire," said Custer, whose Eagles handled Maine 50-19 last week in the FCS semifinals. "It makes you want to practice harder, grind a little harder when studying, and go out there and give it all you got."
Defensive back D'Londo Tucker agreed.
"They've won six of the last seven (national championships), but we're going to come out and give it our all," Tucker said. "Whatever happens, happens. We're blessed to still be even playing."
Tucker said it felt strange to be prohibitive underdog.
EWU head coach Aaron Best took a different tack.
After All-American quarterback Gage Gubrud suffered a season-ending toe injury in late September, Best said "a lot of people" expected EWU to be underdogs with sophomore Eric Barriere behind center.
But Barriere stepped in and went 8-1 as a starter, completing 177 of 286 passes for 2,252 yards and 24 touchdowns and seven interceptions. He's also rushed for 603 yards and even touchdowns.
"For us, we're playing alongside destiny with eight starters being out (due to injury) and not missing a beat," Best said. "These guys love each other and play for each other, and they don't worry about the outside noise, so whether we're underdogs or wonderdogs, it don't matter to us."
Former West Valley High star and current Montana State defensive coordinator Ty Gregorak said North Dakota State's sizable offensive front "looks like a Big 10 offensive line," paving running wide lanes for country's seventh-ranked running game (285 yards per game).
It also protects a pair of NFL prospects in quarterback and Walton Payton Award finalist Easton Stick (3,110 total yards) and running back Bruce Anderson (924 rushing yards, nine touchdowns).
The Bison also rank second in the country in points allowed (11.8 points)
"They're very disciplined, well-coached," Tucker said of NDSU. "They do what they're exactly asked to do, and they're physical. They play hard and play for each other, but we have a team like that, too, so it's going to be one hell of a game."
EWU ranks second in total offense (540 yards per game), third in scoring (44.5 points per game), 10th in rushing offense (263 yards per game) and 20th in scoring defense (21.6) in the nation.
NDSU blew out its playoff opponents Montana State, Colgate and South Dakota State by a combined 131-31.
EWU, which is playing for its second national title since 2010, handled its playoff opponents Nicholls State, UC Davis and Maine by a combined 124-69.
The Eagles and Bison have two common opponents in Cal Poly and Montana State. EWU beat Cal Poly 70-17 and Montana State 34-17. NDSU beat Cal Poly 49-3 and Montana State 52-10.
"It's a great outfit we're playing," Best said. "(NDSU head coach Chris) Klieman has earned an opportunity (to be the head coach at Kansas State after the season), and I'm sure NDSU wants to finish this off with their coach."
Local journalism is essential.
Give directly to The Spokesman-Review's Northwest Passages community forums series -- which helps to offset the costs of several reporter and editor positions at the newspaper -- by using the easy options below. Gifts processed in this system are not tax deductible, but are predominately used to help meet the local financial requirements needed to receive national matching-grant funds.
Subscribe to the sports newsletter
Get the day's top sports headlines and breaking news delivered to your inbox by subscribing here.
---