News > Spokane
WSU investigation finds Jason Gesser violated sexual harassment policy
Dec. 20, 2018 Updated Thu., Dec. 20, 2018 at 9:34 p.m.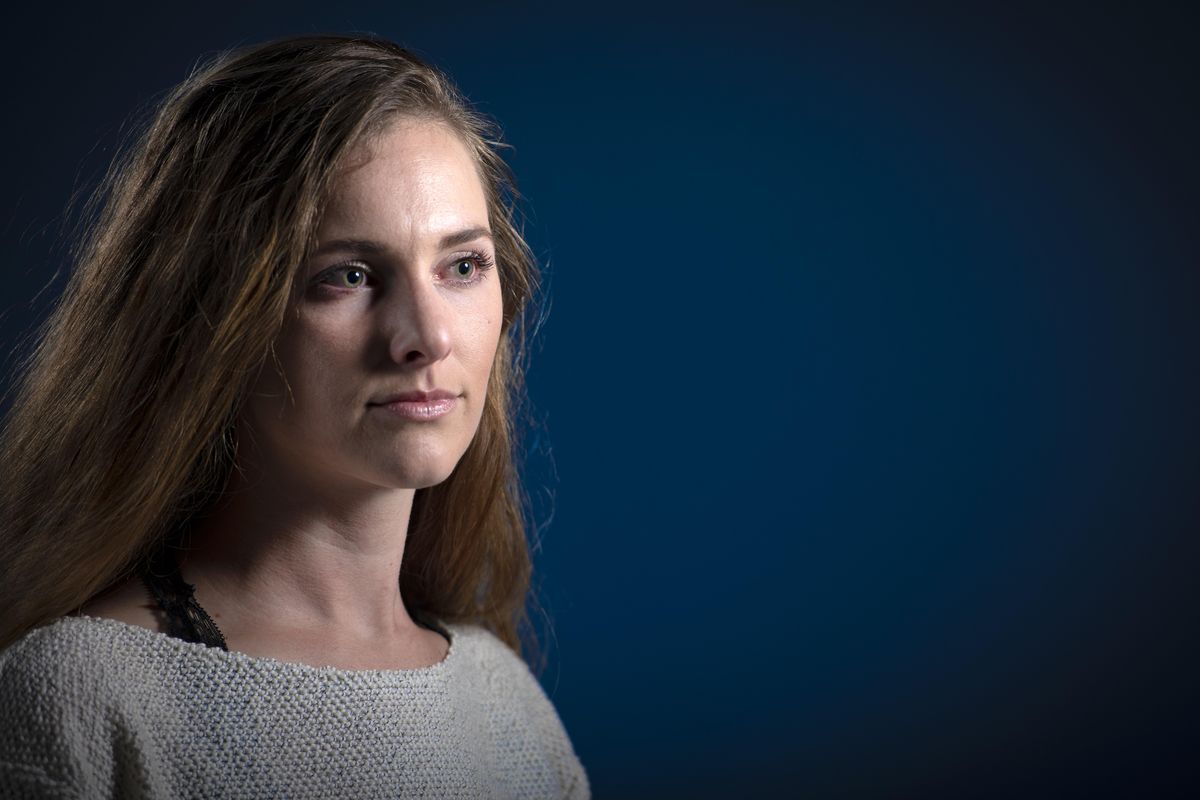 Alyssa Bodeau, 27, of Spokane says Jason Gesser, a former WSU quarter back and Athletic Department employee, tried to force himself on her after a school fund-raising event in 2015. WSU has determined that Gesser's interaction with Bodeau violated university sexual harassment policy. (Colin Mulvany / The Spokesman-Review)Buy a print of this photo
Alyssa Bodeau didn't know how her life would change after she decided to come forward with allegations of sexual misconduct against former Washington State University quarterback Jason Gesser.
But the waves of support and a new university finding has convinced her that she made the correct call to put her name behind her pain. Although the finding is 2 months old, Bodeau was informed that the WSU investigation determined that Gesser had violated university policy in his interaction with her following a fundraiser in Tumwater in 2015.
She met with investigators from the WSU Office for Equal Opportunity in September after she decided to come forward with her story.
"I definitely felt like I had the opportunity to be heard and that my situation was being taken seriously," Bodeau said. "I don't have any reservations about going to campus. It might just take a little bit for me to feel comfortable. But, I'm excited for that day."
According to the findings provided by Bodeau, WSU investigators ruled that Gesser's actions met "the definition of sexual harassment and non-consensual sexual contact" that "impacted the Complainant emotionally, created a lack of personal security for her, and created a hostile and offensive environment."
Bodeau, 27, grew up in Spokane Valley, attended West Valley High School and played volleyball at Lewis-Clark State College before transferring to WSU in 2012.
She played her junior season in 2012, but chose to sit out her senior year because of an injury. About the same time, she started caring for the Gessers' children, she said, to help out Gesser's wife, a former WSU volleyball player who remained active with the team.
But then she had the encounter with Gesser in 2015. He played as WSU's quarterback from 1998 to 2002. In 2013, Gesser returned to Pullman after six years of professional football and several coaching stops, including a stint at the University of Idaho.
At the time of the encounter, Gesser was a WSU employee who was helping raise money for the Cougar Athletic Fund.
Just minutes after he was informed that a second woman came forward with sexual misconduct allegations, Gesser resigned. According to the updated WSU report, he never sat down with investigators to give his side of the story.
"To the young woman that I made feel uncomfortable, I respectfully have a different recollection of the situation you've described," Gesser wrote, "but acknowledge that I should never have been in the situation in the first place, and I apologize. I truly never meant to cause you harm."
While Gesser provided the statement the day he resigned, he did not cooperate with the WSU investigation.
"Investigators also attempted to interview (Gesser) and (former Athletic Director) Mr. William 'Bill' Moos, who was present at the CAF event in 2015," investigators wrote. Gesser "declined to participate in the investigation; Mr. Moos did not respond to OEO's interview request."
Efforts to reach Gesser on Thursday were unsuccessful.
"I definitely felt more support just from those results," Bodeau said of the investigation. "It could show people in the future that this is a safe, supportive space to bring these things."
Local journalism is essential.
Give directly to The Spokesman-Review's Northwest Passages community forums series -- which helps to offset the costs of several reporter and editor positions at the newspaper -- by using the easy options below. Gifts processed in this system are not tax deductible, but are predominately used to help meet the local financial requirements needed to receive national matching-grant funds.
Subscribe now to get breaking news alerts in your email inbox
Get breaking news delivered to your inbox as it happens.
---