News > Spokane
Santa Claus continues decades-old tradition of visits to Spokane malls
Sun., Dec. 23, 2018 Most of the visitors who've plopped down on Santa's lap over the past several decades at department stores throughout Spokane are hoping for something shiny and new Dec. 25.
A select handful have their wishes fulfilled a bit sooner.
"Six girls have been engaged sitting on my lap," said the River Park Square Santa Claus during a break from chatting with hopeful tykes last week. "Usually, I'm the one who has the ring."
The holiday tradition of Santa quizzing youngsters dates back to the 19th century, originating in either a dry goods store in Brockton, Massachusetts, or at the New York headquarters of Macy's department stores, depending on who you ask. In Spokane, St. Nicholas was a fixture at the Crescent and Bon Marche department stores and now-defunct shopping centers at Shadle Park and University City, in addition to NorthTown Mall, River Park Square and the Spokane Valley Mall, where he still holds court every holiday season.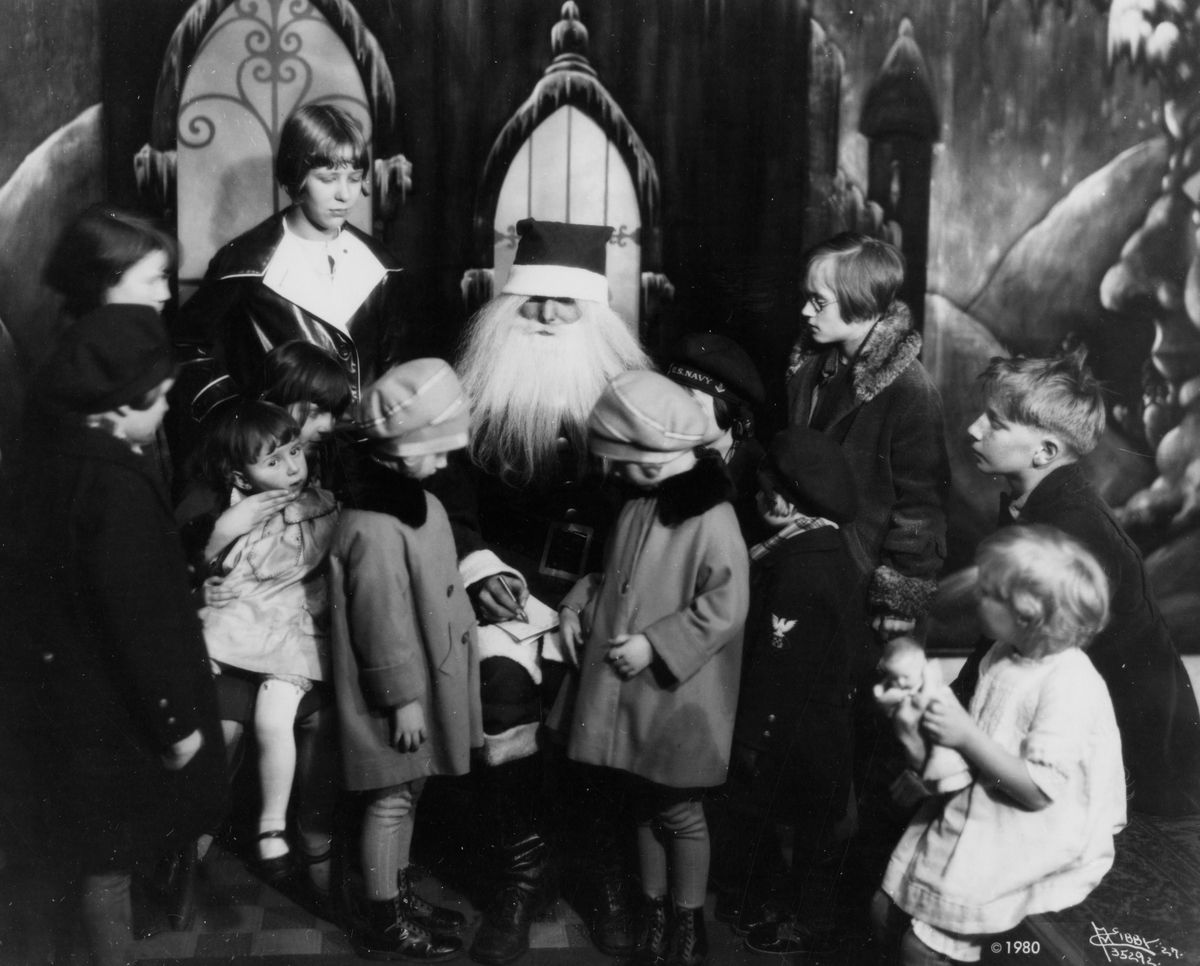 1927: The Santa Claus at the Palace Department Store in Spokane is surrounded by children waiting to tell him their Christmas list. The Santa Claus character became popular in the 1800s, following Clement Moore's poem "A Visit From St. Nicholas" and influenced by many folkloric and religious traditions. Department store Santas date back to the mid-1800s. (Eastern Washington Historical Society archives / Libby Collection)
In downtown Spokane, visitors greet Kris Kringle beneath the massive Christmas tree that fills the atrium of River Park Square, which is owned by the Cowles Co., which also owns The Spokesman-Review. On Thursday afternoon, 9-year-old Jaxon Stolp posed for a picture with his full family after getting in a word with the big guy and receiving his customary peppermint sucker.
"I asked him for a 'Jurassic World' Lego set, one with Blue," said Jaxon, referring to the lovable raptor Chris Pratt shares a connection with in the latest installments of the mega-movie franchises.
Santa said Legos remain a popular request among the younger set, but on this particular afternoon most children were focused on a different big-screen icon: Bumblebee, the robotic Volkswagen Beetle who's the star of the latest Transformers film.
"They want trucks and Transformers," Santa said.
Sisters Vivian and Alex Read shared real estate on the head elf's lap, grinning as Santa urged them to say, "Mac and cheese," before helpers snapped a keepsake photograph.
Alex, 9, asked for a Squishmallow, a "really big" plush toy that she could jump on, she said. Her sister, 11-year-old Vivian, wanted furniture for her American Girl dolls.
Santa said later that unicorns were popular among his female guests.
"Some of them say a 'real unicorn,' and others say 'pretend unicorns,' " Santa said.
The technology has changed, with parents snapping photos on their smartphones, rather than the Instamatics that crowded booths at the One Hour Photo and department stores in years past. Children are asking for Nintendo Switches rather than Nintendo Entertainment Systems.
Still, the questions are often the same, Santa said. Is Rudolph real? (Of course he is.) And the tears still sometimes roll down cheeks, as they did when 20-month-old Olivia Cook climbed onto Santa's lap Thursday afternoon.
The visit still ends with a sucker, a smile and maybe a letter deposited in Santa's mailbox, next to his throne at the foot of the tree.
"They're still the same," Santa said. "Sometimes the clothes are a bit different."
Local journalism is essential.
Give directly to The Spokesman-Review's Northwest Passages community forums series -- which helps to offset the costs of several reporter and editor positions at the newspaper -- by using the easy options below. Gifts processed in this system are not tax deductible, but are predominately used to help meet the local financial requirements needed to receive national matching-grant funds.
Subscribe now to get breaking news alerts in your email inbox
Get breaking news delivered to your inbox as it happens.
---