Gonzaga basketball team manager Mac Graff inspires all after overcoming great obstacles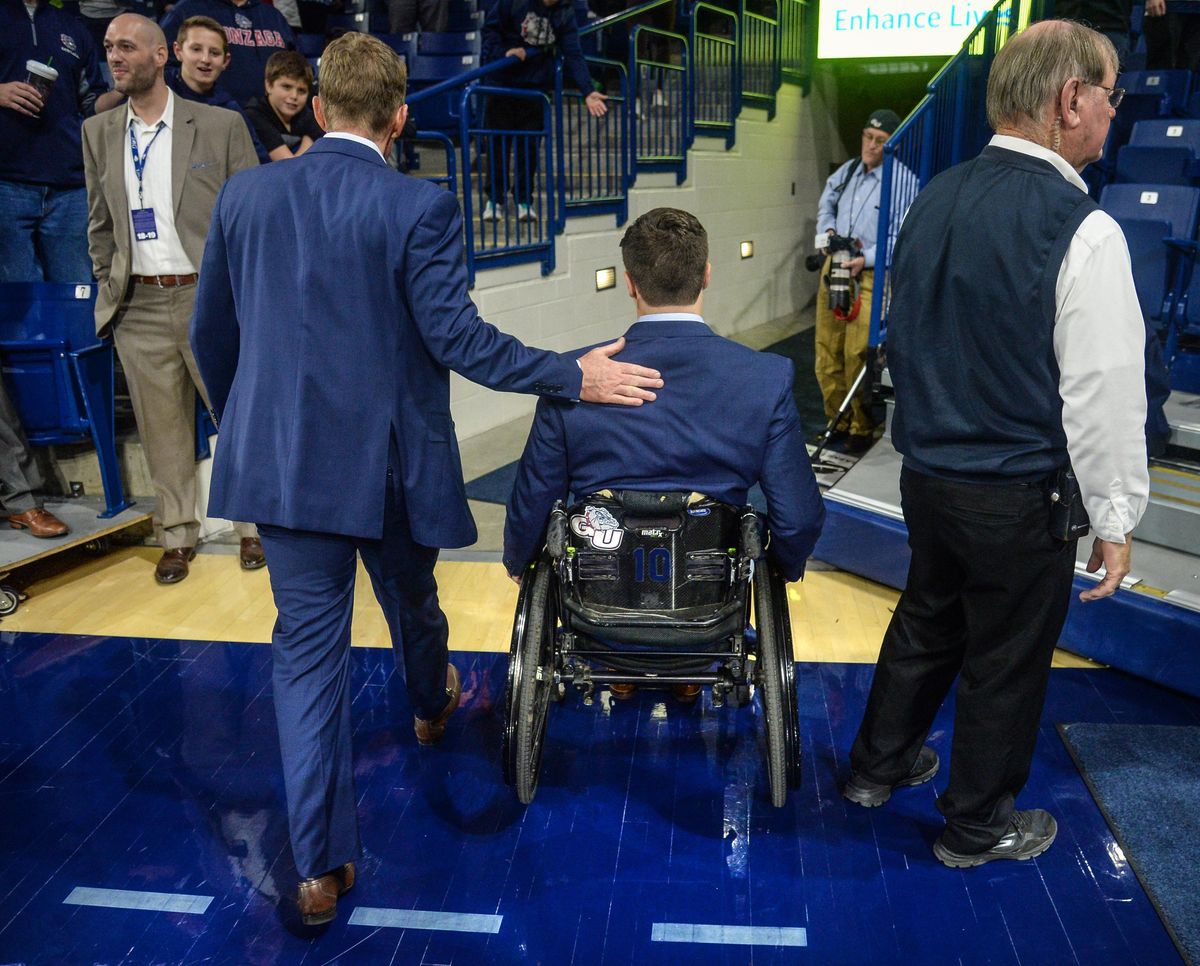 Mac Graff had been a hunter his entire life. Tree stands were almost a second home, serving as his place of focus as he waited for a deer to venture into range.
Every weekend during deer season, Graff could be found among the trees. Saturday, Sept. 13, 2014, was no different.
Minutes after his arrow whistled past a deer, Graff lost his balance and plunged 12 feet to the forest floor, landing on his back, dislodging his spinal cord and breaking his T11 and T12 vertebrae.
The accident
The 17-year-old Graff was the starting middle linebacker and quarterback for Chiawana High School in Pasco. Each weekend during the fall, before he could head east toward Dayton – his go-to hunting ground – he had to lift weights and watch film.
He and his dad Steve Graff (head coach at Chiawana) lugged themselves to the high school at 8 a.m. Luckily, the Riverhawks had crushed Wenatchee 42-7 that Friday night, so it was an easy film session.
The Graffs then met up at family friend Tony Henderson's house to watch some college football, just like they did every weekend before they took off for their hunting trip.
That Saturday four years ago was the perfect backdrop for a beautiful late-afternoon hunt.
At 5 p.m., it was sunny, a mild 70 degrees and still a few hours until dark. Graff was in a T-shirt and shorts, but he was encapsulated in a ghillie suit.
After a couple of hours camouflaged in his spot, a deer wandered toward Graff in his tree stand. Graff's life, as he knew it, was about to be diverted down a path he never imagined.
He found himself on the ground with a piercing pain shooting up his spine. The pain, he said, was like hitting your funny bone – a burning and tingly sensation, but much worse.
For a minute, his mind was racing, contemplating whether he would get to do anything he loved again.
But once the initial shock settled, Graff decided that whatever the prognosis, it wouldn't stop him from doing the things he wanted to do, a source of inspiration for people dealing with similar situations.
As he lay on the ground, he didn't want to ruin the hunt for the others, thinking he could wait it out. After a few minutes, the pain became unbearable and he started to scream for Henderson, his dad and his buddy Chandler Newell, grimacing with each yell.
Finally, he heard, "What?" echo back through the trees. It was Henderson, who was about 100 yards away. His dad and Newell were almost 300 yards away.
Henderson rushed to Graff and called his dad, who picked up Newell and headed toward his son, expecting a broken arm or a leg.
When his dad made it to his side, the ambulance was already on the way. Only then did he realize the extent of his son's injury.
"I can't feel my legs," Mac said.
The recovery
Steve Graff called his wife, Dana, as the ambulance was arriving and told her, "Mac fell out of his tree stand and he can't feel his legs. We're headed to Walla Walla."
"I'm headed to Walla Walla," Dana said.
As soon as he arrived in Walla Walla, Graff had a contingent of people waiting for him, including his friends, his Young Life leader, and, of course, his mom. They cut off the bottom of his ghillie suit and unzipped the top to get it off him without further injuring his spine.
They loaded him onto a helicopter for a medevac flight to Kadlec Regional Medical Center in Richland, where Graff met his surgeon, who decided to wait until morning before operating on his back.
After an excruciating night, Graff underwent surgery for five hours.
The surgeon came in and told Graff to "hope for the best but prepare for the worst."
"That's it, that's all I needed to hear," Graff said. "I still think, hoping for the best because you never know. I'm going to keep going."
Quickly, a statewide effort grew to raise money for the Graff family, starting with Graff's aunt Darci Monson – wife of Dan Monson, former Gonzaga men's basketball coach – who came up with the rallying cry "Graff Strong."
The term was a fixture at sporting events and schools throughout the state. T-shirts plastered with the saying cropped up everywhere.
"The community (and state) wrapped their arms around us," Dana Graff said."It was the most unbelievable thing I had ever experienced."
At least 40 people (spending an estimated $30,000-40,000) renovated the Graff house while he was in recovery. They designed a concrete ramp, made the entryway larger, installed a chair lift and made the bathroom disability-friendly.
After a week in the intensive care unit, Graff was moved to St. Luke's Rehabilitation Institute in Spokane, where he spent 30 days. He recovered while learning how to do normal mundane activities without the use of his legs. His mom called him a sponge, absorbing and executing everything thrown at him.
"They prepare you for functionality and that is what Mac was good at, functioning," she said. "Everything they taught him, he practiced, and he got good at it right away."
His mom was there every step of the way, but his dad continued to coach the football team and visit on the weekends. That was important to Mac. His team-first attitude rang true even during his time in Spokane.
One of the more uplifting moments during his monthlong stay at St. Luke's was a visit from members of the Gonzaga basketball team.
At the request of head coach and family friend Mark Few, Kevin Pangos, Gary Bell Jr., Domantas Sabonis, Mike Hart, Eric McClellan and Josh Perkins paid Graff a social call.
Time at Gonzaga
"Why wouldn't you come to Gonzaga? You need to come to Gonzaga," Graff recalls Few telling him when Chiawana played at Gonzaga Prep on Nov. 4, 2016, more than two years after the accident.
"All right, I guess that is what I'll do, then," Graff said.
The players who visited Graff at St. Luke's sold him on becoming a Zag.
"They genuinely cared," Graff said. "They came in probably thinking I was down in the dumps, but I was pretty upbeat. I got a relationship with quite a few of them."
Few saw the potential in Graff for his team and wanted him to be a part of the Zags' basketball family, just as Graff's uncle Monson did for Few in the late 1990s.
"(Few) always said, 'I want you around the team,' so my first or second day on campus, he called me and asked what I wanted to do," Graff said.
His mom suggested he could work in the ticket office, but Graff said being a manager would be cool. Few made it happen.
"The next day, I was rebounding for (former player) Silas Melson and it went from there," Graff said.
"His disposition and enthusiasm and his effervescence are contagious," Few said. "It is great for this team. He has a powerful impact on this team. It's not a charitable thing. It's because they love him, and they feed off his energy and positivity. … It allows our guys to get great perspective on those days where they think they are having a bad day, it really is not that bad."
Graff is in his second year as a manager for the basketball team and he wouldn't trade it for anything.
"It is tremendous," he said. "All the managers are great. … It is a lot of fun being around the guys and having relationships with all of the guys and all of the coaches. It's one big family."
Only one player remains from the collection of players who took time to see him at St. Luke's, redshirt senior point guard Perkins.
"He had an unfortunate accident, but he is the most positive human being I have been around for (four) years," Perkins said. "He is honestly an inspiration to why we should go so hard every day, because any given day it could be taken away from you.
"I'm glad I can call him a friend. … (He) is an orb of light."
The junior sports management major still does everything he did before his injury. He hunts, fishes, plays sports, goes swimming. Anything he sets his mind to, he does.
"(His friends) just dumped him in the water and he was absolutely amazed that he didn't sink," his mom said. "They all laughed because his legs just floated to the top."
Graff has a personalized golf cart that allows him to swing from the cart. He can play with family, including his grandparents and friends. Sophomore guard Corey Kispert has also played a few holes with Graff.
"I love golfing with Mac. That is one of my favorite things ever," Kispert said. "It is fun to see him do what he does and still able to participate in the things he loved before he got hurt. I love Mac. I love hanging around him and it's really fun to watch him do his thing."
Kispert, one of the pure shooters on the team, complimented Graff on his shot and said he would give the team a run for its money in a free-throw competition.
Graff lives on campus in the Kennedy Apartments, which have an elevator to his floor and a bench in his shower. He is fully self-sufficient and has a chair lift in his truck that picks up his wheelchair and puts it in the back of his truck, which has hand controls for driving.
"I love driving because it's almost like I feel normal," he said. "I don't see myself as not normal, but I'm just driving."
He also has started going to physical therapy again, now at U-District Physical Therapy across the street from campus, to try and work out his legs. He used to walk with leg braces on, but as his schedule began to fill up with school, being a manager and normal day-to-day activities, he was unable to attend his PT classes on a consistent basis.
For the first time in a while, Graff could walk again using his leg braces, even if it was only for a few feet.
"Oh, my gosh, it felt so good," he said.
Graff wants to be a source of inspiration and positivity however he can. His playing days may be over in some capacity, but his availability as a mentor for anybody drives him.
"I think God knew that this was going to happen, so he made sure I had a full heart doing what I loved," he said.
---