Sports > NCAA basketball
How we voted: Kansas becomes third team to concede No. 1 ranking after two-week stint at the top
UPDATED: Mon., Dec. 24, 2018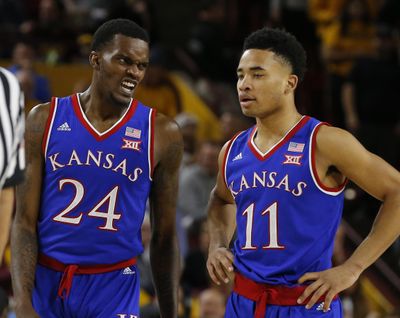 The Spokesman-Review's Theo Lawson is one of 65 national media members voting in the Associated Press Top 25 basketball poll this season. Every week throughout the 2018-19 campaign, he'll break down he voted, offering three thoughts on the latest edition of the poll, an update on the Pac-12's ranked teams and a look at local Top 25 representative Gonzaga.
Three thoughts
1. After an 80-76 loss to Arizona State in the desert, Kansas lost its grip on the No. 1 ranking, conceding it to Duke for the second time this season. The Blue Devils have it now, but trends of the season indicate they won't two weeks from now. Duke, Kansas and Gonzaga have all held the No. 1 spot this season, but none for more than 14 days. When the Jayhawks gave the top spot to Duke after week one, the Blue Devils held on for two weeks before losing to Gonzaga. The Bulldogs stole it for two weeks before losing for the first time this season. Then it was KU's turn. It was a two-week run for the Jayhawks before Bill Self's group bowed to the Sun Devils 80-76 and dropped their first game of the year.
2. If Duke can't hang onto No. 1, there's a good chance it'll either go to No. 2 Michigan, No. 3 Tennessee, No. 4 Virginia. But which is more deserving? Virginia has Marshall next, but there's a resume-booster game after that, against visiting No. 9 Florida State in the Atlantic Coast Conference opener at Charlottesville. Good defense still doesn't get the credit it deserves. For the second straight year, Tony Bennett's group is doing it better than anyone else with an NCAA-leading 50.3 points per game allowed. Michigan hasn't lost yet and owns three quality wins, over North Carolina, Purdue and Villanova. Nine voters gave the Wolverines a No. 1 nod this week. Tennessee is the only one of those three with a loss, but it came to second-ranked Kansas team. Tennessee has one quality win, over then top-ranked Gonzaga, but the Volunteers don't see another ranked team until Feb. 16 against Kentucky.
3. There haven't been many good weeks for the Pac-12 and this had to be one of the worst. The conference might have been omitted from the Top 25 had the team in Tempe not staged a big upset (more below). While the other major leagues have a number of teams ranked – the ACC and Big Ten with six each, the Southeastern Conference with four and the Big 12 with three – the Pac-12 is still sitting with just one. Among this week's bad losses: Vanderbilt 81, ASU 65; Santa Clara 102, USC 92; Cincinnati 93, UCLA 64; Fresno State 95, California 73; Kent State 66, Oregon State 63; Baylor 57, Oregon 47; Indiana State 72, Colorado 67; and San Francisco 74, Stanford 65.
Perusing the Pac-12
No. 17 Arizona State – It's fair to say anything but an upset win over the Jayhawks would've knocked the Sun Devils – and the Pac-12 with them – right out of the Top 25 after Arizona State's 16-point loss to Kansas a few days earlier. The Sun Devils didn't get their typical production from freshman Luguentz Dort, a 19 points-per-game scorer, but won with a balanced scoresheet. Five of eight Sun Devils chipped in double digits and ASU's three-man bench scored 26 points, while KU's four-man bench was held to just five.
Home cooking
After consecutive losses to a pair of top-15 teams, Gonzaga returned to The Kennel for some batting practice against UT-Arlington (89-55) and Denver (101-40). A neutral-site loss to Tennessee dropped the Zags from No. 1 to No. 4, and a road loss to North Carolina demoted them to No. 8, but a pair of dominant wins over unimpressive midmajors bumped the Bulldogs up from No. 8 to No. 7. The majority of AP voters – 43 of the 65 – had GU ranked No. 7. Five placed them between No. 3 and 6, and 16 had them anywhere between No. 8 and 11.
Putting the ball in the bucket was never going to be a problem for GU against UTA and Denver, but head coach Mark Few had to be impressed by the urgency his Zags played with on the defensive end. In holding two opponents to a combined 95 points, GU also held its foes to 26 percent and 24 percent from the field. The Mavericks and Pioneers also combined to make just 10 of 52 (19 percent) from beyond the 3-point arc.
Local journalism is essential.
Give directly to The Spokesman-Review's Northwest Passages community forums series -- which helps to offset the costs of several reporter and editor positions at the newspaper -- by using the easy options below. Gifts processed in this system are not tax deductible, but are predominately used to help meet the local financial requirements needed to receive national matching-grant funds.
Subscribe to the sports newsletter
Get the day's top sports headlines and breaking news delivered to your inbox by subscribing here.
---