News > Spokane
Spokane resident Katie Connelly selected to help unfurl flag at Alamo Bowl
Wed., Dec. 26, 2018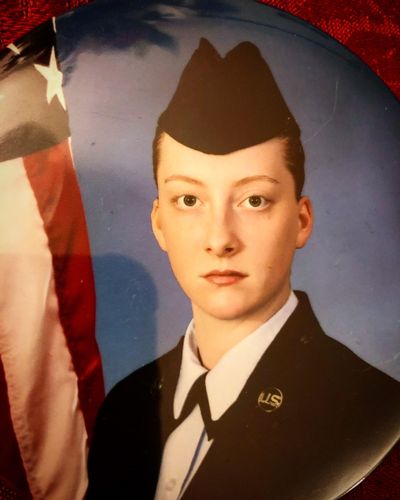 When local Washington State University football fans turn on the television to watch the Alamo Bowl in San Antonio on Friday, they might see a familiar face participating in the ceremonies before the game.
Spokane resident Katie Connelly, who is set to graduate from U.S. Air Force basic military training at Lackland AFB in San Antonio the day before, has been selected to be one of seven graduates who will unfurl the flag at the game.
Her mother, Kyrsi Connelly, said no one is even sure why her daughter was selected. All Katie Connelly knows is that her military training instructor recommended her for the honor, Connelly said.
The news came even though Connelly has had limited contact with her daughter while she's in basic training. "We just get letters," she said. "We write back and forth, and then I got two phone calls."
Katie Connelly grew up in Spokane and was home-schooled. Connelly said she committed to home schooling her children, including Katie's older brother, through the eighth grade. Her son attended North Central High School. Katie enrolled at North Central as a freshman as well – and lasted only four days.
"The big school was not for her," Connelly said. "Her brother went to North Central just fine with flying colors."
Katie Connelly continued her home schooling through the East Valley School District's Parent Partnership program and graduated in June. Connelly said her daughter did all the work herself with help from Parent Partnership teachers.
But Katie Connelly did find another way to follow in her older brother's footsteps. He joined the Air Force last year and she told her mother that she wanted to join, too.
At first her mother was skeptical about whether her daughter would follow through. "Sure enough, she did it," Connelly said.
As a child, Katie liked theater and performed as the Queen of Hearts and Annie in plays put on by Spokane Children's Theater. While searching for a job in the Air Force that would fit her personality, she settled on broadcast journalism. She had to audition to get into the program, her mother said.
"It's extremely small and extremely hard to get into," she said.
By all accounts Katie Connelly has been doing well in basic training, which may have been why she was recommended to participate in the Alamo Bowl. She's the element leader of her flight, or group of trainees. There are typically four element leaders per flight, and they are each responsible for a group of their peers.
"She's got major leadership qualities," Connelly said.
Her daughter's flight also earned the Basic Expeditionary Airman Skills Training (BEAST) Excellence award during a weeklong training simulation, Connelly said. "It's a big honor," she said.
Connelly is thrilled to see her daughter participate in the Alamo Bowl, though as a nonsports fan she had to look it up. "I realized Washington State was playing in it," she said. "I was just so tickled."
And Connelly won't have to watch her daughter on television. She and her husband will be at the game, though her son is stationed in Japan and won't be there.
"We're going down for graduation, and she got us tickets," she said. "I am absolutely giddy. I'm so excited to go."
Though Connelly is a newly minted Coug fan, she's enthusiastic. "I even bought some Washington State University gear," she said. "I'm excited to root for our home team."
Local journalism is essential.
Give directly to The Spokesman-Review's Northwest Passages community forums series -- which helps to offset the costs of several reporter and editor positions at the newspaper -- by using the easy options below. Gifts processed in this system are not tax deductible, but are predominately used to help meet the local financial requirements needed to receive national matching-grant funds.
Subscribe to the Coronavirus newsletter
Get the day's latest Coronavirus news delivered to your inbox by subscribing to our newsletter.
---