Sports > WSU football
Difference makers: Dogs of Washington State have played crucial role in guiding Cougars through difficult year
Thu., Dec. 27, 2018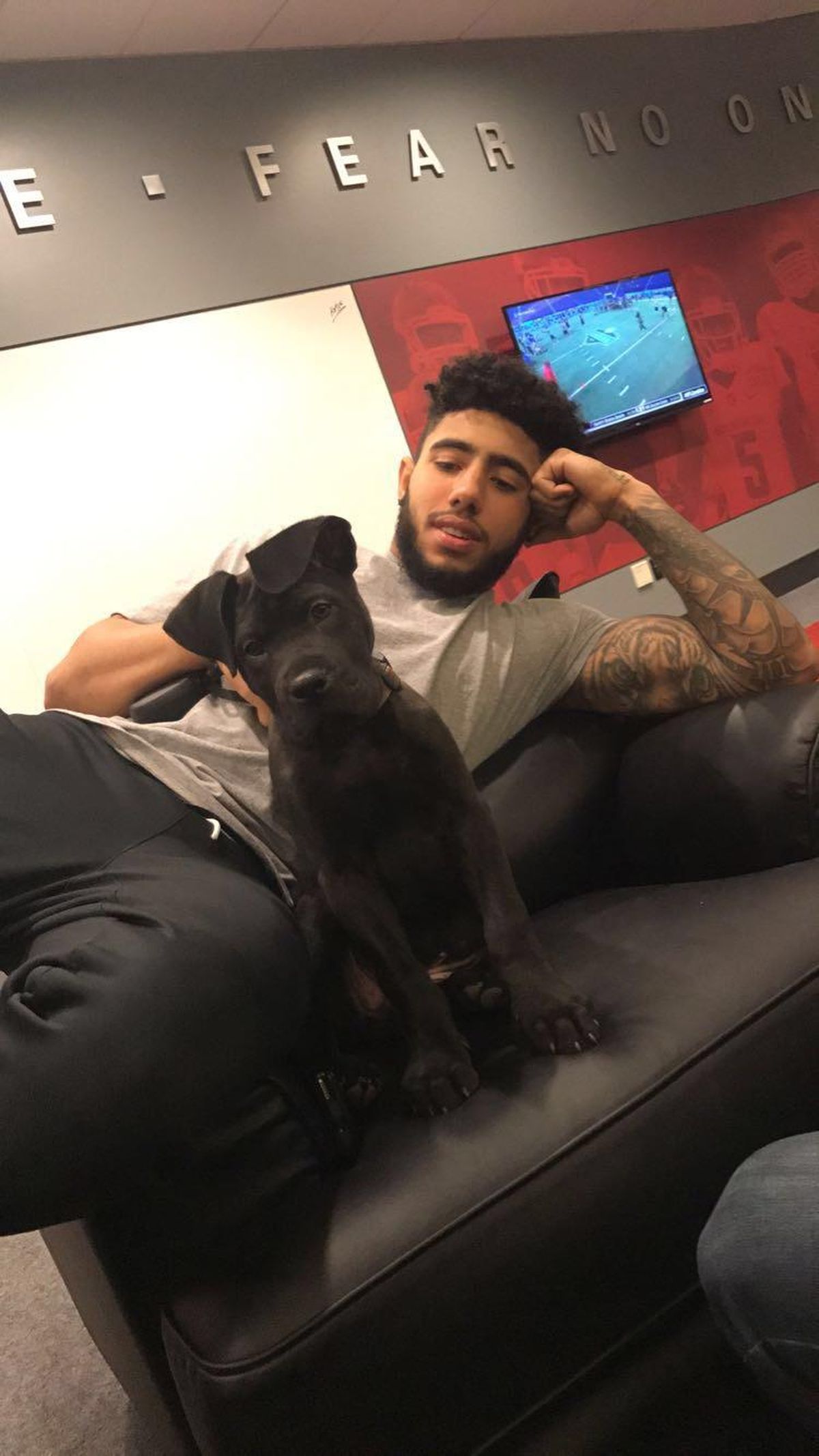 Cougars senior nickel Hunter Dale pets Diesel, his great dane/lab/chow mix, inside of Washington State's football operations building. (Courtesy/Washington State)
PULLMAN – In the weeks and months after Tyler Hilinski's death, members of the Washington State football team were surrounded by psychiatrists, doctors and other mental health specialists dedicated to guiding the Cougars through a trying time in their lives.
But at some point, when the counseling sessions, checkups and team activities ended, players often retreated to the darkness and relative loneliness of their houses and dorms, where it may have been easy to spend a few more somber hours reflecting on the tragic loss of a teammate and friend.
To navigate their darkest hour, a handful of WSU players leaned on the unconditional love from another source.
When Kim Pelluer drove across the mountains to be closer to her son – sixth-year linebacker Peyton Pelluer – in the wake of Hilinski's death, the first occupant in the car was Lily, the family's 6-year-old golden retriever.
"They put a '3' T-shirt on her, she came to the vigils, she was there for everyone, for guys to love on," Kim said. "So I just know the guys coming home from practice, whether they've had a good practice or a bad practice, they've got their dogs to give them love, support, maybe make them not so homesick."
Peyton agreed: "We were all together and it was that much sweeter to have the dogs around."
In many cases, they're the MVPs of the Washington State football team: Most Valuable Pups.
It's estimated that 15 to 20 players on the WSU roster are dog owners – "more than I've ever seen," coach Mike Leach said.
Some, like Pelluer, only see their canines a handful of times throughout the course of the season. Lily makes the occasional trip to Pullman for Cougar home games and she's been a fixture at fall camp in Lewiston over the years.
"After a long day, stressful day, maybe a loss, you get to come back and just unwind with some fuzzy love," Pelluer said.
The linebacker shares a living space with receiver Kyle Sweet and defensive lineman Nick Begg. In the days leading up to the Apple Cup, the pup-to-player ratio was about even, Pelluer said. Kim and Scott Pelluer traveled across the state with Lily, brother Cooper Pelluer brought his Italian Mastiff and Begg's girlfriend had her puppy over.
"That was a lot of fur," Pelluer said, "and our place isn't even that big."
The more, the merrier.
"We can have anywhere from zero to six dogs running around our house," Sweet said.
The senior wideout is the owner of a 4-year-old pure golden retriever named Indy. Sweet has only owned goldens and he doesn't see himself veering away from the breed anytime soon. A receiver needs his retriever.
"Extremely loyal, they're for the most part easy to train and easy to teach, and just companions," he said. "Dogs are a man's best friend and that's what I think of when I think of retrievers – one of my best friends."
WSU players lead frantic lifestyles during the season. Many of them rise at 6 or earlier for morning lifts, spend eight to 10 hours a day in class, attend position/team meetings in the afternoon and cap their day with an evening practice.
After a late meal at the football facility, it's not uncommon for players to return home at 8 p.m. or later.
"If you're having a tough day or something like that, your dog's always there and never knows what's wrong, but he just knows that he needs to play and be himself," Sweet said. "It's good and it distracts you, too, a little bit from football and everything that's kind of surrounding it and all the stuff that's involved with it."
"So it's a nice little escape to have a little furry friend."
Those escapes were vital earlier this year when players were coping with Hilinski's death. The young, vibrant quarterback who was supposed to succeed Luke Falk as the Cougars' starter in 2018 took his own life in an off-campus apartment on Jan. 16. Hilinski had a profound impact on just about every player on WSU's roster and many struggled to come to terms with his death.
"It's just a little, furry animal, and it definitely takes your mind off of stuff," Sweet said. "During that whole thing, it was really helpful to have a couple pups around, to just get our mind off things."
Diesel is the name of Hunter Dale's 2-year-old dog – a Great Dane-labrador-chow mix that once fit in the palm of the senior nickel's hand, but has since beefed up to 110 pounds. Cornerback Marcus Strong playfully ribs his teammate for owning a "horse," but Dale's pooch has quickly become one of the most popular on the team.
During fall camp, the veteran defensive back told a story of returning home to find Diesel missing. Roommate Gardner Minshew was missing, too, so Dale grabbed his phone.
"I hit him up and was like, 'Where's my dog?' " Dale said. "He goes, 'I just took him on a walk.' I was like, 'Oh cool, just let me know next time because that's my son.' "
That's a trend Leach has noticed, too.
The coach says owning a dog "is kind of fashionable right now, so a lot of people are.
"And the other thing is, the other dog guys will help each other. One dog guy helps the other."
"The wildest one," Leach recalls, "was (former WSU WR) Tyler Baker. He had a wolf."
Diesel lives with Dale full time and provides some sense of home for a player who chose to play college football a few thousand miles from his home in New Orleans.
In hurricane-riddled Louisiana, Dale and his mom occasionally saved dogs from natural disasters, and the senior owned them throughout high school. When he was a college sophomore, Dale jumped at the opportunity to acquire Diesel for the meager price of $100.
"He has no idea what you've been doing all day and he's just happy as hell to see you, wagging his tail, sniffing, jumping on you," Dale said. "That just brightens my day when I come back in, it doesn't make me tired anymore. Just want to mess with my dog, cuddle and play with his toys and that kind of stuff."
The team's dog owners – a club that recently grew by one when receiver Calvin Jackson Jr. adopted a small puppy – have a group text message and often gather their dogs at local parks whenever the football schedule offers downtime.
In the spring and summer, the dogs tag along on excursions to "The Dunes" – a popular recreation area alongside the Snake River.
"There's bonding on both parts there," Sweet said.
There's simply no underestimating the role a fluffy sidekick can have – especially in the wake of a tragedy such as the one the Cougars went through earlier this year.
"He has no idea what's going on outside of that house, or what you've been doing all day," Dale said. "You come in that house and he doesn't know if you're sad or not, he's just happy, wagging his tail, jumping around. And during that time, for some reason, I don't know why, when I come in he'd jump around and run straight to his rope and like throw it at me and I'd play tug of war and stuff.
"It just made you forget."
Local journalism is essential.
Give directly to The Spokesman-Review's Northwest Passages community forums series -- which helps to offset the costs of several reporter and editor positions at the newspaper -- by using the easy options below. Gifts processed in this system are not tax deductible, but are predominately used to help meet the local financial requirements needed to receive national matching-grant funds.
Subscribe to the Cougs newsletter
Get the latest Cougs headlines delivered to your inbox as they happen.
---