Sports > WSU football
TV Take: Gardner Minshew makes most of final showing in crimson and gray as Washington State outlasts Iowa State in Alamo Bowl
Dec. 28, 2018 Updated Fri., Dec. 28, 2018 at 11:52 p.m. So what can't Gardner Minshew do?
After Washington State's 28-26 Alamo Bowl victory Friday night, the answer may just be nothing.
The senior transfer quarterback not only threw for 299 yards, ran for one touchdown, threw for two others, set WSU and Pac-12 single-season passing records but also made the play of the year.
And seemed to make the ESPN broadcast crew in San Antonio's Alamodome card-carrying members of the Minshew Fan Club.
What they saw …
• The president has to be Greg McElroy, the former Alabama quarterback and the analyst in this one. His running mates, sideline reporter Tom Luginbill and the play-by-play voice Dave Pasch, are also part of the mustache society.
Minshew's highlight play came with about 11 minutes to play and the Cougars clinging to a one-point lead. On a third-and-10 from the Iowa State 30 – after Peyton Pelluer had wrestled a fumble away from Cyclone's David Montgomery – Minshew dropped to throw. Iowa State brought pressure. It got home and Minshew had to sneak out to the right, all the while under pressure. Somehow he saw Tay Martin ahead, threw a shovel pass and Martin took it 20 yards. A play later, Max Borghi scored.
"A really, really instinctive and aware play by Gardner Minshew," McElroy said, adding how impressed he was Minshew was "able to evade tacklers and still keep his eyes downfield."
From the open, McElroy had sung the senior's praises. Throughout the game he highlighted his successes, from his early touchdown throws to his 7-yard touchdown run.
"What balance and effort," Pasch said after Minshew kept his feet as he was lunging for the end zone. "The legend grows in Pullman about Gardner Minshew."
"Don't forget about his athleticism," McElroy said.
• There was one other play Minshew made, though you might say Dezmon Patmon made it. It was a pass for a game-clinching first down with less than 2 minutes left that Patmon caught with his legs.
On second-and-9, instead of running the clock, Minshew threw a back-shoulder to a well-covered Patmon who, despite a bobble, made a circus catch.
"Just when you think you have Mike Leach figured out, you have no idea what Mike Leach is going to do, really," Pasch said.
The first down allowed the Cougars to run out the clock and assured them of their 11th win this season, the first time that's happened in school history. And it dropped 24th-ranked Iowa State to 8-5.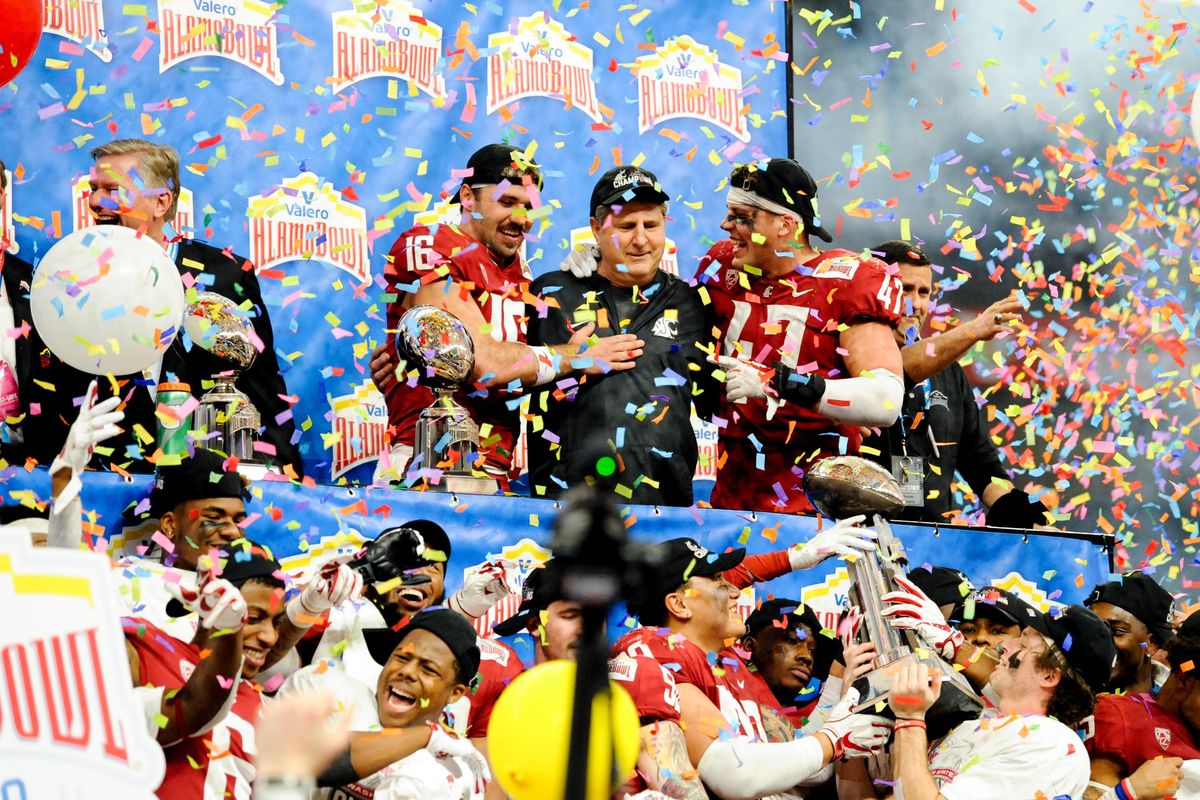 Washington State celebrates after defeating the Iowa State Cyclones during the second half of the 2018 Alamo Bowl on Friday, December 28, 2018, at the Alamo Dome in San Antonio, TX. WSU won the game 28-26. (Tyler Tjomsland / The Spokesman-Review)
What we saw …
• In actually, we should call this section "What Deion saw …"
It's part of a long-running feature concerning struggles by the officiating crew. Though, for once it wasn't a Pac-12 group.
When Marcus Strong jumped Brock Purdy's pass intended for leading receiver Hakeem Butler at the WSU 29-yard line, there was little between him and the goal line. So little in fact, he turned around his head around at about the Washington State 20-yard line and held the ball in front of him as he trotted in for a touchdown.
Except the Big Ten crew decided his actions were worthy of a taunting penalty.
Instead of a 7-0 lead, the Cougars had the ball at the Iowa State 20-yard line. It quickly became a touchdown, though, as Minshew teamed with Renard Bell for a 22-yard strike.
While that was going on, Twitter exploded. There were the tweets from former Cougars like Ryan Leaf, Husain Abdullah and Alex Hoffman-Ellis. But the most interesting comment came from Hall of Fame defensive back Deion Sanders, who never saw a celebration he didn't enjoy.
"Marcus Strong u ain't do nothing wrong my brother. The way u broke on that slant u deserve to look back after u outran everyone! #Truth WASHINGTON STATE!!!!!!!!"
• There were other controversial calls for referee John O'Neill's crew. (For fun, just Google O'Neil's name and "Michigan.")
Two Iowa State players were ejected for targeting in the first half.
Both were shots to Minshew's head. The first, on the Cyclones' second-leading tackler Willie Harvey, was obvious and drew a flag, even if the Iowa State fans didn't agree.
"Those are the hits we are trying to eliminate in college football," McElroy said, adding he agreed with the call even if it cost a senior his last game of his career.
The second, on lineman Eyioma Uwazurike, wasn't flagged on the field. But the replay official caught it and Uwazurike was also ejected.
"The call was in fact correct," McElroy said.
Still, it angered Iowa State coach Matt Campbell so much he was assessed an unsportsmanlike conduct penalty, more than likely for language a 6-year-old could lip read.
On the same drive, which led to Washington State's third touchdown of the half, WSU left tackle Andre Dillard flinched before the ball was snapped but wasn't caught as Minshew found Patmon in the back of the end zone from 9-yards out.
Lugenbill and McElroy wondered how the line judge could have missed the foul and decided they had no answer.
Want more? The second half included two challenges by the coaches, both unsuccessful and both first-guessed by the broadcast crew. There were oddly used timeouts by both teams, a failed 2-point conversion that would have tied the game and some outstanding defensive plays on both sides.
As Pasch said, "It has been a terrific game."
Local journalism is essential.
Give directly to The Spokesman-Review's Northwest Passages community forums series -- which helps to offset the costs of several reporter and editor positions at the newspaper -- by using the easy options below. Gifts processed in this system are not tax deductible, but are predominately used to help meet the local financial requirements needed to receive national matching-grant funds.
Subscribe to the Cougs newsletter
Get the latest Cougs headlines delivered to your inbox as they happen.
---