Analysis: Gonzaga finishes strong, puts away San Diego 69-59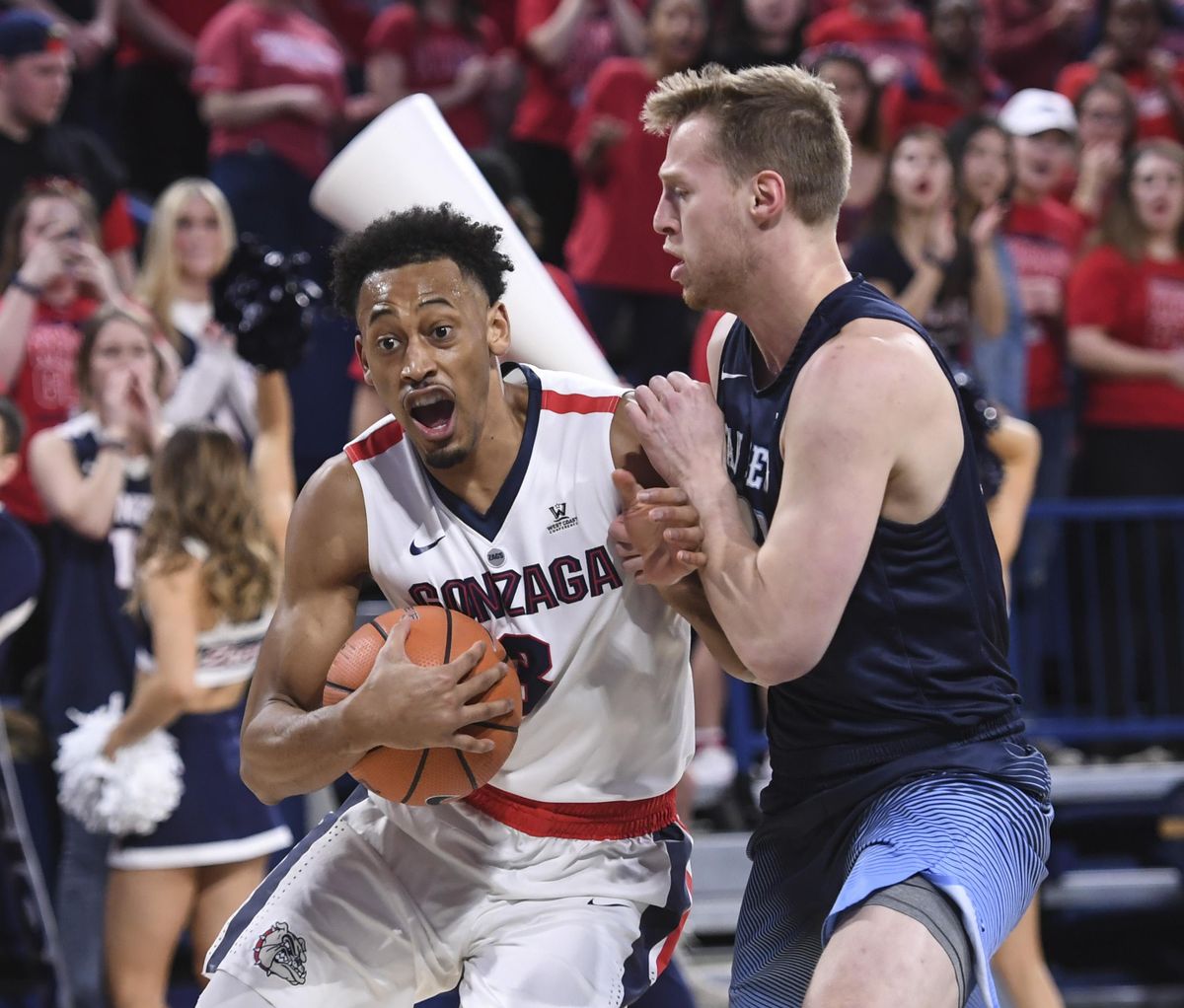 Some hiccups remain. The lengthy offensive dry spells. Opponents rallying from double-digit deficits.
The up-and-down play of key individuals.
No. 14 Gonzaga hasn't been at its best over the last two games – tough-minded, scrappy opponents have something to do with it – but the Zags are doing something that outweighs some of their struggles.
They are closing out tight contests, a handy trait for any college basketball team, and they demonstrated it again Thursday night, putting away San Diego 69-59 in front of 6,000 at the McCarthey Athletic Center.
GU (20-4, 10-1 WCC) secured its 21st consecutive 20-win season by outscoring the Toreros (15-8, 6-5) 13-5 in the final 3 minutes, 35 seconds. The Zags scored the last six points, just as they did in last Saturday's 82-73 win over visiting San Francisco.
"It was great for us to pull out a big win like that," said freshman wing Zach Norvell Jr., who was a main reason why with two 3-pointers in the final minutes. "We knew we had to find a way. J3 (Johnathan Williams) was really big for us. He showed the talent and prospect he is. We need that going forward with a big two-week stretch coming up."
Norvell was one of several Zags who came through after enduring rough patches earlier in the game. He was just 3 of 9 from the field and 0 of 3 on 3s before stepping around a screen and nailing a 24-footer to put Gonzaga up 61-54. He put the game away with another 3 with 38 seconds remaining.
"When he shot the first one I was really surprised," said senior guard Silas Melson, who chipped in 12 points. "That's just who he is. He's really confident in his game. No matter what the situation is he believes he's going to come out on top. That's the stuff we need, people to be confident."
Williams overcame a slow start with key baskets in a pair of Gonzaga runs, one in each half, and finished with 14 points and 12 rebounds.
Josh Perkins didn't have an assist and struggled with his shot before scoring on two drives into the lane in the final 3:35. His three-point play boosted GU's lead to 66-59 with 1:25 left.
"I missed some easy ones, but made the ones that count," Perkins said. "Shout out to my teammates for keeping my head in it."
Gonzaga won this one with defense. Isaiah Pineiro and Isaiah Wright, San Diego's top two scoring threats, combined for 25 points, nearly eight below their average in WCC games, and made just 7 of 28 shots. They were 2 of 9 beyond the 3-point arc.
The Zags lost track of guard Olin Carter III, who made five 3-pointers and scored 21 points. Even with Carter's success, USD made just 33 percent from the field.
"We've got to keep rolling on the defensive end," said Williams, who did a nice defensive job on Pineiro. "We all know we're great scorers, we just have to make sure we play better defense."
The Zags endured another long drought, scoring five points in an 8-minute, 30-second span as they slipped behind 15-10. GU scored three points in 10-plus minutes against San Francisco on Saturday.
The Zags bounced back with a 12-0 run, spurred by Williams overpowering a smaller defender for a two inside baskets.
Gonzaga's 36-27 halftime lead dissolved quickly as Tyler Williams' corner 3 gave USD a 40-38 edge. The Zags scored the next 11 points, the first four by Williams and the last seven from Melson.
There wasn't a huge discrepancy in offensive rebounds – Gonzaga 14, San Diego 11 – but there was in what each team did with those extra opportunities. Gonzaga held a 24-7 edge in second-chance points.
"That was a hard-fought, physical game," Zags coach Mark Few said. "They're obviously taking a lot of pride in just how hard they play. Especially down the stretch how we closed the game and the first half we were a tough team. That's a good sign."
---