Spokane woman involved in massive land-gift to Chilean government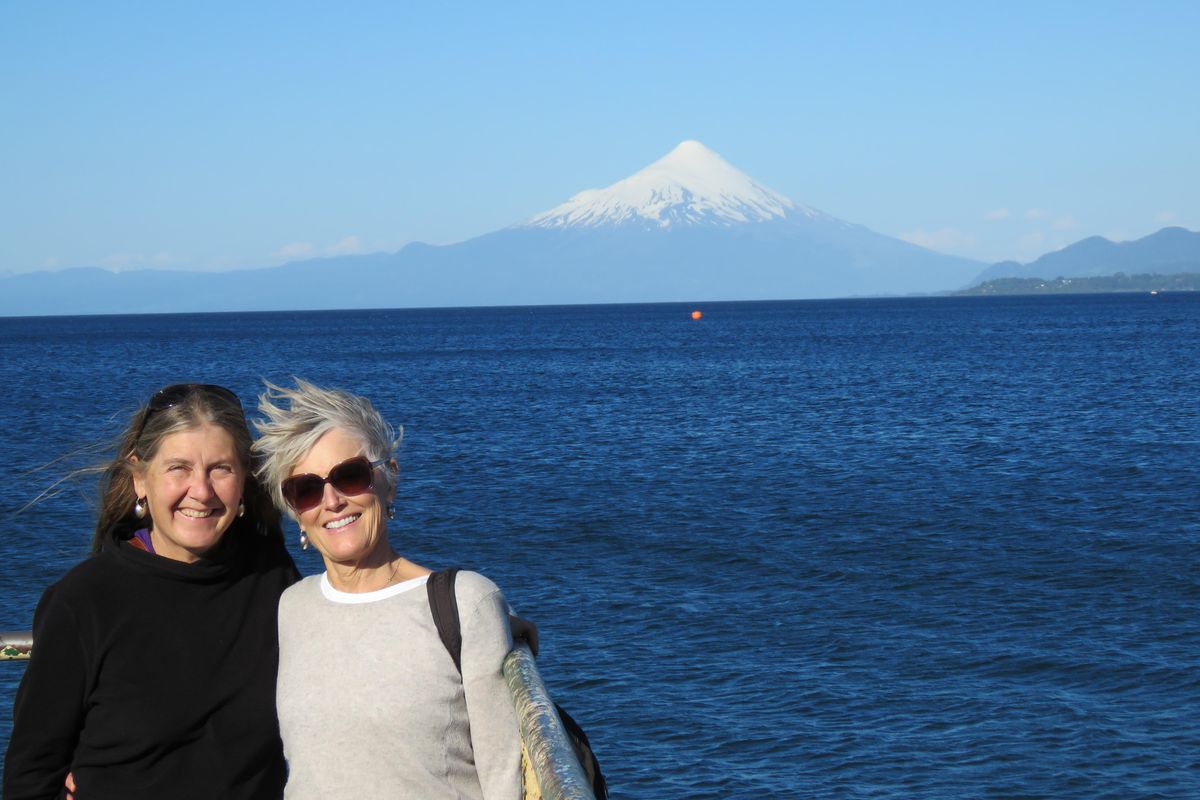 One of the largest donations of privately held land, ever. Sweeping vistas. 10 million acres of protected Chilean parkland created in a single day.
Spokane native and part-time resident, Nancy Schaub, has had a hand in it all.
Over the course of eight years Schaub, 73, has donated more than $2 million to Tompkins Conservation, the nonprofit land trust that gave the Chilean government more than one million acres of land on Monday.
The Chilean government matched the gift, adding nearly nine million acres of federal land to the new national park system. Tompkins Conservation said the protected area is three times the size of the United States' Yosemite and Yellowstone national parks combined, or about the size of Switzerland.
The agreement signed by Chilean President Michelle Bachelet and Tompkins Conservation CEO Kristine McDivitt Tompkins will create the new Pumalin and Patagonia national parks while expanding others to help create a "Route of Parks." The string of 17 parks will span more than 1,500 miles across the South American nation, stretching from Puerto Montt to Cape Horn.
Schaub hesitates talking about her monetary contributions. She emphasizes that money is her way of making the world a better place. Hardly the only way to do so.
"It's a privilege to have a capacity to serve the planet," she said. "Some people can do it through their writing, because they have a talent for writing … and then other people have financial resources."
Schaub was born in Spokane to a 'hard-working' engineer father. Her mother was the daughter of an Oregon pioneer family. She left Spokane in the 1960s to attend the University of Colorado and returned in the 1980s to raise a family. She was active outdoors spending many weekends on Mount Spokane.
After a divorce in the mid-90s she left again, moving to San Francisco.
"I came out of my marriage with more than I needed," she said. "It's a huge responsibility and as I said, it isn't giving. I'm investing."
Schaub's children were all raised in Spokane. And she returned part-time to Spokane a year ago. She plans to move here full-time soon.
"I knew that ultimately I would move back," she said.
She's no stranger to philanthropy, having been involved in numerous efforts over the last 25 years. In Spokane she started the New Priorities Foundation with her adult children, which funds environmental education, environmental justice, advocacy, land conservation, preservation and sustainable agriculture, among other things.
Her philanthropic work is just that – work.
"It's a form of investment," she said. "I'm investing in your future."
In the last decade, Schaub's personal philanthropic work has turned more toward public land conservation efforts.
"I'm more focused on doing work that is enduring," she said. "What could I do that would really add up and contribute to a healthy future."
That desire is deeply rooted in her own appreciation and desire for beauty, both in her personal life and in the landscapes people are exposed to.
"I can't overemphasis how I value beauty," she said. "I want everything I do to result in more beauty. Because I think it's a way of expressing care and showing respect."
That combination – a desire for beauty and an interest in conservation – has led to a fruitful partnership with Tompkins Conservation. Roughly a decade ago, Schaub met founders Kristine and Doug Tompkins in San Francisco.
They became firm friends.
Over the past 20 years the Tompkins – both successful entrepreneurs in their own right – bought land in southern Chile. Doug Tompkins was the co-founder of the North Face and Esprit clothing companies and Kristine Tompkins was the CEO of the apparel company Patagonia.
Much of the land the couple bought was former ranch land. At the time the purchases bothered some locals, who saw it as a foreign land grab, National Geographic reported. The Tompkins resisted hydro power dam expansion. And, as the puma population grew nearby ranchers raised concerns about cattle attacks.
However, over the years the Tompkins eased these tensions by including more local input, National Geographic reported.
That culminated on Monday, when the California-based conservation group handed the land over to the Chilean government after pledging to do so in 2017.
Tragically, Doug Tompkins died kayaking in Chile in 2015.
"I am proud of my husband Doug and his vision which continues to guide us, in addition to our entire team, for completing these two national parks and the broader network, a major milestone of our first 25 years of work," Kristine Tompkins said in a news release on Monday.
Although the Chilean government now owns and operates the parkland, Tompkins Conservation will continue to be involved.
Spokane resident Denise Attwood traveled to Chile earlier this year with Nancy Schaub.
Attwood, who has run a nonprofit working in Nepal for decades, said the scale and grandeur of the landscape is like nothing she's ever seen.
"I love Nepal. I love the Himalayas," she said. "But this is different."
Schaub hopes that the existence of vast wild landscapes, like the Patagonian parks, can inspire people to preserve and protect lands closer to home.
"It's just so nourishing to be there," she said. "And there aren't a lot of places at this scale left to protect."
Attwood, who is often skeptical of large–scale foreign led efforts, agrees.
"It's happening here (in Spokane) and it's happening at the global level," she said of conservation. "And it has to happen at both levels."
The Schaub family is an example of that split macro-micro focus.
Nancy Schaub's son, David Schaub, is the executive director for the Inland Northwest Land Conservancy. His conservation work and his mother's have developed in tandem, each informing the other. And while he's focused more on Spokane-area conservation, he said the work his mother supports on an international scale can inform local efforts.
"I think that being connected to ambitious conservation projects elsewhere can help inspire a local application and interest in protecting one's backyard," he said.
And, perhaps even more importantly, he said climate change and widespread ecological degradation means conserving land anywhere is increasingly important everywhere.
"The more natural land that we can preserve and protect, the better off life will be on the planet," he said. "So, there is a degree to which I think the work is inspired by a desire to try to ensure survival of as many species as possible."
He added, "To me it's a sacred obligation to look beyond our species and see the bigger whole."
Nancy Schaub agrees.
"I've never felt that this great abundance I have belongs to me," she said.
Correction: An earlier version of this story inaccurately stated where Nancy Schaub's children were born. It has been corrected.
The Associated Press contributed to this report.
---