News > Spokane
Groundhog Day: Furry forecaster unlikely to see shadow as cloudy skies, warmer temps prevail
Feb. 2, 2018 Updated Fri., Feb. 2, 2018 at 7:25 a.m.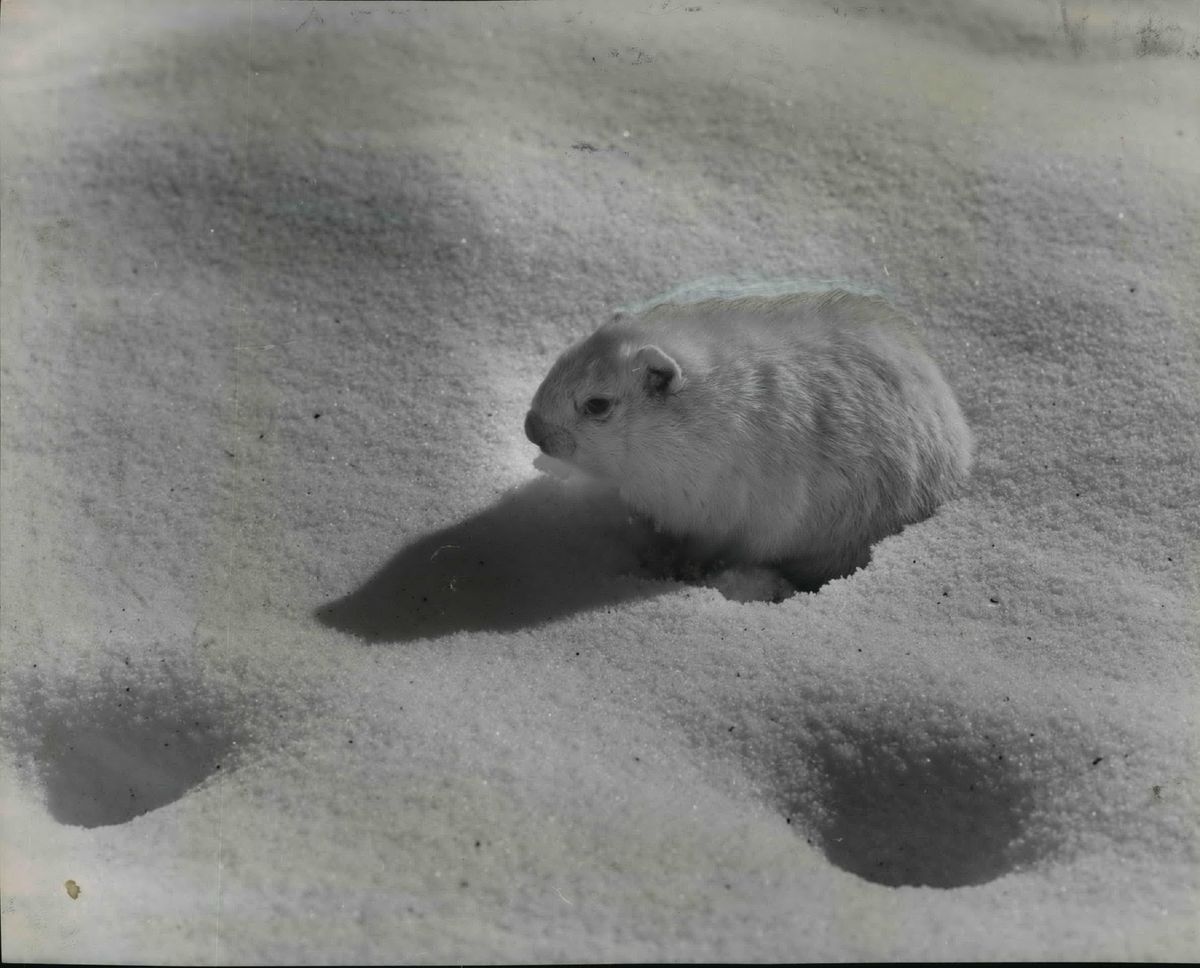 FILE PHOTO FROM 1956 – This is Gus the Groundhog and there is no doubt that his shadow is there for the seeing. But Gus, invited by a Spokane Daily Chronicle photographer to step out of a snug cage in a warm East Sprague pet store, didn't appear to relish the cold and snow any more than the photographer did, and he closed his little pink eyes. (Spokesman-Review archives)
The groundhog and the weather folks are apparently in sync this year.
If the groundhog emerges from his den today and sees his shadow because of sunshine, he will climb back into the ground for six more weeks of winter, or so the legend goes. (He did, by the way.)
With rain in today's local forecast, it's more likely the groundhog will stay out of the ground, signaling an early start to spring.
The National Weather Service is calling for the latter scenario, in which milder weather will continue to prevail across the Inland Northwest for the next couple of weeks.
"It doesn't feel like last winter, that's for sure," said forecaster Laurie Nisbet at the Spokane office of the weather service.
January ended 2.2 degrees warmer than normal, with an average day and night temperature of 33.7 degrees.
Snowfall was below average, with just 8.1 inches falling in Spokane compared with an average of 11.4 inches.
But longer-range modeling shows the possibility that winter may still have a few tricks in store.
The Climate Prediction Center is calling for below-normal temperatures and above-normal precipitation in the February through April period.
Ron Miller, forecaster for the weather service in Spokane, said this season's periods of relatively dry, snow-free and milder weather are the result of a strong ridge of higher air pressure which has been blocking storms along the West Coast.
That area of high air pressure has retreated several times this season, giving the Inland Northwest near normal snowfall both in the lower elevations and mountains and the above-normal temperatures.
So far this season, Spokane has seen 32.4 inches of snow compared with an average of 33.5 inches through Wednesday. Precipitation for the season, both rain and melted snow, is about 2 inches above normal, with 9.7 inches recorded through Wednesday.
The coldest day of winter so far was 7 degrees on Dec. 24. Any winter that does not see below-zero temperatures is considered less severe by most residents of the region.
The only stretch of below-normal temperatures was from Dec. 21 through Jan. 4, Miller pointed out.
Winter snowpack in the region was at 100 percent of normal across the region as of Wednesday, he said. To the south, Oregon and California have seen below-normal snowpack because of the storm-blocking power of the high air pressure.
A La Nina cooling of the tropical Pacific Ocean this season was supposed to bring a heavy winter, as it did a year ago when 61.5 inches of snow fell, well above Spokane's 30-year average of 44.1 inches of snow.
"It's definitely not panned out like a classic La Nina," Miller said.
But La Nina and its opposite, El Nino, are just a pair of many global forces that affect weather patterns, he said.
"There are so many driving forces that either we don't know or can't predict," he said.
That leaves the remainder of winter something of a crapshoot when it comes to predictions.
While medium-range forecast models show milder weather under a ridge of high air pressure staying in place through the middle of February, all bets are off for the wrap-up to winter heading into March.
Just remember that last winter brought a fairly hard-going February with 19.8 inches of snow and ice.
Local journalism is essential.
Give directly to The Spokesman-Review's Northwest Passages community forums series -- which helps to offset the costs of several reporter and editor positions at the newspaper -- by using the easy options below. Gifts processed in this system are not tax deductible, but are predominately used to help meet the local financial requirements needed to receive national matching-grant funds.
Subscribe now to get breaking news alerts in your email inbox
Get breaking news delivered to your inbox as it happens.
---