News > Crime/Public Safety
Rocker Ted Nugent helps town of Republic leash a new police dog
Feb. 2, 2018 Updated Fri., Feb. 2, 2018 at 11:24 p.m.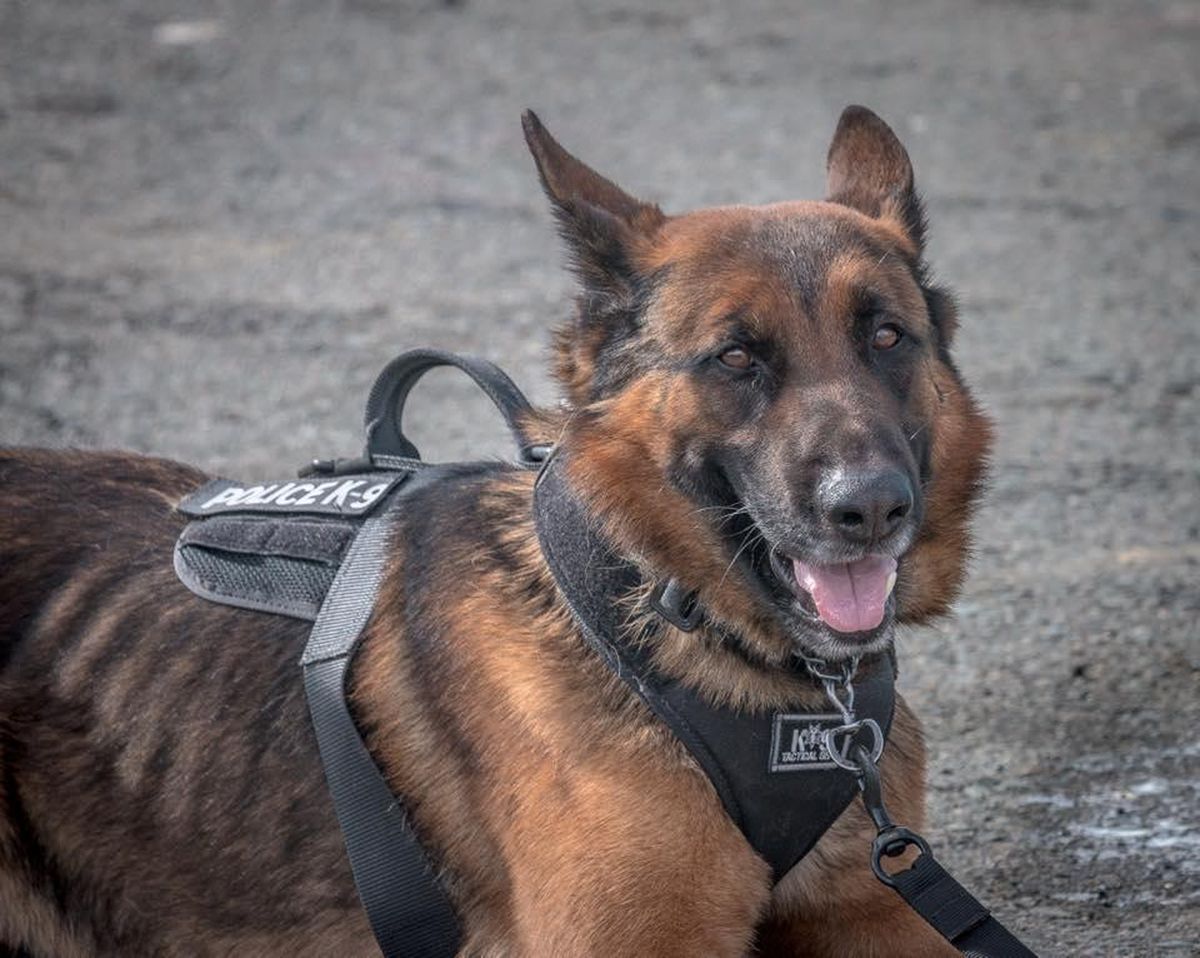 K9 Karma (Republic Police Department)
After the town of Republic last month lost its only police dog, Isko, to cancer, the community mourned.
But, with the power of social media, a Spokane Valley security company and rock legend and political firebrand Ted Nugent, the town was the recipient of Karma. As in a new K-9 named Karma.
Republic Chief of Police Loren Culp – who was Isko's handler – started a GoFundMe page to help the town pay for a new K-9 officer after Isko died.
"Isko did a great job in Republic," Culp said. "We had a person stand up and thank Isko and me for saving his life. Quite a few people came up to us and thanked us … so it was pretty important to have another K-9."
Culp said Ted Nugent found out about his GoFundMe page and shared it on Facebook, with the message: "Trying to help a great little town and great law enforcement heroes get a new K-9 hound."
Nugent's production manager – who previously worked with Spokane Valley-based Phoenix Protective Services for concerts – reached out to the company's president, Sheila Leslie, and asked if they would assist with the fundraiser.
The security company – which has a K-9 program – instead offered to purchase a police dog for Culp, said Jagrut Shah, vice president of Phoenix Protective Corporation.
"The generosity of him and his company was unbelievable," Culp said. "He's helped us out tremendously."
Shah reached out to David Dorn, operator of Oakley, California-based K-9 Stac Specialized Training and Consulting, a company that specializes in K-9 patrol and detection training for the Department of Homeland Security and local police departments.
"Dave is heavily into K-9 ownership and trying to help dogs by rescuing them from high-risk kill shelters," Shah said. "Karma was on his last week at the kill shelter when Dave picked him up."
Dorn's requirements are very specific: The handler has to come to the facility for a minimum of two weeks.
Culp traveled to California and trained with Karma for more than eight hours a day. Karma, at 1 1/2 years old, already has extensive training in narcotics detection and patrol.
Culp and Karma finished training last weekend and completed a 10-hour drive from California with a quick stop in Washougal to obtain K-9 narcotics certification in Washington state.
"Karma was on point, even after the 10-hour drive," Shah said. "He passed 100 percent of Washington standards."
Karma completed his first drug bust by 9 p.m. Sunday.
"He did absolutely wonderful," Shah said.
Nugent donated a guitar for a fundraising raffle to be held March 3 with proceeds to go toward paying for Culp to attend the Spokane Police Department's patrol academy.
"The last few weeks have been a wish come true," Culp said. "I never would have thought this would happen."
Local journalism is essential.
Give directly to The Spokesman-Review's Northwest Passages community forums series -- which helps to offset the costs of several reporter and editor positions at the newspaper -- by using the easy options below. Gifts processed in this system are not tax deductible, but are predominately used to help meet the local financial requirements needed to receive national matching-grant funds.
Subscribe now to get breaking news alerts in your email inbox
Get breaking news delivered to your inbox as it happens.
---