News > Washington
Colville National Forest poised to set records as both timber harvest, restoration increase
Sat., Feb. 3, 2018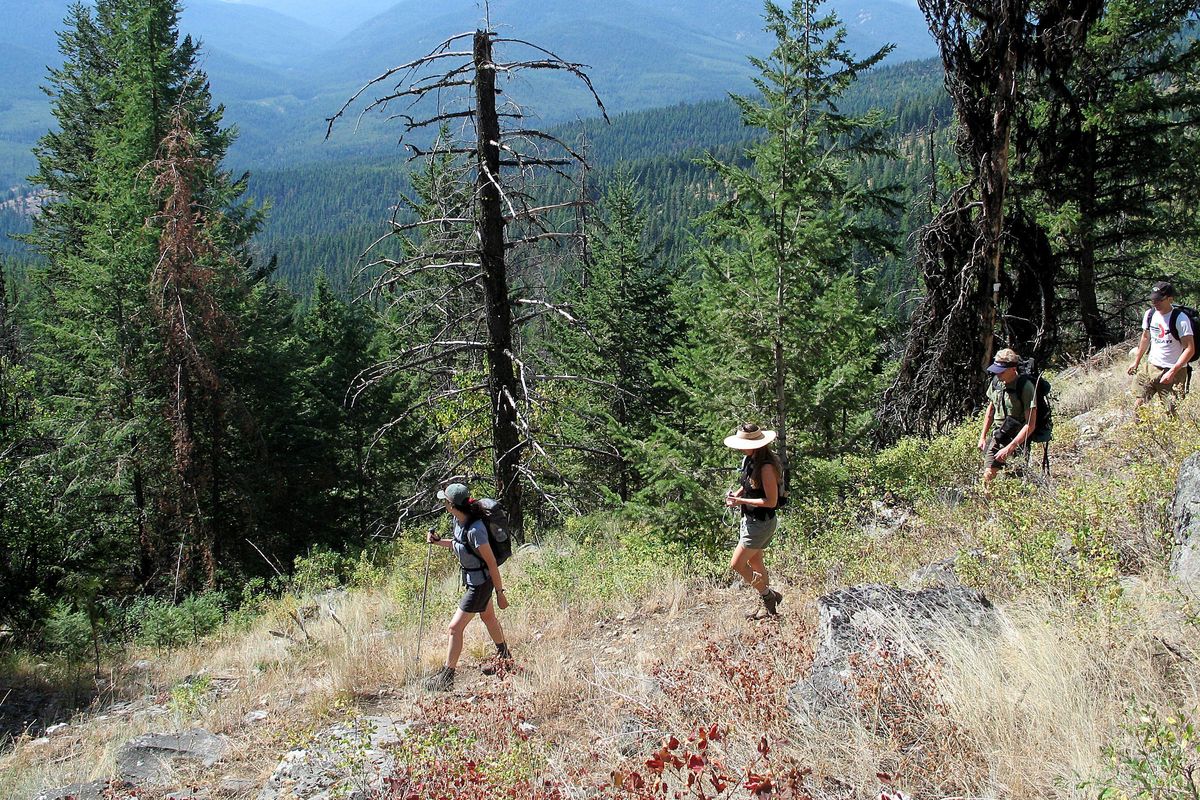 Crystal Gartner of Conservation Northwest leads a group of 24 hikers through a roadless portion of the Colville National Forest in August 2006. The forest is poised to set records for both restoration work and forest-products production. (Rich Landers / The Spokesman-Review)
COLVILLE – After decades of declining timber harvests and forest restoration projects, the Colville National Forest has turned a corner and is dramatically increasing both. According to recent forest management estimates, the forest is poised to be the No. 1 forest products producer in the Pacific Northwest, an area containing 17 National Forests in Oregon and Washington.
The forest is expected to yield 120 million board feet of forest products in 2018, compared to 70 million board feet in 2017, said Colville forest supervisor Rodney Smoldon.
Compare that to the two years before 2017, when the forest's output didn't reach 50 million board feet; or since the late 1990's, when it struggled to offer 40 million board feet per year.
Those advances haven't come overnight, and have spanned several White House administrations and leadership changes in Congress.
Smoldon said he credits the advances to a mixture of local collaboration and use of innovative management tools Congress has provided, including those in the 2014 Farm Bill. Those resources were motivated, in part, by hopes of expanding forest restoration work necessary to reduce the risk of wildfire in northeast Washington.
"We try everything that comes our way," said Smolden, pointing to several programs that have allowed his small staff to do more.
About 75 percent of their sales estimates will be timber for sawmills. This increase is significant; if the logs from the increase in 2018 were made into framing lumber it would provide for more than 4,000 average-sized homes. Also included in the sales are tons of chips for producing paper, electric power and other products. This adds significant fuel to the regional economy.
This dramatic increase in scope and pace of work gets mixed reactions, said Franklin Pemberton, forest spokesperson.
"Some people will be angry about the increased timber harvest and ignore the amount of restoration work it allows," Pemberton said.
Restoration work
Almost all the harvest will be tied to some sort of forest health improvement program, like thinning and removal of fire-killed trees. Some will be traded directly for restoration work through innovative new programs.
Pemberton said the forest implemented the largest reforestation program they have had in 20 years, and successfully planted nearly 2,000 acres. The acres planted were in areas severely burned by the 2015 wildfires.
Equally important to harvest increases next year, Smoldon said, are plans for 15,000 acres of treatments – in other words, removing hazardous or overgrown fuels.
That area would equal about a third of the size of Washington D.C. Such work had increased over past years, but was only 9,000 acres in 2017.
Smoldon said they have too many untreated areas in the 1.1 million acre forest that are overstocked, drought-stressed havens for insect and disease infestations, and thus are a high risk for wildfire. Even with the increased work planned, forest managers will still be behind on what is needed, he said.
The forest-treatment spotlight is currently on one first-of-its-kind project. The A to Z Mill Creek stewardship project near Colville is no longer an experiment, but is actually driving treatment and production numbers, Smoldon said.
It started with treatment of 17,875 acres a few years ago. In July, Smoldon made the decision to proceed with a second phase totaling 26,500 acres. The total project area footprint is for a planned 54,000 acres, with work spanning 10 years.
Smoldon said it wasn't the amount of work done by the contractor, Vaagen Brothers Lumber of Colville, that is most significant, but the fact the work was done in addition to what the forest could do with its budget.
The A to Z stewardship project accounted for over 8 million board feet in 2017 and will add much more in 2018 with work starting on the second phase. More projects like it are planned for the Forest.
The forest was in the top three forest product producers last year, but managers are equally proud of being number one in the lower 48 states for culvert replacement for improved fish passage and water quality improvements, said Pemberton.
Debate continues
Despite progress made on both fronts, there remains some disagreement between advocates of restoration and production. The timber industry wants more, and some environmentalists are skeptical of the new management programs.
"They can always do better," said Duane Vaagen, president of Vaagen Bros., a company with sawmills in Colville and Usk.
But after a lifetime of arguing for harvesting small logs to improve forest health, he said he has begun to see management improvements. He credits the collaborative group and new Forest programs, and said Smoldon and his staff deserve credit as well. If this continues, his company will add another shift to their Usk sawmill, he said.
Mike Garrity, executive director of the Wild Rockies Alliance, said he isn't impressed with increased harvest or restoration work, but doesn't deny it's occurring.
"It costs taxpayers," Garrity said of the stewardship projects he calls "corporate welfare."
Jeff Juehl, national forest chair of Upper Columbia River group of the Sierra Club, echoed the sentiment, saying "the forest service is recasting logging as restoration."
He said he is concerned the forest service doesn't have the budget to monitor the contractors doing the work, and doesn't believe the science used for restoration projects is sound.
The 9th Circuit Court of Appeals denied a preliminary injunction sought by the Alliance of the Wild Rockies on part of the A to Z sale last year.
The court said the project complied with federal environmental laws and didn't harm the viability of habitat for two sensitive wildlife species – pine martens and fishers. The court also noted that the Alliance members were offered a seat at the collaborative planning table, but declined.
Court dates to hear summary judgment arguments from the forest service and Alliance will be this summer or fall. But the work in the forest will be allowed to continue.
Hoping to do more
Another environmentalist is pleased with the results. Lands Council Director Mike Peterson was involved with the collaborative group that precipitated the increases, and said he feels the forest is on the right track towards a healthier state.
Smoldon agreed that not enough is being done on the restoration side, but said he doesn't have the budget for more. He has a $12 million annual budget, with the sale of timber representing less than $2 million of that. A direct appropriation funds the rest.
Trading trees for restoration work is adding to that budget. They are also building a reserve of cash from stewardship projects that the forest is allowed to use to plan future stewardship projects.
Smolden, who is from Colville and graduated from Eastern Washington University, said his goals aren't only harvesting trees, although he believes in the importance of this for the local economy. He also said it's important for the forest to have local mills to sell timber.
He isn't just for managing every piece of the forest, either. Smoldon said mortality exceeds annual growth in some areas of the forest, though not in all areas.
"I tell people that there are social, biological, cultural and educational benefits to be observed in untreated or unmanaged forests, but we're way over on the wild side on the Colville," Smoldon said.
"I'm constantly reminding people that the Colville is a national forest, not a three-county forest or a state forest," Smolden said. "We are obliged to consider the points of view of people who don't live here and may never come here."
Also, there are other significant viewpoints out there that the coalition the forest works with now doesn't yet represent, such as cattlemen and a large array of recreational interests, he said.
Local journalism is essential.
Give directly to The Spokesman-Review's Northwest Passages community forums series -- which helps to offset the costs of several reporter and editor positions at the newspaper -- by using the easy options below. Gifts processed in this system are not tax deductible, but are predominately used to help meet the local financial requirements needed to receive national matching-grant funds.
Subscribe now to get breaking news alerts in your email inbox
Get breaking news delivered to your inbox as it happens.
---