Gonzaga law student on a mission to 'heal Spokane' through acts of kindness, service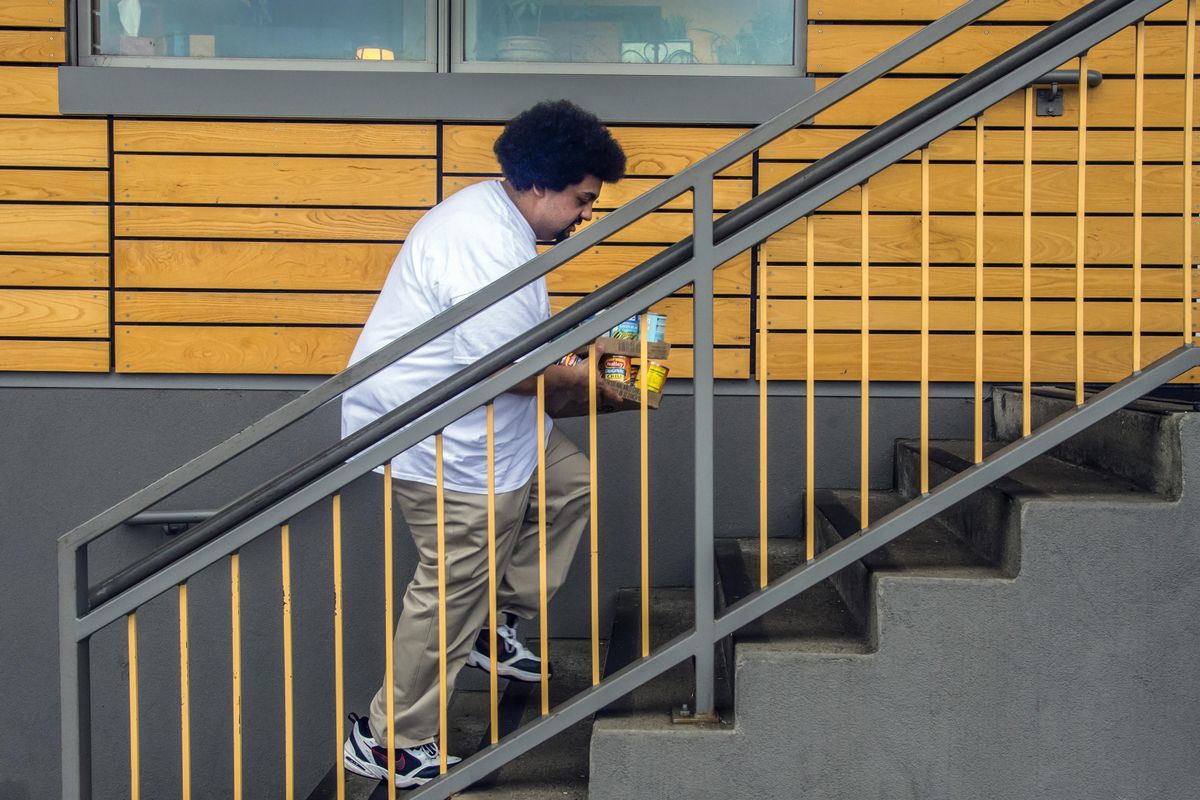 October was not kind to Sather Gowdy.
Among other hurdles, Gowdy went through a messy breakup, two people close to him died and an inattentive driver caused a crash that wrecked his car and tweaked his spine – all while he tried to focus on his studies at Gonzaga's law school.
Gowdy, 30, grew up in north Spokane, the only son of a Whitworth University professor and a Rogers High School counselor. He's a history buff who names Winston Churchill among his heroes, and he flaunts a giant, '70s-style Afro.
And although Gowdy is typically upbeat, the whirlwind of tragic and frustrating events in October plunged him into a deep depression.
"I'd wake up and just feel bitter, you know? And I've always been taught that you don't want to be that person," he said. "You don't want to be the person who's always complaining about such, or treating the world like it's against you."
One day, an elderly neighbor asked Gowdy to help her with some groceries. To his surprise, the work was therapeutic, a way to center himself while helping someone else. It was, he said, the first time he had felt truly happy in weeks.
So he didn't stop.
Although he's often busy poring over 3-inch-thick law textbooks, Gowdy began volunteering as often as he could: shoveling snow, fixing a neighbor's fence, pulling old mattresses and garbage from the alley behind his house.
"You sometimes don't get to choose how you're needed," he said.
After a few weeks of volunteering almost daily, Gowdy started a Facebook group and a hashtag, #HealSpokane, and challenged others to commit their own acts of kindness and service. He also pieced together a logo featuring an Afro like his, a heart-shaped planet Earth and some Spokane landmarks, and had it printed on a T-shirt.
He said he never expected his project to catch on. But last month, the principal at Mead High School, Gowdy's alma mater, invited him to deliver an inspirational speech to hundreds of students, and afterward the Facebook page was flooded with enthusiastic posts.
One student said she picked up litter in school hallways, brought in cookies for her teacher and helped prepare questions for an elementary math competition. Another said she spread de-icer in a parking lot so her neighbors wouldn't slip and fall.
"If I could convince one person from that group of kids to get out there and help somebody, to make a difference, I did my job," Gowdy said.
He continues to set an example. On Friday afternoon, he went to Walmart, bought several dozen cans of beans, chili, vegetables, tuna and soup, dropped them off at the Second Harvest Food Bank near Gonzaga and posted photos of the trip on the Facebook page. He did the same thing last Friday, and a couple of times before that.
"I started with the idea that I would go until I felt better," he said. "But it's been so good to me, it's kind of a lifestyle at this point."
He said he can afford to provide for others in part because he has cut back on fast food and trips to the movies. "If me going to one less movie a month is going to help a kid eat," he said, "I can't not do that."
Gowdy is in his second year of law school and plans to become a public defender after graduation. He said he wants to help poor defendants because they often have little control over their situations.
"This city has been good to me," he said. "I've been very fortunate. I have an amazing family. I have amazing people around me. Giving back a little bit is important to me."
Gowdy was recently featured in a KHQ news segment, and one of his law professors, Ann Murphy, played the clip for her class.
"Not only is he a fine individual, he's a really great student," Murphy said, adding that Gowdy has far exceeded the 30 volunteering hours required for graduation.
Through it all, Gowdy said, he's improved his attitude and his outlook on life and become closer with his neighbors.
He added that volunteering can be part of a holistic approach to health and wellness. He's lost nearly 80 pounds since October, thanks to daily jogs, a healthier diet and physical tasks like shoveling snow.
And while he's proud of that milestone, he cautioned: "When you really want to make a difference, it can't just be about you."
Editor's note: This story was changed on Monday, Dec. 24, 2018. A previous version misstated which task an elderly neighbor asked Gowdy for help with.
---