News > Home and garden
Spokane workshops spotlight historic barn, schoolhouse remodels
Sat., Feb. 3, 2018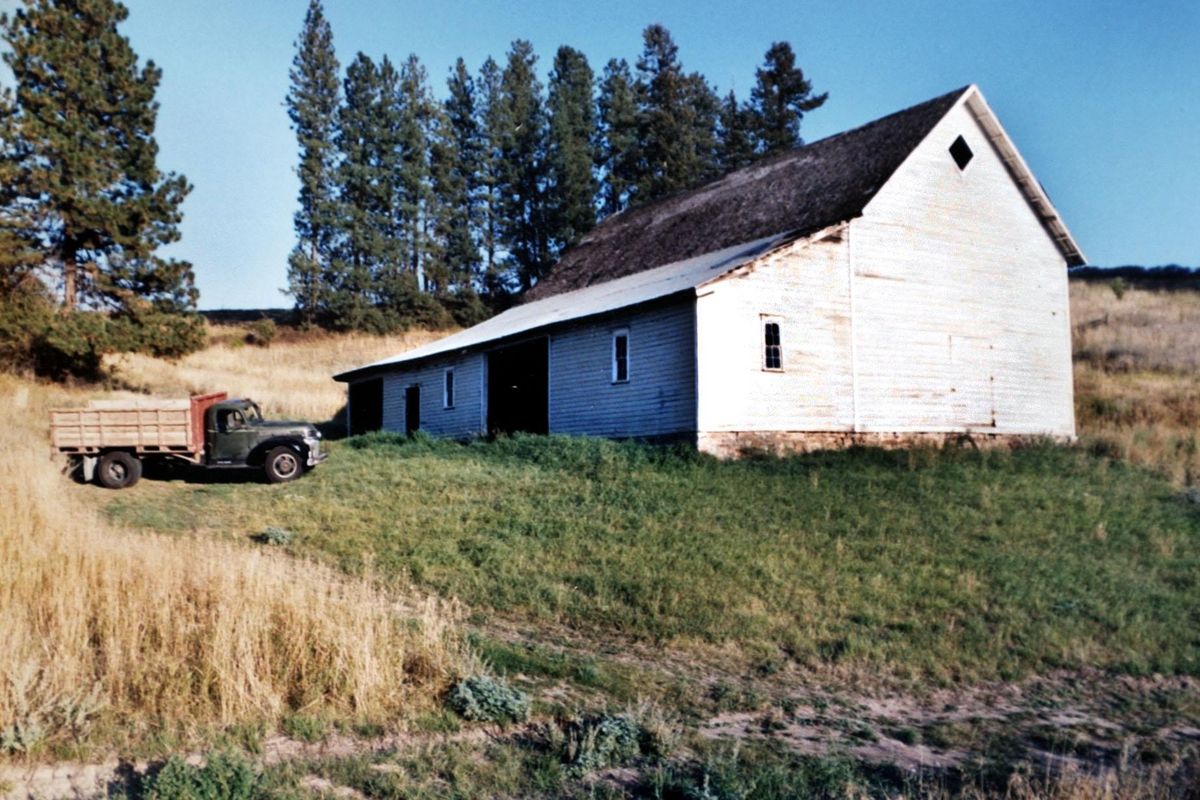 Ken Spiering's old barn as it looked in the fall of 1993. (Ken Spiering)
Back in 1992, artist Ken Spiering had a dream to turn a 1902 barn on the Palouse into a home and art studio. It would take nearly a decade of exhaustive work, planning, money and much more work to realize that vision.
"The vision was absolutely essential, especially when you ran out of money, materials, daylight," Spiering said. "There were 14, 16, 18-hour days where you just drop from exhaustion."
Spiering will share his experience as part of a workshop series presented by Spokane Preservation Advocates. The "Adventures in Adaptive Reuse" Old House Workshops begin with "What if I… Bought a Barn?" beginning at 5:30 p.m. Tuesday at the Spokane Women's Club.
The "What if I… Bought a School?" workshop takes place Feb. 13, followed by "What if I… Transform a Historic Building?" on Feb. 20, all featuring personal accounts of remodeling historic buildings around the Inland Northwest.
Jennifer Fees, chairwoman of the Old House Workshop for Spokane Preservation Advocates, said this year's series is intended to showcase unique renovation projects, even to those who aren't necessarily interested in taking on such daunting tasks.
"It will excite people to think, 'Ooh, this is a real possibility.' It's always fun to live vicariously through them," Fees said.
Presenters will talk about how they acquired their properties, what they learned about its history, the restoration process and the lessons and challenges learned from the experience, Fees said. And there will be plenty of images to go alongside their stories.
"The audience loves all kinds of before and after pictures," Fees said.
Spiering came across his Palouse property at a time when he was looking for a more expansive studio space.
"You come into a place and you start to see possibilities," Spiering said. "What gave me the incentive to stick with it was that it was just in a beautiful location. Being a kid from Wyoming from the wide open spaces … then living in town, working out of a little one-car garage, then renting a studio, (I wanted to) finally come back to the country and feel like you have the room to breathe."
Transforming the space meant buying much of his own equipment, hustling for deals on materials and teaching himself an entire curriculum on design and building.
"Growing up on the farm you got used to doing an awful lot of things," Spiering said. "I subscribe to Fine Homebuilding. I had boxes of Fine Homebuilding books, and I devoured every one of them."
Don Hamilton of Spokane's Hamilton Studios will present the restoration story of the old schoolhouse-turned-studio space during the Feb. 13 workshop. Their revamped space dates back to the early 1900s when it served as the auditorium for St. Joseph's Catholic School until 1969. Hamilton worked to preserve many original features, including its hardwood floors.
"I'm a commercial photographer and filmmaker, so what I wanted was a big empty space," Hamilton said before discovering the building. "I've shot a feature film and built a full-interior kitchen (set). It's a clear span with no posts, it's just right for photography."
The hardwood floor that dates back decades is also now a functional asset to the studio.
"It's got a little give to it; it's great on your legs," Hamilton said. "There's no janitor around here saying get off with those shoes. We keep it clean, and do floor treatment, but it's not like the Gonzaga gym."
The Spokane Woman's Club serves as venue for each workshop, with the first event opening at 5:30 p.m. for a tour of the revamped historic building before presentations begin at 6 p.m.
"It's a nice old brick building, and they've done a great job of refurbishing it," Fees said.
Artemisia Gallery and Boutique, which is located on the lower floor of the Woman's Club, will be open and highlighted that evening, featuring work from artists in pottery, jewelry, textile art and much more. The events on Feb. 13 and 20 will feature a variety of vendors related to historic art and architecture. Cost for one workshop is $20 or $50 for all three.
Spiering's presentation, and likely others, will serve as both inspiration and caution to dreamers in attendance, especially those who might not have the welding and labor experience Spiering had going into his own project.
"If they don't have the skill then they better have a good pocketbook, but you need to know what you want," he said. "When it's all done you have a pretty connective relationship with it. It has built you as well. One nail, one board, one screw up at a time."
Local journalism is essential.
Give directly to The Spokesman-Review's Northwest Passages community forums series -- which helps to offset the costs of several reporter and editor positions at the newspaper -- by using the easy options below. Gifts processed in this system are not tax deductible, but are predominately used to help meet the local financial requirements needed to receive national matching-grant funds.
Subscribe now to get breaking news alerts in your email inbox
Get breaking news delivered to your inbox as it happens.
---