A&E > Pop culture
#dontgivearip: The liberating joy of not caring about either
Feb. 4, 2018 Updated Sun., Feb. 4, 2018 at 3 p.m.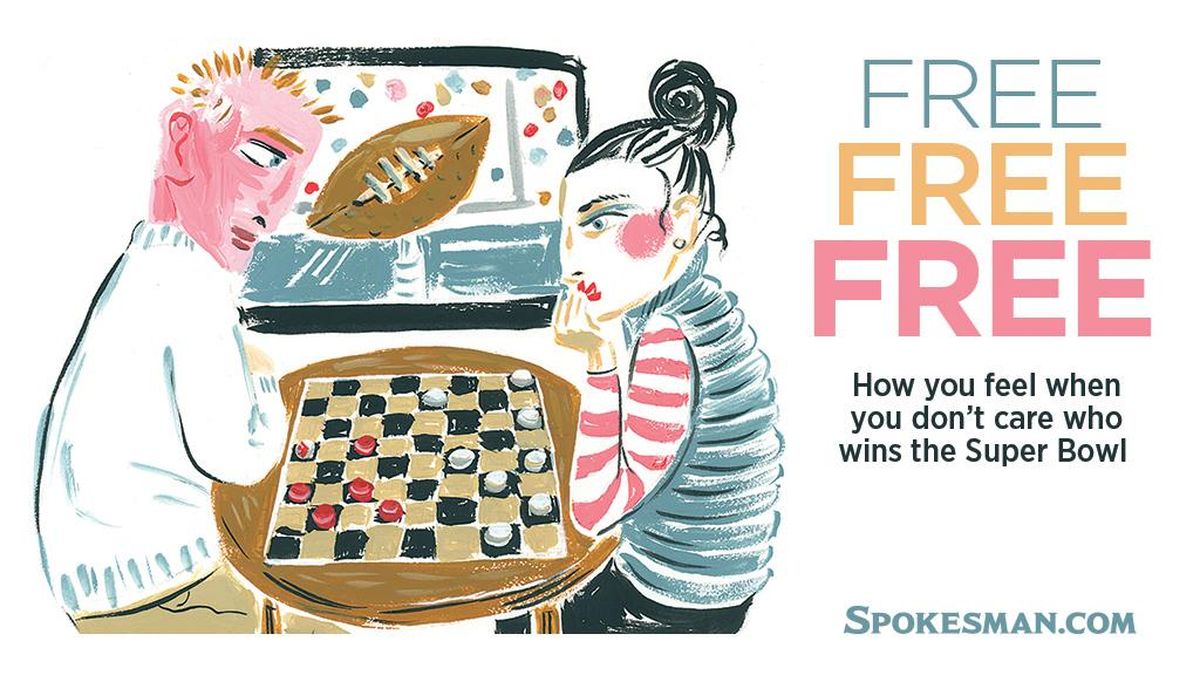 Being a sports fan can be fun.
Stop the presses!
But if you really care about a particular team, fandom can be a bit of an agony/ecstasy thing.
Sure, it's great if your team wins. If not? Well, maybe you are that special fan who accepts defeat with grace, equanimity and class.
Congratulations.
After all, nothing says losing has to turn you into an immature, petulant, ref-blaming, angry-at-your-spouse jerk.
But admit it. It can be a gut punch to come up short on the scoreboard.
Which brings us to Super Bowl XXVRLXIZ (or whatever).
For most Inland Northwest residents, today's match-up between Springfield and Shelbyville (or whatever) offers a genuine opportunity to not give a rip about the outcome.
It's really quite liberating, if you think about it.
Oh, you can still watch the game. Or at least monitor the commercials. You can still do the Super Bowl party thing.
But if one team is closing in on a thrilling come-from-behind victory but has a pass intercepted at the 1-yard-line late in the contest, you can shrug it off.
Oh, well. Those things happen. Win some, lose some. Lah dee dah.
Do you see what I'm getting at here? Today can be a stress-free day to relax, an afternoon to chill.
"I fully agree with your hypothesis," said Bill Simer, a Spokane business executive who doesn't follow pro football.
Get that man a cold beverage of his choice. And an hors d'oeuvre.
It could be argued that spectator sports are simply not important in the greater scheme of things. But perhaps we can agree that some things most certainly are.
Bill Morlin, a semi-retired freelance journalist, listed his top priorities at Super Bowl parties (beyond checking out the commercials).
1. Cold beer.
2. Fresh chips and seven-layer dip.
3. Halftime entertainment.
Clearly, we're talking about satisfaction parameters that do not include being on hands and knees in front of the TV and moaning, "Who throws the ball at the 1-yard line?"
Now the national ritual of watching the Super Bowl includes a long tradition of some segment of the TV audience not caring about the game. That's not new.
For many though, this year's clash has "Who cares?" written all over it.
Community college English instructor Betsy Lawrence adopts that attitude on an annual basis.
"I am a pop culture freak, so I think the commercials and halftime show are iconically important," she said. "For me it is a very entertaining afternoon with some interruptions of football."
OK, let's not totally dismiss the notion that it can be engaging to watch a Super Bowl if you sincerely care about the outcome. Interest in the actual competition is, after all, the original foundation for what some now call a bloated spectacle.
Still, let's face it. Caring about football can seriously cramp your style when it comes to mixing, mingling and, for that matter, checking out what's on other channels.
John Fellman, emeritus professor of horticulture at WSU, has watched all but one Super Bowl. (He was out of the country and confronting a time zone conflict.)
His favorites have been the games where, as he put, he had no dog in the hunt.
"I can hang around, enjoy good food/drink, maybe meet some new and interesting folks," he said. "The beauty of such a game is the game itself requires very little attention."
Exactly.
Spokane veterinarian Brian Hunter watches the Super Bowl every year. Sometimes, when the game features a team he roots for, he stays locked in on the football. As if his faithful attention might influence the outcome. He admits to having wondered if this is a waste of energy.
"This year I just don't care who wins," he said.
His plan? He intends to enjoy being with friends.
Admittedly, for certain serious Northwest pro football fans, a pairing like today's might make the whole Super Bowl experience a tad ho-hum.
"If you don't have a rooting interest, you answer the door when someone shows up mid-game instead of yelling 'COME IN' if your team is playing," said KHQ news anchor Sean Owsley.
Of course, nothing says you have to plant yourself on the couch and watch the Super Bowl. Viewing is not obligatory. You can always take a knee on the end of the football season, so to speak.
Although, come to think of it, that may not be authorized by the National Football League.
Local journalism is essential.
Give directly to The Spokesman-Review's Northwest Passages community forums series -- which helps to offset the costs of several reporter and editor positions at the newspaper -- by using the easy options below. Gifts processed in this system are not tax deductible, but are predominately used to help meet the local financial requirements needed to receive national matching-grant funds.
Subscribe to the Spokane7 email newsletter
Get the day's top entertainment headlines delivered to your inbox every morning.
---