Sports
NBA capsules: Al Horford's jumper wins it as Celtics top Trail Blazers, 97-96
Sun., Feb. 4, 2018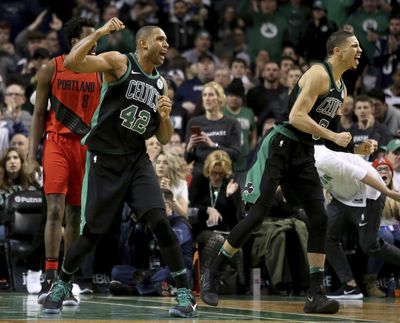 BOSTON – Al Horford made a 15-foot jumper at the buzzer and the Boston Celtics topped the Portland Trail Blazers 97-96 on Sunday, giving New England fans a few hours to get home before the Super Bowl.
The crowd at TD Garden was dotted with jerseys for Patriots stars Tom Brady and Rob Gronkowski. A Philadelphia Eagles fan shown on the Jumbotron repeatedly got booed.
Horford finished with 22 points and 10 rebounds in Boston's fourth straight win.
Damian Lillard shot just 6 for 19, but scored Portland's final eight points, including a three-point play with 7.2 seconds remaining to give the Blazers a 96-95 lead.
CJ McCollum led the Blazers with 22 points and Lillard had 21.
Lakers 108, Thunder 104
OKLAHOMA CITY – Brook Lopez scored 20 points, Julius Randle added 19 and the Lakers handed the Thunder their fourth straight loss.
Jordan Clarkson scored 18 points and Brandon Ingram added 16 for the Lakers, who have won six of eight.
Russell Westbrook scored 36 points and Paul George added 26 for the Thunder. Oklahoma City had won eight in a row before its current skid.
A 3-pointer by George trimmed the Lakers' lead to 107-104 with 24.7 seconds to play. Randle was fouled with 17.9 seconds left, and he made the first of two free throws. Westbrook missed a long 3-pointer, and the Lakers pulled down the rebound.
Raptors 101, Grizzlies 86
TORONTO – Delon Wright scored 15 points, and Toronto pulled away in the fourth quarter.
DeMar DeRozan and Fred VanVleet each scored 13 points as the Raptors improved to 21-4 at home. Jonas Valanciunas had 12 points, and Kyle Lowry finished with 11.
Toronto is 14-3 when VanVleet scores 10 or more points. He matched his career high with seven rebounds and had eight assists.
Marc Gasol scored 20 points and Andrew Harrison had 16 for the Grizzlies, who have lost six straight road games.
Hawks 99, Knicks 96
NEW YORK – Kent Bazemore's 3-pointer with 6.7 seconds left lifted Atlanta to the victory.
The Hawks rallied from a 93-87 deficit in the final 2:16.
Bazemore was wide open in the left corner and hit for a 98-96 lead. Tim Hardaway Jr. then stepped on the line trying to inbound, giving the ball back to Atlanta.
After Dewayne Dedmon made one of two foul shots, Hardaway missed a potential tying 3-pointer.
Bazemore led the Hawks with 19 points.
Kristaps Porzingis scored 22 for the Knicks. Enes Kanter finished with 10 points and 12 rebounds.
Bucks 109, Nets 94
NEW YORK – Eric Bledsoe scored 28 points, John Henson had 19 points and 18 rebounds, and the Bucks easily extended their winning streak over the Nets to 10 games.
Bucks star Giannis Antetokounmpo departed after twisting his right ankle with about 7 1/2 minutes left. He finished with 16 points and eight rebounds.
Khris Middleton also had 16 points for the Bucks, who improved to 6-1 since firing Jason Kidd and moved a season-best six games over .500 at 29-23.
DeMarre Carroll and Caris LeVert each scored 15 for the Nets, who lost for the sixth time in seven games.
Hornets 115, Suns 110
PHOENIX – Nicolas Batum scored 22 points and Charlotte rallied from a 21-point deficit in the second half.
Kemba Walker and Dwight Howard added 18 apiece for the Hornets, who staged their biggest comeback of the season and matched their season best with three straight wins.
Rookie Josh Jackson scored a career-high 23 and T.J. Warren added 21 for the Suns, who led 78-57 with 7:53 left in the third quarter. Devin Booker and Dragan Bender added 18 apiece. The Hornets outscored the Suns 20-2 to start the fourth quarter.
Booker, already playing with bruised ribs, left with a left hip pointer with 6:53 to play.
With AP Photos.
AP-WF-02-05-18 0037GMT
Local journalism is essential.
Give directly to The Spokesman-Review's Northwest Passages community forums series -- which helps to offset the costs of several reporter and editor positions at the newspaper -- by using the easy options below. Gifts processed in this system are not tax deductible, but are predominately used to help meet the local financial requirements needed to receive national matching-grant funds.
Subscribe to the sports newsletter
Get the day's top sports headlines and breaking news delivered to your inbox by subscribing here.
---