Sports > Outdoors
Pros offer tips, tricks for cross-country skiing in the Spokane area
Sun., Feb. 4, 2018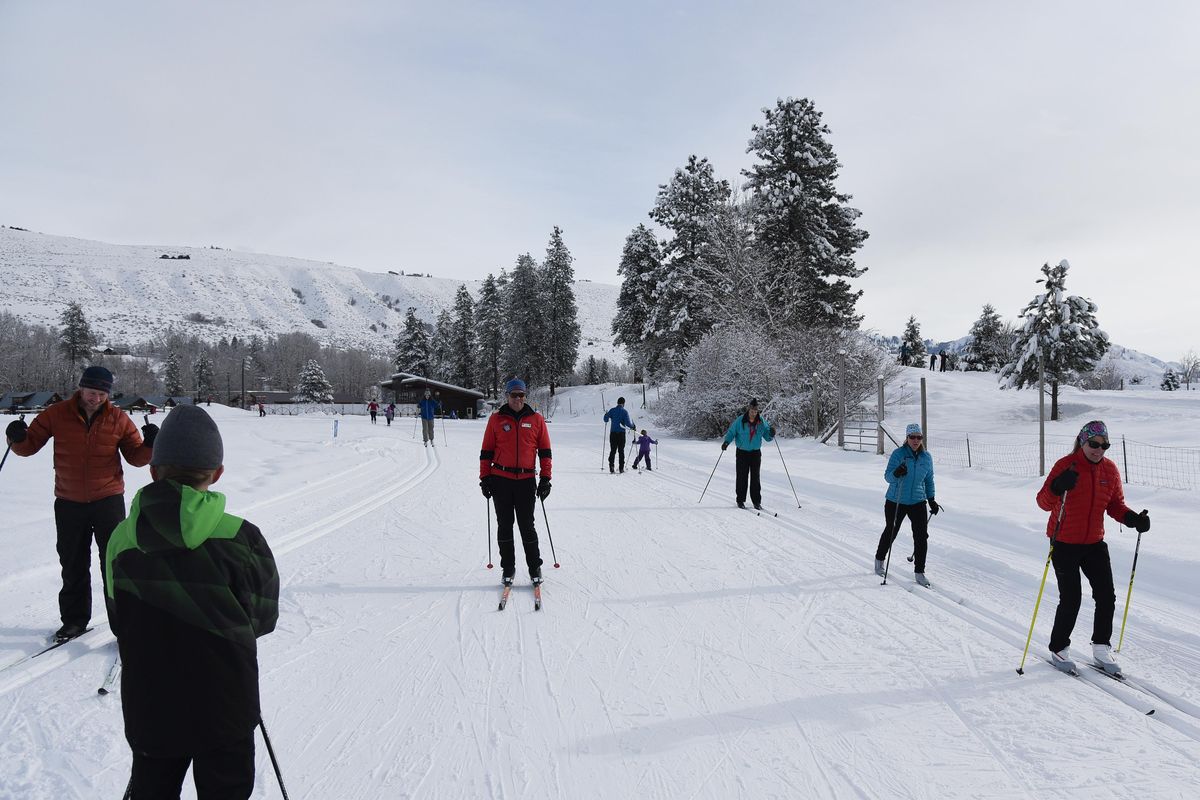 Bret Alumbaugh, center, teaches a group of cross country skiers in the Methow Valley on Friday, Jan. 26 2018. (Eli Francovich / The Spokesman-Review)
Last weekend was a good weekend for cross-country skiers in Washington but bad for my leg muscles.
There was free trail access and ski rentals on Friday in the Methow Valley –all, keep in mind, in a world-class cross-country ski haven just 3 1/2 hours from Spokane.
With 130 miles of groomed trails in a pristine valley just east of the Cascades, free anything seems like a steal.
That's where I was, standing awkwardly with two thin skis strapped to my feet.
I grew up downhill skiing but only cross-country skied once or twice when I was a pudgy middle-schooler.
Back then, I remember feeling awkward and tired. Apparently, not much has changed.
Luckily, I was part of one of the free classes. Our instructor, Bret Alumbaugh, was a pro. He took the class of 20 or so through the basics of cross-country skiing, something he's been doing for 32 years.
"Cross-country skiing is an amazing sport," Alumbaugh said. "But I don't want to walk around in cross-country skis, because that's a lot of work."
Instead, he emphasized leaning forward into the skis, which increases the glide factor.
"Then you don't use near as much energy. You can go farther and not become worn out and it doesn't feel like trudging along," he said. "We can all snowshoe, but skiing I want to get that nice sliding activity."
Alumbaugh grew up downhill skiing and said familiarity on skis is useful. But as I discovered, cross-country skis are not nearly as stable and the technique is completely different.
Alumbaugh, who is a board member for Methow Trails, guided our group of students through the basics. None of us is going to win Langlauf this year, but at least we don't look like complete fools.
That's exactly the point of the Backyard Ski Day, Alumbaugh said.
"The goal is to be able to introduce as many people to cross-country skiing as we can and not have any money be a barrier to them," he said. "In that lesson, there was a family and she had three kids with her. I know her. She's a local gal. And she could never have afforded to rent all that gear and take those lessons. That would be too expensive for her."
While lessons can be expensive, Alumbaugh said they're essential for beginning skiers and can end up saving you a boatload of frustration.
"I teach people all the time who have bumbled around for 10 or 15 years and never had a lesson," he said.
After our group lesson, my girlfriend and I headed to Mazama, about 12 miles west of Winthrop. There we skied roughly 4 miles, partly on a beautiful, snow-covered field and partly through a winding wooded trail.
Eight full-time groomers work every night to make sure the trails are skier-ready each morning. Every day between 100 and 120 miles of trail are groomed throughout the Methow Valley, said James DeSalvo, the executive director of Methow Trails.
Via a series of agreements, Methow Trails has permission to groom on more than 175 landowners' properties. DeSalvo said landowners have started coming to the organization asking them to groom trails on their land for easy ski access.
"Typically, at the end of every shift they ski," he said of the groomers, emphasizing that for them it's not just work.
The Backyard Ski Day is all about promoting the valley and exposing others to cross-country skiing.
"There are people who live in the valley and this is the only day they ski," he said of the event.
But the fun didn't stop there. On Sunday, I headed up to Mount Spokane for some cross-country skiing at Winterfest. Although the weather wasn't as bluebird-clear as in the Methow, turnout was good, said Brad Thiessen, director of engagement for the Spokane Nordic Ski Association.
"The rentals were really strong yesterday," Thiessen said. "A lot of new people came in. That's kind of our clue that it's doing a good thing. And then a lot of people coming through the food line is our other clue that we're engaging."
The club served 150 bowls of soup, Thiessen said.
This year's Winterfest offered $5 ski lessons, adaptive ski demos, waxing clinics and a relay race. About 100 people attended a lesson, Thiessen said.
Robin Redman organized the adaptive skiing demos. Participants sat in bucket seats attached to skis. The sit skis were donated by the U.S. Ski Team. The trick, Redman said, is to use your core muscles in sync with your poles.
Jim Harless tried out the sit skis and was surprised at the difficulty.
"I'm just amazed that people can do this and be good at it," he said, referencing accomplished sit skiers like Paralympian Sean Halsted. "You have to use your body a lot to make it turn."
It certainly is vigorous. While bombing downhill was fun (sort of like sledding), once my momentum decreased my arms started howling in protest.
The day's activities ended with a relay race, replete with donuts.
Like the Methow Backyard Ski Day, Winterfest is all about introducing people to the sport, Thiessen said.
"It was started because we wanted to do something that would meet all the range of cross-country skiers, particularly inviting people to ski," Thiessen said. "There are a lot of people who say, 'Oh I've always wanted to do it, but I've never tried it.' "
Local journalism is essential.
Give directly to The Spokesman-Review's Northwest Passages community forums series -- which helps to offset the costs of several reporter and editor positions at the newspaper -- by using the easy options below. Gifts processed in this system are not tax deductible, but are predominately used to help meet the local financial requirements needed to receive national matching-grant funds.
Subscribe to the sports newsletter
Get the day's top sports headlines and breaking news delivered to your inbox by subscribing here.
---