Sports > NFL
Remembering Jerry Williams, a Spokane son who helped lead Eagles to 1960 championship victory
Sun., Feb. 4, 2018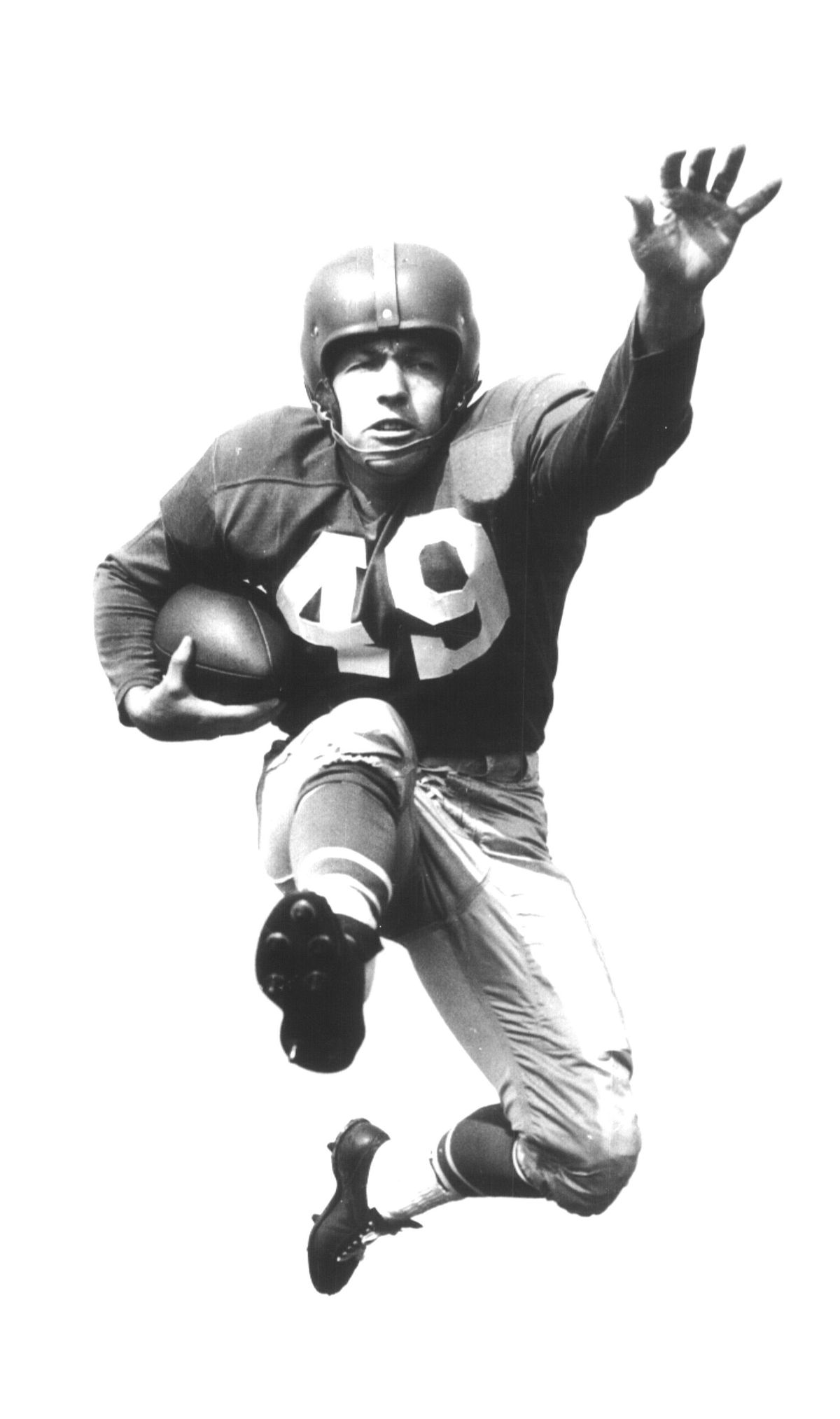 Jerry Williams Leaps Forward With Ball in Hand and Arm Out. Sports. Football. (Spokesman Archive)
The last time the Philadelphia Eagles won an NFL championship – 1960 – my father, Spokane native Jerry Williams, was one of three assistant coaches on staff. Today, there are 25. Times change.
This Sunday's game will take place on a meticulously manicured indoor turf. In 1960, Philadelphia's Franklin Field was half dirt – and half frozen at the noon kickoff. They had to start the game that early because the stadium had no lights.
Even at that businesslike hour, on a Monday (Sunday was Christmas, and Christmas was not a sports day back then), more than 67,000 fans crowded in to watch an underdog Eagles team take on the Green Bay Packers.
Vince Lombardi was their coach, Bart Starr their quarterback. These names were not yet common football knowledge, and the men they belonged to were just a couple of rising stars in a 13-team league that was coming of age and poised to grow.
There was a rival organization afoot called the American Football League. Six years hence, the two leagues would agree to merge, with the champions of each meeting in a game coined the Super Bowl. Green Bay would be recognized as a dynasty by then, but in 1960 they were attempting to win their first NFL championship since 1944, a hollow title from a year when rosters were depleted due to World War II.
In '44 my dad was a 21-year-old flying airplanes for the war effort, but he was pining to get back to Washington State College and on with his football dreams.
He'd nurtured those dreams since childhood, racing friends around the block to build his speed, transferring from Lewis & Clark High School to North Central when a coach deemed him too small, shagging balls from future Hall-of-Fame quarterback Sammy Baugh during the Redskins' Spokane training camps.
Football was his mission, and he would live it from a time of single-wing offenses to Monday Night Football.
As a rookie with the Los Angeles Rams, dad found himself playing in the NFL championship against the Eagles. A winter rainstorm made a mire of the L.A. Coliseum, which worked well for the Eagles and their bruising back Steve Van Buren, though not so well for the Rams and their futuristic passing game.
Dad is featured in a lot of highlights from that game because he was the Rams' safety and Van Buren was regularly breaking into the secondary on long runs.
The Eagles won 14-0. It was their second championship in a row after their 1948 win (7-0) in a blinding snowstorm. Given this history, Philly fans might wish the roof were torn off the new dome this weekend, to let in a little Minnesota winter weather.
A star running back at WSU, dad wanted to play more offense than the Rams would allow, so he asked to be traded. Philadelphia took him. The era of specialization was starting, following the NFL's free substitution rule of 1949. Fewer players were lining up on both sides of the ball.
In Philadelphia, dad got his snaps, and led the team in all-purpose yards. Six years later, after gaining some coaching chops at the University of Montana, he was back in Philadelphia as an assistant coach. On that '60 championship team, Chuck Bednarik was hailed as the "Last of the 60-Minute Men" because he played both center and linebacker. The era of two-way players was over, and new strategies were taking shape.
When the Eagles faced the Bears and a tight end named Mike Ditka in 1961, dad concocted a defense with five defensive backs instead of four. George Allen, an assistant with the Bears, used the scheme later, coining it "The Nickel." Football vernacular had a new terminology, and defenses had a new look.
That defense remains my father's principal legacy, with the Eagles and with football in general.
He used other inventive schemes as Philadelphia's head coach from 1969 to 1971, but that tenure was lost in a wave of losses at the peak of a 13-year span in which Philadelphia lost twice the games they won.
Our family tried to forget about Philadelphia after that, choosing instead to focus on summers at Lake Pend Oreille and Christmases on Manito Boulevard, life beyond football.
But time has a way of softening our defeats and polishing our triumphs, and the Eagles in the Super Bowl has me looking back at a championship that must have been sweet. The old game films don't even look that different from today: a bit more running, a lot less self-indulgent celebration, but the strength and speed of football was there then just as now. The single-wing offense dad played at North Central even came back – now we call it the Wildcat.
They say history repeats itself. If that is true I hope 1960 will re-emerge this weekend, bringing back times that were simpler but when human emotions existed just the same, and a Spokane family exulted with the Eagles as champions of the world.
Local journalism is essential.
Give directly to The Spokesman-Review's Northwest Passages community forums series -- which helps to offset the costs of several reporter and editor positions at the newspaper -- by using the easy options below. Gifts processed in this system are not tax deductible, but are predominately used to help meet the local financial requirements needed to receive national matching-grant funds.
Subscribe to the sports newsletter
Get the day's top sports headlines and breaking news delivered to your inbox by subscribing here.
---