Sports > Outdoors
Revisiting the roots of cross-country skiing
Sun., Feb. 4, 2018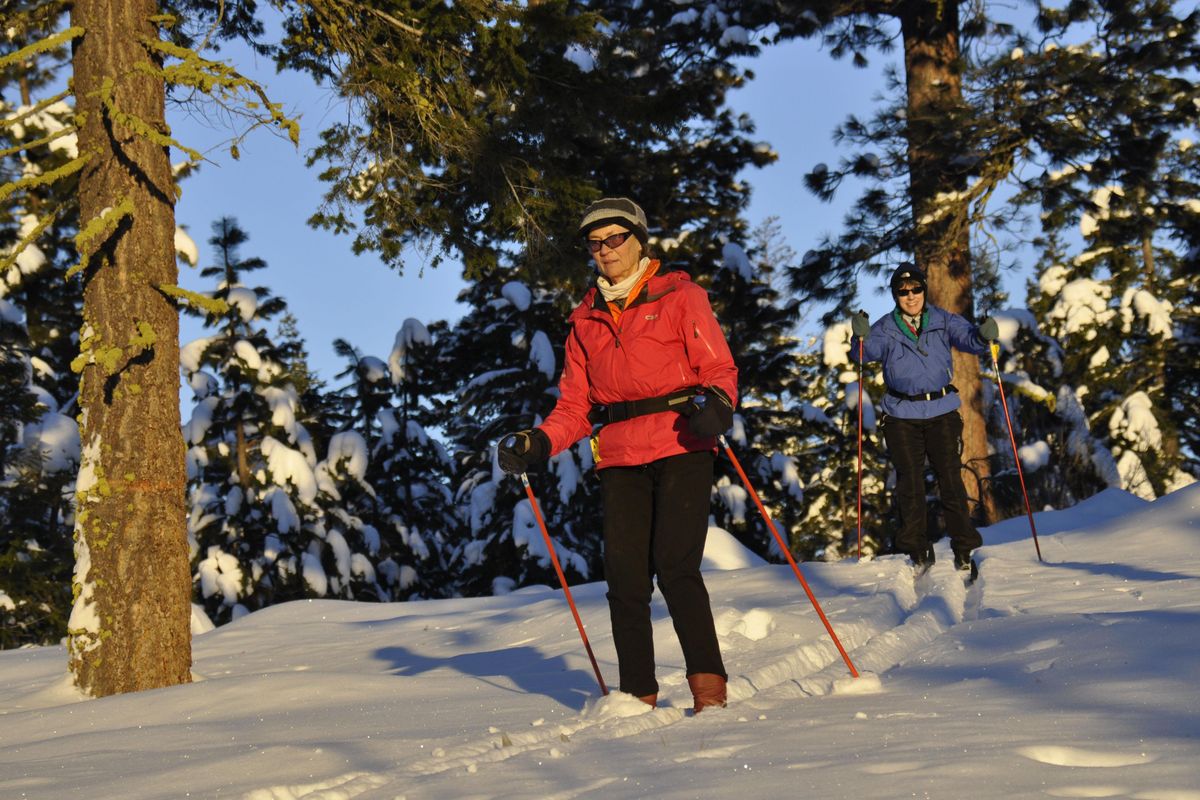 Cross-country skiers Karen McKinney and Meredith Heick break trail for a tour off the groomed tracks in the Methow Valley. (Rich Landers / The Spokesman-Review)
I couldn't avoid gawking at the sparkling new powder snow off to the side as I double-polled recently along a beautifully groomed Nordic skiing trail at Mount Spokane State Park.
"This is great," I thought to myself as I breezed along, "but you're passing up a lot of good stuff."
Tracks indicated where snowshoe hares, squirrels, forest grouse and at least one ermine had roamed that morning as they foraged, hunted and in some cases avoided being hunted.
So I briefly abandoned my mind-numbing quest for logging kilometers, stepped off the groomed trail and back into the world that gave cross-country skiing its name.
I relished the slower pace of making my own track. I noticed the lichen draping off the tree branches. I could hear a woodpecker working on a tree in the forest.
I also could hear more of the quiet.
Going cross-country is especially suited for multiple skiers. It brings you together for conversation, or not, as you take turns sharing the chore of breaking trail. It's more conducive to stopping to share a good view or checking out a track, scat or ice formation.
Year's ago, I skied across Finland with a multinational group. The route generally followed the Scandinavian country's vast network of groomed trails. But even the Finns grinned when the route angled off in a single track through the trees, meadows and whoop-de-doos of the countryside.
"It makes you a better skier to go cross-country once in a while," one Finn told me.
On Mount Spokane, I saw where several skiers – likely a group of young Nordic Kids from the previous day – had squirted off the groomed tracks with their classic skis to bust some untracked powder and contour their way down to another groomed route. I could almost hear their shrieks of delight as they rolled with the terrain and shot a bit of air as they popped over a mound of snow piled on what was probably a downed log.
Skiing tracks is fun. Skiing cross-country in the right conditions is bliss.
On a Methow Valley getaway for the New Year holiday, I joined a group of friends to ski many kilometers on the area's premier trail system every day. But I took a few hours alone one afternoon to break a trail – a good workout in itself – along a semi-open ridge of big ponderosa pines before angling back to the groomed track and skate lane that led to our cabin.
I had defined a similar route for years on annual trips with my daughters and their friends to prepare for a moonlight ski. Going off trail on a track someone has stamped out in knee-deep snow was always a hit with kids and adults alike.
Returning to the same route at night was magic.
Off-trail skiing provides time to look up at the moon and stars and absorb their mystery. It gives you the chance to hear an owl hoot. It leads you into another world defined by spooky shadows and the glow of your headlamp.
Good places to go cross-country on traditional touring skis include almost anywhere – away from avalanche danger – with fresh snow over a good base. You can do it in town a few days each winter. Destinations include public lands such as the Little Pend Oreille National Wildlife Refuge southeast of Colville.
"It's not uncommon at all to see ski tracks heading out from the refuge office parking area," refuge manager Jerry Cline said, noting that creek bottoms as well as forest areas thinned for fire prevention can be sweet to explore in winter.
When I'd had enough of my cross-country "trail-break" at Mount Spokane, I climbed back onto the groomed trail and resumed my morning quest to log 20Ks.
It was an especially fulfilling workout that day, having satisfied all of my athletic, little kid and old-school needs.
Local journalism is essential.
Give directly to The Spokesman-Review's Northwest Passages community forums series -- which helps to offset the costs of several reporter and editor positions at the newspaper -- by using the easy options below. Gifts processed in this system are not tax deductible, but are predominately used to help meet the local financial requirements needed to receive national matching-grant funds.
Subscribe to the sports newsletter
Get the day's top sports headlines and breaking news delivered to your inbox by subscribing here.
---