Sports
Top 25 capsules: No. 1 UConn rolls past Cincinnati
Sun., Feb. 4, 2018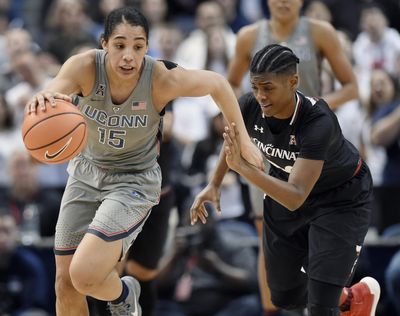 HARTFORD, Conn. – Napheesa Collier scored 25 points and Kia Nurse added 23 as UConn beat Cincinnati 106-65 on Sunday, giving the top-ranked Huskies their 150th straight win over an unranked opponent.
Azura Stevens had 20 points and Katie Lou Samuelson chipped in with 18 for UConn (22-0, 10-0 American), which has won all 80 of its regular-season conference games since the formation of the American.
Gabby Williams contributed her fifth double-double of the season, scoring 13 points and grabbing 10 rebounds. Her seven assists give her 400 for her career.
Antoinette Miller scored 20 points and Shanice Johnson had 17 to lead Cincinnati (13-10, 5-5 American).
No. 4 Louisville 84, Syracuse 77
SYRACUSE, N.Y. – Asia Durr scored 27 points, Myisha Hines-Allen added 19 points and 11 rebounds, and Louisville beat Syracuse.
It was the 13th straight road win for the Cardinals (24-1, 10-1 Atlantic Coast Conference), whose last road loss was an 85-66 setback at Notre Dame a year ago. They have won four straight since suffering their only loss, a one-point setback to No. 10 Florida State.
Syracuse (17-7, 5-6) lost for the second straight time at home after reeling off 11 in a row.
Digna Strautmane led the Orange with 22 points, her third straight 20-point game, and Tiana Mangakahia had 20 points and 10 assists with 10 turnovers.
No. 5 Notre Dame 72, No. 19 Duke 54
DURHAM, N.C. – Marina Mabrey scored 18 points, and Notre Dame pulled away to beat Duke.
Jackie Young added 17 points and Arike Ogunbowale finished with 12 to help the Fighting Irish (22-2, 10-1 Atlantic Coast Conference) win their seventh straight.
They shot nearly 54 percent in the second half, scored 22 points off Duke's 17 turnovers and used a 10-0 run in the fourth quarter to wrap up their 14th straight victory in the series.
ACC scoring leader Lexie Brown finished with 16 points, Rebecca Greenwell had 12 and Leaonna Odom added 11 for Duke (18-6, 7-4).
No. 24 Stanford 78, No. 6 Oregon 65
EUGENE, Ore. – Brittany McPhee scored 31 of her career-high 33 points in the second half to lead Stanford to an upset of Oregon.
McPhee had the last 19 points for the Cardinal (16-8, 10-2 Pac-12), who now share the conference lead with the Ducks (21-4, 10-2). Alaina Smith and Kiana Williams each had 14 points.
Stanford, the last visitor to win in Eugene, snapped Oregon's 14-game home winning streak.
Sabrina Ionescu led the Ducks with 22 points, seven rebounds and seven assists. Ruthy Hebard added 16 points and Satou Sabally had 14.
No. 10 Florida State 66, Pittsburgh 59
PITTSBURGH – A.J. Alix scored 25 points to lead Florida State to a win over Pittsburgh.
After a back-and-forth game that featured 14 lead changes, the Seminoles (19-4, 7-3 ACC) pulled ahead with an 8-0 run over 2:07 late in the fourth quarter to end Pitt's upset bid.
It was Alix that started the run with a 3-pointer to give Florida State a 53-49 lead with 4:27 to play. Alix, who is second in the Atlantic Coast Conference in assists per game, instead did most of the scoring herself, finishing 8 for 13 from the floor and 7 for 9 from 3-point range.
Alayna Gribble scored 13 points to lead the Panthers (10-14, 2-9).
No. 11 Maryland 64, Nebraska 57
LINCOLN, Neb. – Kaila Charles scored 25 points with a career-high 16 rebounds and three blocked shots and Maryland turned back Nebraska.
Brianna Fraser had 12 of her 14 in the second half for the Terrapins (20-3, 9-1 Big Ten). Eleanna Christinaki added 11 points and Kristen Confroy grabbed 10 rebounds to help the Terps to a 49-29 rebounding advantage. Charles was 11-of-16 shooting, her teammates 12 of 42.
Taylor Kissinger had 18 points for Nebraska (17-7, 8-3).
No. 12 Tennessee 74, Vanderbilt 64
NASHVILLE, Tenn. – Jaime Nared and Mercedes Russell combined for 50 points and 25 rebounds and Tennessee pulled away in the fourth quarter to defeat Vanderbilt.
Nared scored 16 of her career-best matching 30 points in the fourth quarter, made 15 of 17 free throws and grabbed 14 rebounds for her ninth double-double of the season. Russell scored 20 points on 10-of-16 shooting with 11 rebounds for her 11th double-double of the season and 41st of her career.
Anastasia Hayes added 10 points for the Lady Vols (19-4, 7-3 Southeastern Conference), who made 10 of 12 free throws in the last 67 seconds.
Chelsie Hall led the Commodores (6-18, 2-8), who have lost 8 of 10, with 19 points.
Rutgers 63, No. 13 Michigan 56
PISCATAWAY, N.J. – Reserve Ciani Cryor matcher her season high with 16 points, nine in a late 12-0 run, and Rutgers No. 13 Michigan to end a four-game losing streak.
The Wolverines had erased an eight-point deficit with seven quick points when Cryor banked in a 3-pointer to make it 51-47 with 6:15 to play. Tyler Scaife followed with a jumper that just beat the shot clock and Michigan never recovered, missing five straight shots with four turnovers during the run.
Stasha Carey added 12 points for the Scarlet Knights (18-7, 6-5 Big Ten).
Katelynn Flaherty had 19 points in her return to her home state to lead the Wolverines (19-6, 8-4) and Hailey Brown scored 15.
No. 14 Texas A&M 78, Auburn 59
COLLEGE STATION, Texas – Danni Williams scored 20 to reach 1,000 career points and the nation's top-scoring freshman, Chennedy Carter, added 23 for No. 14 Texas A&M.
The Aggies (18-6, 7-3 Southeastern Conference) beat Auburn for the 11th straight time.
Williams became the 30th A&M player to reach the mark. Courtney Walker (2012-16) leads the list with 1,989 points.
Janiah McKay paced Auburn (11-11, 2-8) with 16 points.
No. 16 Oregon State 68, No. 25 California 48
CORVALLIS, Ore. – Katie McWilliams scored 14 of her season-high 19 in the first quarter and No. 16 Oregon State rolled past No. 25 California.
Marie Gulich had 20 points and 10 rebounds for the Beavers (17-6, 8-4 Pac-12 Conference), who have won seven straight in the series after a 15-game losing streak.
Kristine Anigwe had 13 points for the Golden Bears (15-8, 6-6), who lost their third straight, all against ranked teams to fall to 0-8 against the Top 25 this year.
No. 17 Georgia 69, Mississippi 45
ATHENS, Ga. – Caliya Robinson scored 18 points, Mackenzie Engram had 17 points and seven rebounds and Georgia beat Mississippi.
Robinson recorded her 194th career block to move to fifth on Georgia's all-time list with Christi Thomas (2000-04).
Georgia (20-3, 8-2 Southeastern Conference) forced 28 turnovers to mark its fourth SEC opponent this season with 20-plus miscues. The Bulldogs scored 25 points off those against Ole Miss.
Georgia closed the third quarter on an 11-2 run, with four points from Robinson, for a 48-38 lead.
Alissa Alston led Mississippi (11-12, 1-9) with 18 points.
Local journalism is essential.
Give directly to The Spokesman-Review's Northwest Passages community forums series -- which helps to offset the costs of several reporter and editor positions at the newspaper -- by using the easy options below. Gifts processed in this system are not tax deductible, but are predominately used to help meet the local financial requirements needed to receive national matching-grant funds.
Subscribe to the sports newsletter
Get the day's top sports headlines and breaking news delivered to your inbox by subscribing here.
---