News > Spokane
On game day, normally packed Spokane venues feel like a ghost town
Mon., Feb. 5, 2018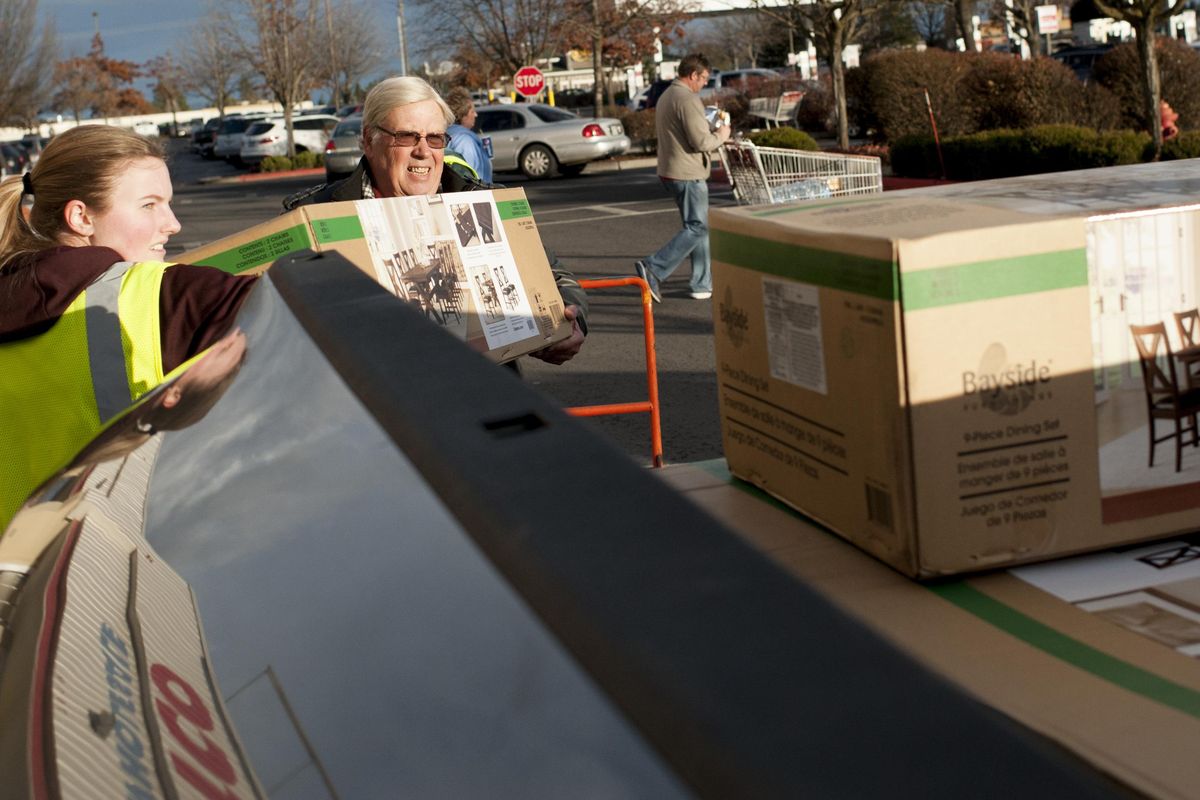 Jim Sadler, center, loads his truck up with furniture from Costco during the first quarter of Super Bowl LII on Sunday, Feb. 4, 2018, in Spokane, Wash. Sadler said he hoped to miss the regular Costco crowds and had set his TV to record the game. (Tyler Tjomsland / The Spokesman-Review)
It's one of the best days of the year to bring down the house – or have it all to yourself, depending on your preference.
In for an afternoon of beer-drinking and shouting at the TV? House parties and bars it is. Not into sports – let alone football – or for that matter the New England Patriots battling for their sixth Super Bowl ring since the 2001 season? Then almost anywhere else will do.
As the New England Patriots played the Philadelphia Eagles on Sunday afternoon, grocery stores, malls and retail outlets stood uncharacteristically vacant – a rare opportunity for those few souls not plugged into the hype to have the city, for a moment, to themselves.
At the Spokane Valley Mall, a few scattered shoppers perused the empty hallways and desolate outlets at leisure. Many stores sat completely empty.
There was still a line at the mall branch of the Thomas Hammer coffee shop, but the food court was barren. And while a few customers circulated through various retailers, store workers far and wide agreed: It's dead in here.
"We don't care about football at all," said Dayna Watson, who with her husband and daughter had stopped at Auntie Anne's Pretzels for its namesake baked good. "Just here" – at the mall – "to look for underwear."
Watson said compared to other Sundays, this one felt different. Fewer people, more space, less stress. Her daughter disagreed. She said it was about the same.
Further west, but still in the Valley, a similar scene played out at Costco. Open parking spots stretched across the lot, and patrons came and went on foot without fear of errant traffic.
Inside, cashier lines were short, and at the food court, lines were nonexistent.
Carol and Neil Swift, who came from Fred Meyer down the road on Ralph Street, decided to make a day of shopping. They didn't particularly plan on choosing Super Bowl Sunday as the day to do it, but they found solace in the smaller crowds.
"Not as busy," Carol remarked as she took cover in Costco's patio area to escape the wind.
"This is the least busy we've seen it," Neil added.
At NorthTown Mall, shoppers had a small viewing area next to the packed Buffalo Wild Wings.
Then there was the rare viewer who actually sought out the Super Bowl in a mall waiting area.
"I usually walk around here when it's rainy," Jim Richard said, his eyes fixed on the large flat-screen TV.
When the Eagles made a big play before halftime, he released a muffled cheer. He wasn't a fan of them, per se; more a detractor of the Patriots, he said. But he was watching nonetheless.
"I was going to have a coffee, but they're closed already," he said with a sigh. "Oh well."
Local journalism is essential.
Give directly to The Spokesman-Review's Northwest Passages community forums series -- which helps to offset the costs of several reporter and editor positions at the newspaper -- by using the easy options below. Gifts processed in this system are not tax deductible, but are predominately used to help meet the local financial requirements needed to receive national matching-grant funds.
Subscribe now to get breaking news alerts in your email inbox
Get breaking news delivered to your inbox as it happens.
---