Decades of injury-free skiing come to end for 49 Degrees North patrol director in nasty accident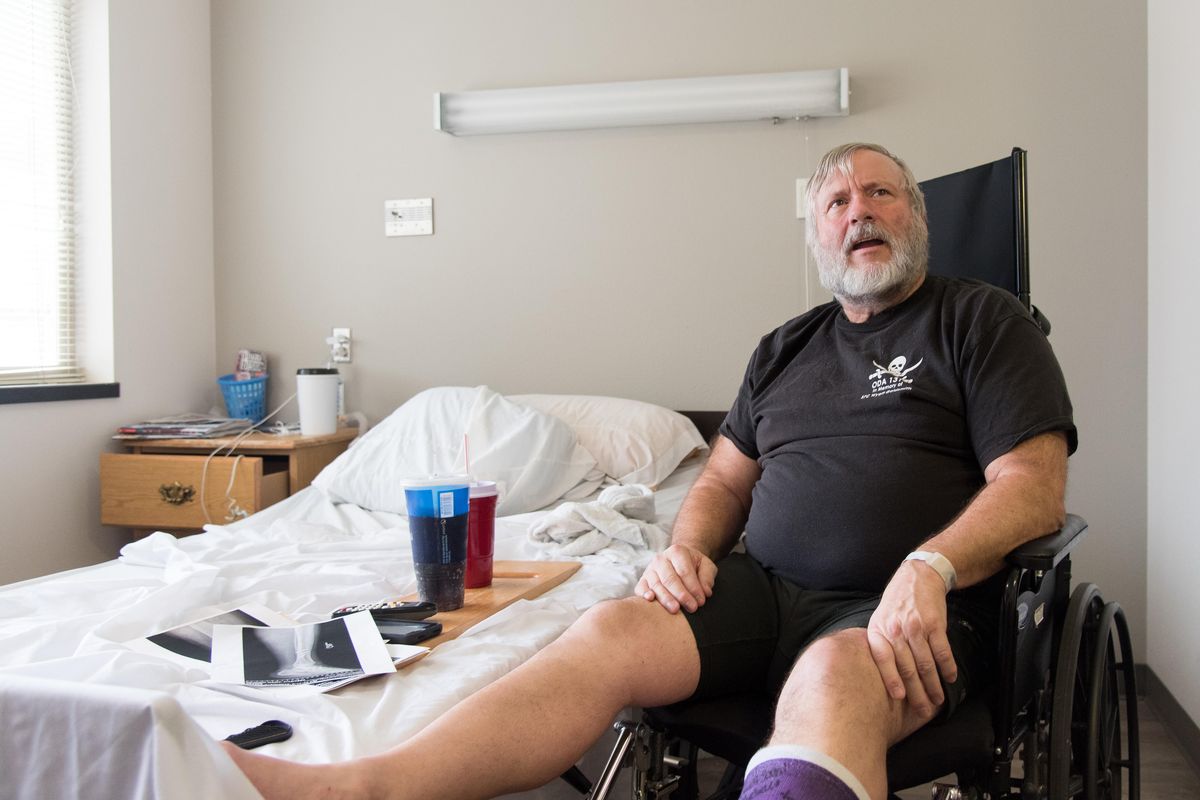 Karma finally caught up with Gary Deaver.
After 57 injury-free years of booming down the slopes Deaver's luck ran out. All at once.
On Dec. 16, the mountain operation director for 49 Degrees North broke both his legs and fractured an ankle.
"I was skiing Big Bear at 49 Degrees North going into the bottom of chair five, like I've done probably a thousand times," Deaver said.
Deaver, 63, skis fast. And he's a big man.
As he came up to the road that bisects the run he got light on his skis "in order to keep from getting launched in the air." But as he did that he hit a frozen clump of snow, known as a 'chicken head.'
"Because I was light on my feet that rubble just plucked the feet right out under me," Deaver said. "It flipped me up in the air, spun me 180 degrees, and I came down on my head, and just ragdolled down the hill."
He added, "Anywhere else I would have powered through it because I'm kind of a Clydesdale and ski like a tank."
Deaver, who was wearing a helmet, didn't lose consciousness. But when he tried to stand up the pain from a broken leg sent him back to the ground. So, the 35-year ski patrol veteran did something no patroller ever wants to do.
"One of the unwritten rules in patrol is you really don't want to call in your own accidents," he said. "So I tried to ski in twice but my right leg told me that was an extraordinarily bad idea."
He was taken off the mountain on a sled and transported to the hospital. Since then, Deaver has been laid up in a care facility in north Spokane – a stark contrast to how he normally spends his days.
"I think I've breathed 30 minutes of outside air since Dec. 16," he said.
His medical and rehab bills are being covered by the Labor and Industries worker compensation program.
Deaver has dedicated his life to skiing and ski patrol. Each year, he said, his goal is to ski 2 million vertical feet, a goal he often meets.
And, because he doesn't have a family, he spends his work day skiing. That means he often stays at the office until 7 p.m. finishing paperwork that other ski patrol managers would do during the day. He lives less than 2 miles from 49 Degrees North.
"He is dedicated," said Shane Nelson. "He probably is more dedicated than most. He seems to have dedicated his life to it."
Nelson has patrolled at 49 Degrees North for 23 years. While Deaver is recovering Nelson is filling in for him. Deaver's commitment to his job has, over the years, built a competent and professional ski patrol staff at 49 Degrees North.
"There are a bunch of us now that have been there for 10 or 15 years," Nelson said.
Deaver's path to becoming the mountain's operation director was unlikely. In fact, he spent much of his young skiing life running from ski patrollers.
"I went from being on the bad-boy list from one season to the next," he said. "My career on the hill is absolutely filled with ironies."
When he was younger Deaver and his friends would duck ropes and "break as many rules as we could," he said. In fact, they had a dress code – all black to blend in with the trees. Plus, they abided by a strict set of rules, like not going to the lodge midday to avoid being caught by patrollers.
"As a director now I would never have put up with me," he said.
Larry Deaver, Gary's younger brother, remembers that transition too.
"We were all these outlaw renegade skiers and all of a sudden he was on patrol," he said.
And although that change was jarring, Larry Deaver, who is a veterinarian in Spokane, said ski patrol ended up the perfect fit for his brother.
"He has made that work for him," he said. "And so I give him a lot of credit."
There are 10 paid patrollers at 49 Degrees North, complimented by 80 volunteers. The strength and competency of that force, Larry Deaver said, is due in large part to Gary's influence.
"He really likes building the team and the camaraderie of having a team of guys," he said. "I think that's the thing he's most known for. He's been really instrumental in developing a very large volunteer force and really encouraging people to join the patrol."
Nelson echoed Larry Deaver, saying that Gary Deaver focuses heavily on training and gives less experienced – but willing – people a chance.
"When other places will have stricter guidelines on skiing ability or first aid he is wiling to take a little bit less than that," Nelson said. "If you bring the right attitude."
Sitting in a spartan rehab room on the north side of Spokane this week, Gary Deaver is getting antsy and a bit frustrated with the pace of his recovery. He hasn't stood on his own since before the accident, his beard is getting long and he misses the mountains.
"I'm beginning to look like a pirate," he said gesturing toward his beard. "And I don't like it."
Although he likely won't ski again this season, he's already planning his return to the slopes.
But despite the difficulty of recovery, Deaver is trying to keep the big picture in mind.
"I fall about once every two years," he said. "I've been extraordinary blessed and lucky to have gone this far and have done this many miles.
"The real takeaway is enjoy what you're doing when you're doing it because you never know when it's going to be taken away from you. No matter how good you are."
---