A&E > Stage
Aspire Community Theatre hopes 'Sweet Charity' helps audiences beat winter blues
Thu., Feb. 8, 2018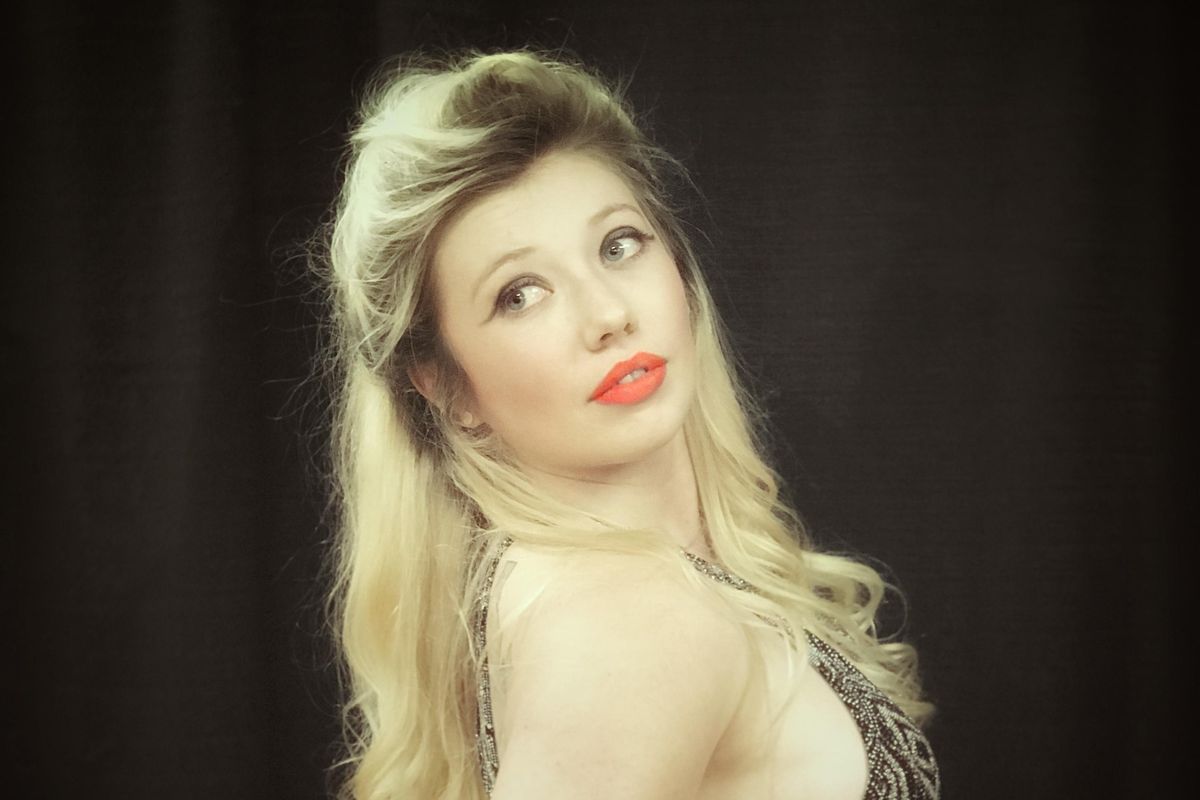 Amber Fiedler as Charity Hope Valentine in the Aspire Community Theatre production of "Sweet Charity." (Courtesy photo)
With six more weeks of winter in store, Aspire Community Theatre understands that audiences in North Idaho probably need a break from the winter blues.
And by transforming the Salvation Army Kroc Center into a bright and bustling New York City, the theater is hoping its production of the musical "Sweet Charity" does the trick.
"Sweet Charity" opens on Friday and runs through Feb. 18.
"Sweet Charity" follows the romantic highs and lows, of which there are many, of an unlucky-in-love but always optimistic dance hall hostess named Charity Hope Valentine.
The musical, based on Federico Fellini's "Nights of Cabiria," opened on Broadway in 1966, directed and choreographed by Bob Fosse with music by Cy Coleman, lyrics by Dorothy Fields and a book by Neil Simon.
The musical was nominated for nine Tony awards, with Fosse winning for best choreography.
He also directed and choreographed the 1969 film adaptation, which starred Shirley MacLaine as Charity.
While not a huge box office hit, the film was critically successful, receiving three Academy Award nominations and a Golden Globe nomination for MacLaine.
Director Brooke Wood, who directed Aspire's production of "Catch Me If You Can" during the theater's inaugural season, said yes to directing "Sweet Charity" for a number of reasons.
For one, she always enjoys working with artistic director Trigger Weddle, who choreographed the musical.
It also meant a chance to direct a show in one of her favorite genres, 1960s kitsch musicals. Add in Fosse's choreography and Simon's comedic writing and Wood was sold.
"It's my favorite wheelhouse to work in because I like the style of the comedy," she said. "It's Bob Fosse choreography and dance so it's one of my favorite styles that there is so it was a match made in heaven."
"Sweet Charity" stars Amber Fiedler as Charity.
Wood knew she found her Charity early in Fiedler's audition after hearing her sing and getting a glimpse of her comedic timing.
"Amber is immensely talented for someone of her age," Wood said. "She's got a beautiful voice, and in fact I think she sings some of the songs better than some of the originals just because her voice is so amazing. … She had the quirkiness of Charity."
The ever hopeful character of Charity, Wood said, has to be quirky and silly, with a Lucille Ball-esque quality about her, or she would quickly become annoying.
"It's a hard one though because she's got to be the kind of girl that works at a dance hall," Wood said. "She can't be too sweet."
The cast also includes Dennie Thorpe (Helene), Emily Cleveland (Nickie), Arianna Lema (Carmen), Kiara Klinkefus (Rosie), Jasmine Inman (Suzanne), Evelyn Peterson (Frenchy), Reese Weddle (Betsy), Erin Allsup (Elaine), Billie Inman, Caitlin Kuhns and Moriah Kaylea Heberer (hostesses), Jessica Peterson (Hermione Herman), Amy D'Orazi (Ursula March/Daddy's assistant), Seth Weddle (Vittorio Vidal), Easton Townsend (Oscar Lindquist), Casey Weeks (Daddy Brubeck), Tre Keough (Daddy's assistant) and Sergei Ethridge (Charlie).
"Sweet Charity" also features Zach Johnston (first passerby/baseball player/man waiting for elevator/panhandler), Trenton Klinkefus (first young man/married man/ Marvin), Izzy Mesenbrink (married woman/first woman), Carrie York (Winifred), Wendy Inman (woman with a hat/woman panhandler/Good Fairy), Andrew Schaefer (ice cream vendor), Casey Weeks (second young man/first cop/policeman), Kay Poland (second woman/panhandler), Billie Inman (girl/information booth girl), Trevor Rau (man with a dog/doorman/brass bandleader), Caid Wood (Spanish young man/waiter), Bill Inman (dirty old man/Barney/second man panhandler), Tate Erwin (second cop), Brenna Coppess and Nikki Cicero (ensemble) and Tucker Thorpe (dog with man).
Aspire's production features music direction by Chuck Ethridge.
"Sweet Charity" hasn't been produced in the area for quite some time (A production of "Fosse," a tribute to the director-choreographer featuring songs from "Sweet Charity," came to Spokane in 2004 as part of Best of Broadway.) and Wood thinks audience members will be excited to have a show like "Sweet Charity" produced in North Idaho by a nonprofit community theater like Aspire.
While talking to the actors, many of whom she and Weddle have worked with in previous productions, Wood gave them an honest look at the musical's impact.
Though the show "doesn't change the world," it does tackle the not-so-easy task of providing a much-needed respite for viewers.
"It gives you two hours to forget what's going on outside the doors to the theater and to laugh and to have time to enjoy yourself and forget about what's going on anywhere else," she said. "I think right now that's something that the world really wants and needs is a little bit of reprieve from all that's going on."
Local journalism is essential.
Give directly to The Spokesman-Review's Northwest Passages community forums series -- which helps to offset the costs of several reporter and editor positions at the newspaper -- by using the easy options below. Gifts processed in this system are not tax deductible, but are predominately used to help meet the local financial requirements needed to receive national matching-grant funds.
Subscribe to the Spokane7 email newsletter
Get the day's top entertainment headlines delivered to your inbox every morning.
---