A&E > Stage
'Pink Tablet' project combines poetry, dance, song and video in a one-of-a-kind performance
UPDATED: Thu., Feb. 8, 2018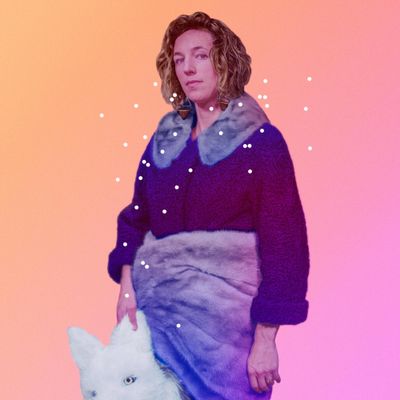 "Shall I howl for you?" asked local singer/songwriter Madeline McNeill.
McNeill made the offer as she sat next to poet Ellen Welcker at Community-Minded Television Studio (CMTV14) last weekend. The two were rehearsing their upcoming "feral opera" called "The Pink Tablet," based on Welcker's soon-to-be-released chapbook of the same name.
With little prompting, the operatically trained McNeill stood up and planted her feet hip-width apart. A self-dubbed "body philosopher," McNeill explained the yoga-like method she employs to engage her core muscles to sing before tipping her pelvis forward and lifting her chest. She emitted a goosebump-inducing howl that evolved into a melodious vibrato before hitting a climactic high note and then fading out.
"So pretty," I said.
"I know," whispered Welcker, misty-eyed. "It's hard not to feel like I have already achieved a level of complete satisfaction just working with these artists … and we haven't even had the performance yet."
The feral opera is a women-led collaboration that is part play, part dance and part choral performance interpreting Welcker's poems. The individual contributors who worked on the multi-arts mashup to be held this Friday and Saturday are a powerful mix of local artists looking to instill wonder and blow minds.
In addition to Welcker and McNeill (who composed the music and sings in the show), the team includes Rebecca Chadwell (production and design), the Love & Outrage Choir (vocals), Elise Divens (dance and choreography), Darrien Mack (art), Maya Jewell Zeller (narration), Nerma Sultanic (acting), and DaShawn Bedford (film production).
This weekend's performances (and later broadcasts) of "The Pink Tablet" will mark a milestone in Welcker's artistic journey with this particular body of poetry. In 2016, she received a grant from Artist Trust to help fund what the arts nonprofit's website described as "the 29-page poem she began on a pink legal pad in a trance-like obsession with the modern fairytale."
The resulting work is a chapbook of poetry exploring "a labyrinth of wilderness and femaleness, wherein (like the fairy tales it echoes) adults are incapable, unwilling or averse to protecting children – girl children in particular," Welcker wrote.
The poems evoke a frightening world navigated by two feral, teenage sisters whose mother is depicted as a wolf. Welcker describes the narrative landscape as "suffused with feminism, melodies of childhood and a dark medicine."
For this weekend's new chapbook release, Welcker wanted to create an event that was unexpected. She was partially influenced by her prior experience collaborating on an "Uncharted" performance with the Spokane Symphony and Terrain. She approached Chadwell at CMTV for help.
"Instead of giving a reading, I thought it would be fun to see if I could get a couple of actors to perform these poems," Welcker said. "Since my initial conversations (with Chadwell), this idea has grown arms and legs … and a life of its own."
Chadwell coordinates the ALTLens, a joint project of CMTV and Spokane Women in Arts and Media. She said she decided to produce the "feral opera" and to create original video content for it after reading Welcker's "brave work." The poems, said Chadwell, struck her with "wonder … what I consider the most basic gift of life."
"I was excited to help bring it to life because there's a very mysterious quality to a lot of the work," Chadwell said. "It's poignant with unknowing, and at some points, vulnerability is the only definite."
Here is an excerpt of one of the poems that Welcker wrote, and that McNeill set to music. It will be sung a cappella by members of the Love & Outrage choir, in the style of a madrigal comedy, a kind of entertainment music of 16th century Italy.
once upon a time
there was one hell of a mother
sharp teeth, and hairy all over
fierce was her love
and wet were her eyes
she was at times
a multiplicity
of pinpricks in the night
at times like a hole
they fell into
then nourished with earthmilk
and bathed in the hot breath
of mammals, every one
it was said
her children
had been raised
by wolves
The seven singers all have some background in classical music, local bands or church choirs. They are: McNeill, Liz Rognes, Erika Prins Simonds, Kristen Angell, Emily Willett, Elle McSharry, and Emma Butterworth. Portraying the teen sisters are dancer Divens and actress Zoey McCall-Smith.
"The Pink Tablet" is not Welcker's first foray into themes of boundaries and borders, parent-child relationships and the concept of "deep humanity" as an animal state. Born and raised in Bend, Oregon, Welcker graduated from the University of Montana with a degree in Asian Studies in 2000. She returned to school a decade later to earn an MFA in creative writing at Goddard College in Vermont.
Since turning her talents to poetry, she has published in nationally known literary anthologies, produced several chapbooks and authored two books of poetry: "The Botanical Garden" (Astrophil Press, 2010) and "Ram Hands" (Scablands Books, 2016). The first limited edition copies of "The Pink Tablet" will be released by Fact-Simile Editions at this weekend's performances.
Welcker has had a longtime obsession with animals and nature, especially wolves. But she points out that the poems seem more meaningful due to current events. "I feel like the culture of fear and the climate of outside/inside and walls being built and people being jettisoned is actually what happens to wolves too," Welcker said. "They are reintroduced; they are exterminated; they are trapped; they are killed.
"The wolf is a viable symbol for wildness; it can also be cast as the enemy, but also as a key part of our ecology." Welcker added. "Without wolves in places where there should be wolves, the whole thing starts to crumble."
Welcker's writing is often arresting and eye-opening, but just as often sprinkled with humor. Her lightheartedness was on display during the past several weeks as she conducted a wolf-centric experiment. She had friends and family don a large, fake wolf-head while she interviewed them on camera.
"I was having a great time interviewing people about what it was like being a wolf in the world," Welcker said with a laugh. "Someday, when I'm a little bit further away from all this, I am going to compile those videos because they are worth seeing."
Local journalism is essential.
Give directly to The Spokesman-Review's Northwest Passages community forums series -- which helps to offset the costs of several reporter and editor positions at the newspaper -- by using the easy options below. Gifts processed in this system are not tax deductible, but are predominately used to help meet the local financial requirements needed to receive national matching-grant funds.
Subscribe to the Spokane7 email newsletter
Get the day's top entertainment headlines delivered to your inbox every morning.
---