Sports > Gonzaga women
Gonzaga women clinch share of WCC title despite disheartening loss
Feb. 10, 2018 Updated Sat., Feb. 10, 2018 at 10:07 p.m.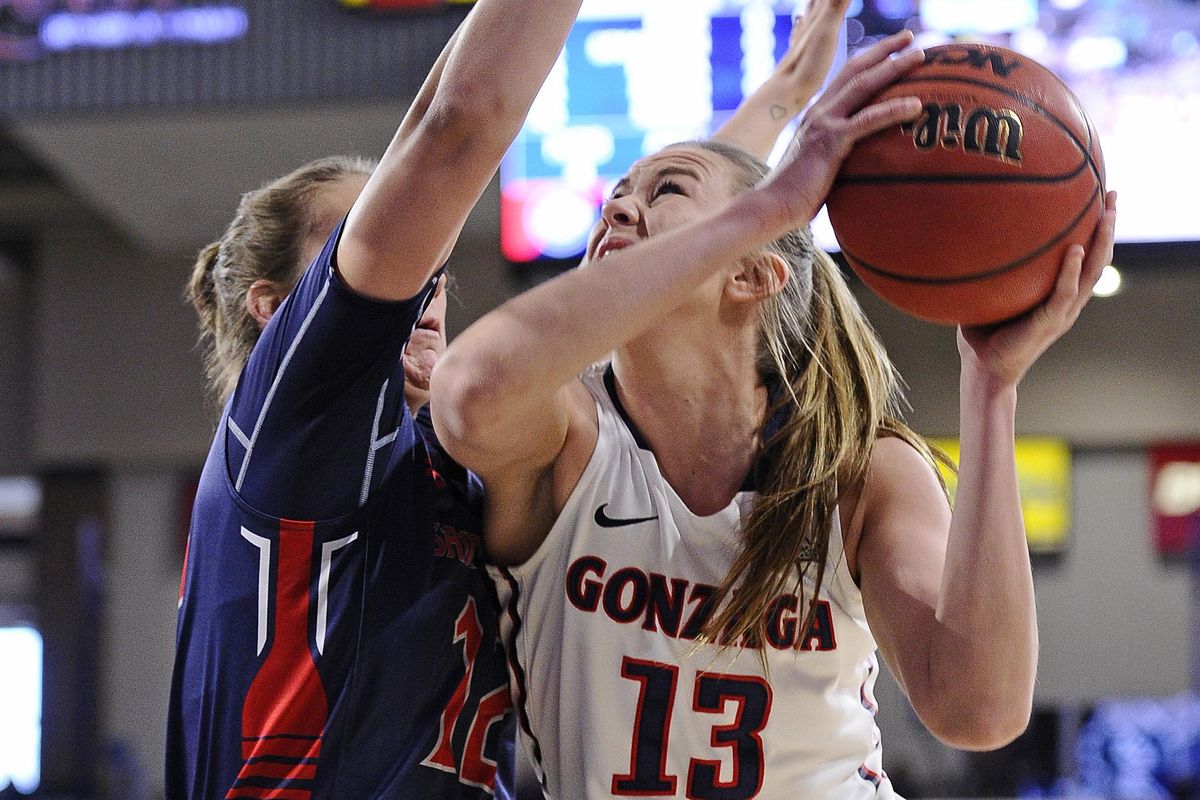 Gonzaga Bulldogs forward Jill Barta (13) shoots the basketball against Saint Mary's Gaels forward Sydney Raggio (12) during a basketball game at the McCarthey Athletic Center on Saturday, Feb. 10, 2018. (James Snook / Special to The Spokesman-Review)
Barely half an hour after their toughest loss of the season, the Gonzaga women were already picking up the pieces.
In this case it was a piece of the West Coast Conference title, courtesy of second-place BYU losing in double overtime at USF.
By that time, the McCarthey Athletic Center was all but deserted late Saturday afternoon after a 72-56 loss to Saint Mary's – hardly the occasion for a celebration.
Coach Lisa Fortier, son Calvin on her arm, took in the good news at midcourt and forced a half-smile.
With a little prodding, she warmed up to the notion of another banner hanging in the Kennel rafters, GU's 12th in the past 13 years.
"We want to do things that we control, but a championship is still a championship," said Fortier, who's won three of them in four years as head coach.
Gonzaga (20-5 overall, 13-1 WCC), is four games ahead of BYU and Saint Mary's with four games to play, thereby clinching at least a share of the title.
The Zags can take the championship outright with a win Thursday night at Loyola Marymount.
"It's a goal of ours every year. It's not the only goal, but it's a huge coup for this year's team," said Fortier, whose team is less than three weeks away from the WCC Tournament in Las Vegas.
That's plenty of time for GU to learn from its mistakes, but also for WCC rivals to exploit them.
"It's not the end of the world," Fortier said after the Zags' first loss in 16 games dating to mid-December. "But you can't chuck it … you have to learn from it, because other teams post up, other teams drive from the perimeter and other teams shoot 3s."
Saint Mary's (16-9, 9-5) did all of the above before a crowd of 6,000 at the Kennel.
For the game, Saint Mary's outshot GU 57-29 percent, and hit 44 percent from long range compared to 27 percent for the Zags.
"Our team didn't come out with the same intensity, energy and execution of the game plan that Saint Mary's did," Fortier said.
On offense, that meant too many rushed 3-point shots. On defense, the Zags defended poorly on the high post.
GU forced 21 turnovers, but that was more than offset by a 47-21 deficit on the boards.
The game got away in the second quarter, which began with GU trailing 15-11.
In the second quarter alone, GU was outscored 26-9 and outrebounded 15 to 5, while going 2 for 14 (14 percent) from the field compared to 71 percent for the Gaels.
Fortier called two timeouts during the quarter but couldn't stop the tide.
During the same second quarter, Gael forward Sydney Raggio hit two shots on awkward sky-hook runners on the way to an 18-point, 11-rebound day.
"That's when you look around and say, 'It's that kind of day,' " Fortier said.
Trailing 41-20 at halftime, the Zags got within 13 late in the third quarter as Gael post Megan McKay (14 points, 11 boards) was hampered by foul trouble.
GU still had a prayer going into the fourth, but a 14-point deficit soon hit 20.
Barta led GU with 19 points on 5-for-13 shooting. Zykera Rice and Emma Stach had 10 points each.
Local journalism is essential.
Give directly to The Spokesman-Review's Northwest Passages community forums series -- which helps to offset the costs of several reporter and editor positions at the newspaper -- by using the easy options below. Gifts processed in this system are not tax deductible, but are predominately used to help meet the local financial requirements needed to receive national matching-grant funds.
Subscribe to the sports newsletter
Get the day's top sports headlines and breaking news delivered to your inbox by subscribing here.
---