News > Education
EWU has come a long way from its roots as a kids' school and teachers' college
Sun., Feb. 11, 2018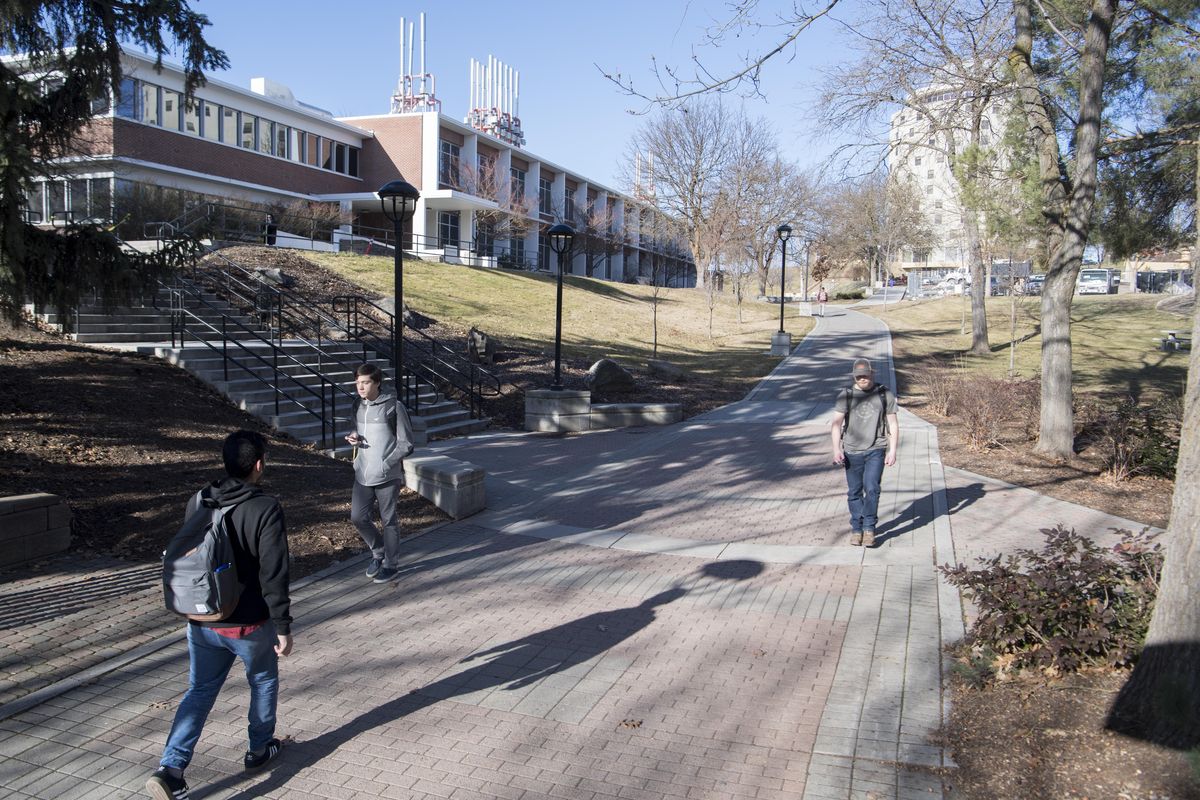 Washington lawmakers have allocated $67 million for a new science building that will replace this sloping walkway beside the old science building, left, on the campus of Eastern Washington University, shown Friday, Feb. 9, 2018. (Jesse Tinsley / The Spokesman-Review)
The Benjamin P. Cheney Academy, which taught kids up to about the ninth grade, opened in 1882 thanks to a $10,000 gift from its namesake benefactor.
The next fall, Cheney, a Boston industrialist and one of the directors of the Northern Pacific Railroad, visited the fledgling Eastern Washington town and declared that if his academy needed to expand, he would gladly make it happen.
He was perhaps too optimistic. In the years that followed, the academy lost students as Cheney built its own schools. And despite having a much-hyped train depot, the town grew slowly while its neighbor to the east, Spokane Falls, became the region's metropolis.
The academy shut down in 1890, and in its place lawmakers established the State Normal School – a teachers' college – that would later evolve into Eastern Washington University.
Skip forward to 2018: EWU's leaders aren't standing idly by while Spokane becomes a hub for innovation and a magnet for employers. Instead, they are pursuing new facilities at the main campus in Cheney and in Spokane's booming University District, hustling to keep up with demand for degrees in science, technology, engineering and math – STEM.
At a news conference last week, President Mary Cullinan announced that EWU will move three STEM degree programs and around 1,000 students to Avista's futuristic Catalyst building, which is slated for completion in April 2020 at the south landing of the U-District pedestrian bridge. And she declared that EWU is "Washington's public STEM university."
"At this point, something like 80 percent of the students who come to us as freshmen are interested in STEM programs," Cullinan said in an interview Friday.
Not all of those students go on to earn STEM degrees, "but they come here with that in mind," she said. "And so I think, more than any of the other public universities, we are increasingly seen as being the place to come for STEM."
Asked to rattle off some of the university's other bright spots, Cullinan listed: affordable tuition, a diverse campus with many first-generation students, high post-graduation employment rates and the state's only four-year dental hygiene program. And, she said, "practically every accounting firm in this part of the state has our graduates."
EWU spokesman Dave Meany said more than 700 people applied last year for 38 slots in the university's physical therapy doctoral program.
And he noted that EWU students in data analytics – one of the fastest-growing career fields in the world – are the only students who earn a special certificate from Microsoft while completing the university course.
Meanwhile, EWU's College of Education continues to churn out teachers. Starting in the spring, Cullinan said, students will be able to earn a master's degree in education exclusively through online courses.
"We're not losing track of the fact that we started as a Normal School back in the 19th century. I love that heritage," she said. "When many, if not most, of the universities in the country weren't even open to women, this school here focused on training women to be teachers."
Today, she said, "any school you go into in this part of the state has many, many Eastern graduates."
Big projects in Cheney, Spokane
Long before Cullinan arrived as president in 2014, the U-District was home to EWU's College of Health Science and Public Health and College of Business and Public Administration.
"It's been very successful for Eastern to have 3,000 or so students in those upper-division and graduate programs who are interacting with employers and the resources in Spokane," Cullinan said.
The five-story, 150,000-square-foot Catalyst building is expected to bring roughly 1,000 more students to the area. It will be the home base for EWU's computer science, electrical engineering and visual communication design programs, as well as a place for students and researchers to mingle with private enterprise.
"We weren't anticipating the Catalyst project," Cullinan said. "But when it came along, I was the first to raise my hand and say this is perfect for Eastern Washington University."
It's a big move for a school of about 12,400 students, but Cullinan said there's pent-up demand for certain programs and not enough space on the Cheney campus.
That doesn't mean EWU will move all its popular fields of study to Spokane. For now, there are no plans to add more than three degree programs to the Catalyst building. Cullinan said she hopes to establish a civil engineering program that would work in tandem with the geology program in Cheney.
"We're going to keep a thriving academic enterprise at Cheney," she said. "We're not changing that."
For years, EWU has been asking the Legislature for money to renovate its 47-year-old science building and break ground on a major addition.
"We, I believe, are lucky to be the owners of the oldest science building in the state," Cullinan quipped.
EWU eventually scaled down its request, and no money has been allocated to fix up the old building. But last month, lawmakers did grant the second part of the request: $67 million to build a four-story, 101,000-square-foot Interdisciplinary Science Center with dozens of labs and classrooms and a 100-seat lecture hall.
Scheduled to break ground in the fall, the new science center will be situated next to the three-story Pence Union Building, which is in the middle of an extensive remodel. The PUB has two sides – one built in 1994, the other in 1968 – that were awkwardly joined together with a central atrium.
The entire building has been gutted, and students now walk past a noisy construction site on their way to class. When the PUB reopens at the end of the year, however, it will have upgraded offices and dining areas, more natural lighting and the sleek, modern feel of an Apple store.
Last month, EWU also received state money to begin planning for a new engineering building in Cheney. Shawn King, the university's associate vice president for facilities and planning, said the move to the Catalyst building may have changed the equation, but the need for space remains.
"The original computer science building is bursting at the seams," he said. "These programs are growing so fast. Sometimes they've held back on enrollment, recruiting students, because they didn't have anywhere to put them."
Cullinan acknowledged there's a perception that EWU is like a kid sibling to the state's major research institutions, Washington State University and the University of Washington. It's a view that ignores EWU's many unique strengths, she said.
"I don't feel like I'm competing with the large universities any more than we're competing with Gonzaga or with Whitworth," she said. "We have such an important mission, and we are graduating Washington students who are staying in Washington. And we're doing it at less cost, both for the student and for the taxpayer. And we are contributing back to the state in such an enormous way."
Local journalism is essential.
Give directly to The Spokesman-Review's Northwest Passages community forums series -- which helps to offset the costs of several reporter and editor positions at the newspaper -- by using the easy options below. Gifts processed in this system are not tax deductible, but are predominately used to help meet the local financial requirements needed to receive national matching-grant funds.
Subscribe now to get breaking news alerts in your email inbox
Get breaking news delivered to your inbox as it happens.
---