Sports > Area sports
Grip on Sports: Gonzaga shows sometimes success doesn't lie in the numbers alone, but how they work together
Sun., Feb. 11, 2018 A GRIP ON SPORTS • Up until last night, Saint Mary's last loss was in November, by two to Georgia in overtime. The Gaels worst loss was by five points – to Washington State. Those were their only two defeats. And they had the nation's most efficient offense. All extremely impressive. As was the way Gonzaga handled them last night. Read on.
••••••••••
• The numbers were outstanding, from 24-2 (the Gaels' record) to 14-0 (their home mark) to 52.8 (their shooting percentage). How about 13-0 (their West Coast Conference record) to 19 (consecutive wins) to 11 (national ranking)?
All that changed Saturday night in Moraga, and it all changed in about four or five minutes.
That's all it took for Gonzaga to roar out to a 13-point lead, one that would grow but never shrink in the Bulldogs' decisive 78-65 road victory.
Watching at home, it is hard to get a sense of the cramped confines of McKeon Pavilion, a $50 dollar name for a $5 gym. And with tickets at a premium, the place had a pregame energy that was palatable even on the ESPN broadcast. That all changed within seconds, it seemed, when Josh Perkins nailed a 3-pointer to open the game. And when the Zags went to work on the defensive end.
Off-ball defense is an underrated aspect of college basketball. The camera follows the ball at all times, but it's the three or four guys away from the action that often determine if a team is successful on that end. And that's where GU excelled against the Gaels.
Jock Landale is such a force at the block – not only does he average 22.7 points per game, he second only to Saint Mary's all-time assist leader, Emmett Naar, in that category this year as well – opposing defenses have to pay more attention to him than any other WCC post.
Gonzaga's not immune to that. The Zags may have been last season, when Przemek Karnowski and Zach Collins could be trusted to neutralize Landale one-on-one. But this season, despite their obvious strengths, Johnathan Williams and Killian Tillie aren't capable of being left on an island.
So the Zag staff devised a game plan. And the players executed it well enough to fluster Landale into a four-point night – and the Gaels into their second-worst shooting night of the season.
Williams didn't allow Landale to get comfortable in the paint. He forced him to a block, usually on the left side, and pushed him up the lane as much as possible. When the Gaels found Landale, the Zags doubled.
Their usual M.O. is to double post-to-post, with the other big coming over to help and the three remaining defenders rotating accordingly. Saint Mary's knows this and, in Spokane, screened the back side often, allowing Landale to skip a pass for an open 3-pointer. The Zags were forced to abandon the double team as the game went on.
Last night the double came from varied spots, from outside, from the top, from the other post, and the other three defenders sprinted to account for shooters. The varied nature of the defensive attack seemed to flummox Landale and even his passes were not as accurate as usual.
The only time the Zags were burned, it seemed, was when the entry passer dove to the rim and the weakside help was slow to account for him. Otherwise, Saint Mary's, which came in hitting 42 percent of its 3-pointers, was content to wait for open shots that never came. (The Gaels were 5 of 20 from beyond the arc.)
It was a masterful defensive performance and once again highlighted an area Mark Few has shored up considerably over the past five years. They play harder and smarter on that end these days, not just harder and smarter than they used to, but harder and smarter than most teams around the country.
It helped the Zags reach the national title game last year. And it was the key element in their 13-point victory last night.
•••
WSU: The Cougars will be in Eugene this evening, coach Ernie Kent's old stomping grounds, for a game with Oregon. Theo Lawson will be there and he has a preview as Washington State tries to end a six-game losing streak. … Oregon is still trying to figure out its season, though the Ducks will probably be saying that as they roll to an NIT title. … Elsewhere in the Pac-12, if Washington is left out of the NCAA tournament, Husky fans will probably point to last night's double overtime defeat at Oregon State as the main culprit. … Arizona put some space between itself and the rest of the conference with a home win over USC. … UCLA couldn't keep pace as Arizona State swept a weekend of conference games. … Washington State may be in the cellar, but California has a tendency to play the role of roadkill better than anyone. The Bears were run over by Utah last night.
Gonzaga: It may be exhilarating to watch a game in a bandbox like McKeon, but it's a tough place for journalists to work. Of all the facilities I covered college basketball games in during my career, it was in the bottom two or three. Heck, it might be in the bottom five or six when I include high school facilities. Still, Jim Meehan has his usual insightful game analysis and the keys to the win. … John Blanchette wedged himself into a spot and put together this column. … Tyler Tjomsland was also in Moraga and has a photo gallery. … The guys in the office put together the usually stellar highlights package. … We watched in the comfort of our home, sipping coffee and trying to stay awake past our bedtime – hey, the game started at 7. That led to our TV Take. … With the showdown between top-ranked teams, the Bay Area media turned out in droves as well. … The women hosted Saint Mary's yesterday afternoon before an almost packed house. But it was the Gaels who seemed most at home, winning 72-56. Jim Allen has the game story which includes the news GU clinched at least a share of the WCC title. Whitney Ogden added a story about the inside battles and James Snook a photo gallery. … Around the WCC, BYU struggled at home with USF, but a late 3-pointer tied it and the Cougars won in overtime. … Santa Clara picked up a home win against San Diego. … A late shot lifted Pacific to a win over visiting Portland.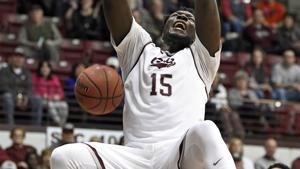 EWU: Delaney Hodgins is once again in the running for a prestigious award. … Elsewhere in the Big Sky, Montana stayed undefeated in conference play, but the home win over Sacramento State wasn't easy. … Northern Arizona lost again at home, this time to Southern Utah. … Idaho State finally won again, at home against North Dakota. … Weber State stayed on a roll, edging Northern Colorado. … Portland State hit a late 3-pointer and picked up a road win at Montana State.
Chiefs: Spokane may never want to return home. The Chiefs won again on the road last night, defeating Tri-City 6-3.
Preps: The boys District 8 4A finals next Friday night in the Spokane Arena will feature quite possibly the two best teams in Washington. Gonzaga Prep clinched one spot with a 55-36 home win over Chiawana last night – Dave Nichols has that story – and Richland the other with a home win over Ferris. Both schools are undefeated and have played challenging schedules. … Greg Lee returned to action, covering the girls 4A game last night between Central Valley and University. James Snook added the photographs. … We also can pass along roundups from other girls and boys action in the region. … Wrestling is at the regional level and we have a roundup.
Seahawks: Friday was payday for many Hawks.
Mariners: The M's can't ensure a winning season in spring training, but if injuries occur, they can probably ensure they won't have one. … Their infield is pretty darn good.
•••       
• Is it OK to spend a Sunday doing basically nothing? Just laying around the house? Maybe watch some golf and have a nice breakfast? Throw in a load of laundry or two? Possibly clean the windows, patch a couple holes in the drywall and maybe paint a bit? Get outside and pick up after the dogs? Run a half-marathon? You know, a typical lazy Sunday? Is that OK? Until later …
Local journalism is essential.
Give directly to The Spokesman-Review's Northwest Passages community forums series -- which helps to offset the costs of several reporter and editor positions at the newspaper -- by using the easy options below. Gifts processed in this system are not tax deductible, but are predominately used to help meet the local financial requirements needed to receive national matching-grant funds.
Subscribe to the sports newsletter
Get the day's top sports headlines and breaking news delivered to your inbox by subscribing here.
---