Sports
Grip on Sports: Like the Who said, meet the new (selection committee) boss, just like the old boss
Mon., Feb. 12, 2018 A GRIP ON SPORTS • There is, basically, one month left in college basketball's regular season. To celebrate, the NCAA tournament selection committee gave us a present: something to argue about. Read on.
••••••••••
• And argue we will, especially around these parts. With good reason.
But before we get to the committee's current 16 top seeds, which it revealed yesterday morning, let's review a couple of facts from earlier in the season.
– The committee has 10 members, three of them new this year after a tumultuous offseason.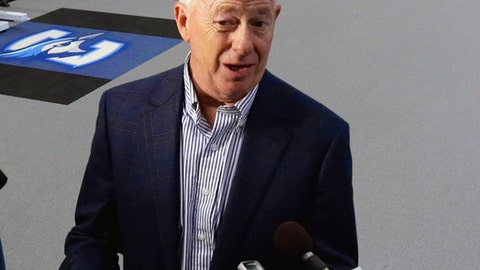 – It has a new chair, Bruce Rasmussen, Creighton University's athletic director.
– There are three members from western states – Stanford athletic director Bernard Muir, BYU athletic director Tom Holmoe and Mountain West commissioner Craig Thompson.
– Rasmussen and the NCAA have revamped how the committee ranks a schedule, assigning different emphasis to wins, losses, where they occurred and who they were against. (It's all explained here.) The NCAA has also expressed a willingness to use more advanced statistical metrics in the selection, not relying on an RPI system that was outmoded years ago.
So there's your background, all of which brought increased interest to yesterday's preliminary seed reveal. Remember, when the committee did this for the first time last year, 15 of the 16 schools in the preliminary announcement finished with a top-four seed on Selection Sunday.
Which is scary, considering the committee's selections yesterday.
There is very little argument with the four teams at the top, Virginia, Villanova, Xavier and Purdue. The two line includes Kansas, which shocked some folks. But it's the four seeds where the committee seems to be stuck in the past.
The RPI, a metric that seems about as modern as a 1964 Volkswagen, and about as useful, is still holding sway, unless it isn't.
Rhode Island is fifth in that measure. It is 20-3. All three of its losses are from the Quadrant (or Tier) 1 category. Its strength of scheduled is third best nationally. But the Rams have just one Quadrant 1 win. And the advanced metrics (KenPom, BPI and Sagarin) have them outside the top two dozen. They were not given a top 16 berth.
But 23-4 Gonzaga, who has two more Quadrant 1 wins than Arizona (the four seed in the West) and is ranked higher in the advanced metrics by quite a bit, is not seeded while the 20-6 Wildcats are. As is 16-8 Oklahoma, also well behind the Zags in the advanced metrics and with just one more Quadrant 1 win (and two more losses). Both, however, are quite a bit higher in RPI and strength of schedule.
So what criteria is the committee using? What is most important, and what will be most important come March?
If it's Quadrant 1 wins, than Oklahoma's fourth seed is justified, but Arizona's isn't. If it's RPI, than Rhode Island should be in. If it's the advanced metrics, Gonzaga is golden.
Instead it seems to be a stew made up of a bunch of different ingredients, all thrown together at a whim. There is no clarity and, usually, little in the way of good taste. It's easy to justify anyone's selection and placement and, at the same time, hard to justify anyone's selection and placement. There is no transparency, no order. It comes down to personal preference.
Just like it always has. Which means there will be a lot of unhappy campers come Selection Sunday.
•••
WSU: The Cougars won't have to worry about that. They have fallen and can't get up. The latest stumble was in Eugene in a game that was basically unwatchable. Theo Lawson had to watch, however, and he has the game story and video of interviews with Ernie Kent and players. … It seems as if Mike Leach has filled the coaching vacancy on the offensive line. Theo also has a story on that subject. … From Oregon, there are game stories to pass along as well as Austin Meek's column on Kent and the Cougars. There is this quote from Kent in the story: "Tony Bennett, I sat with him, and he said (WSU is) one of the toughest jobs he's ever had." FYI, Tony Bennett has been a head coach at two schools, and only two schools, WSU and Virginia. Of course it's "one of the toughest jobs he's ever had." …. The WSU women lost at home to ninth-ranked Oregon.
Elsewhere in the Pac-12, there was one other conference game yesterday, in Colorado, where the Buffs handled reeling Stanford. … Speaking of reeling, what happened to Washington this weekend? … Arizona was the only Pac-12 school in Sunday's seeding. … UCLA may still make the tournament, but who knows? … Arizona State took some late time outs in the win over UCLA. … Utah's two wins kept the Utes in the running for a top four Pac-12 finish. … The polls come out today. … We are not done with football recruiting just yet.
Gonzaga: Jim Meehan spent his Sunday explaining the unexplainable, the selection committee's preliminary top four seeds. … The Zags' win at Saint Mary's on Saturday night caught a lot of folks' attention. By the way, the official box score had Rui Hachimura scoring 21 points. Other sources after the game had him with 23, which was impossible to verify because Saint Mary's on-line statistical report did not work after halftime. … Around the WCC, BYU's improbable win over USF may give the Cougars some momentum for the rest of the season.
Chiefs: Spokane returned home and fell to Everett 3-2. Kevin Dudley has the story.
Seahawks: Richard Sherman will act as his own agent in contract negotiations. …  Michael Bennett is still speaking out.
Mariners: There is more skepticism than optimism this season as the M's open spring training. … The bullpen will be used a lot.
Sounders: The financial outline is changing in the MLS and Seattle will have to adjust.
•••       
• There is snow in the forecast midweek. Seems like a good time to head to Arizona or somewhere. Until later …
Local journalism is essential.
Give directly to The Spokesman-Review's Northwest Passages community forums series -- which helps to offset the costs of several reporter and editor positions at the newspaper -- by using the easy options below. Gifts processed in this system are not tax deductible, but are predominately used to help meet the local financial requirements needed to receive national matching-grant funds.
Subscribe to the sports newsletter
Get the day's top sports headlines and breaking news delivered to your inbox by subscribing here.
---