News > Spokane
Then and Now: Umatilla Hotel
Mon., Feb. 12, 2018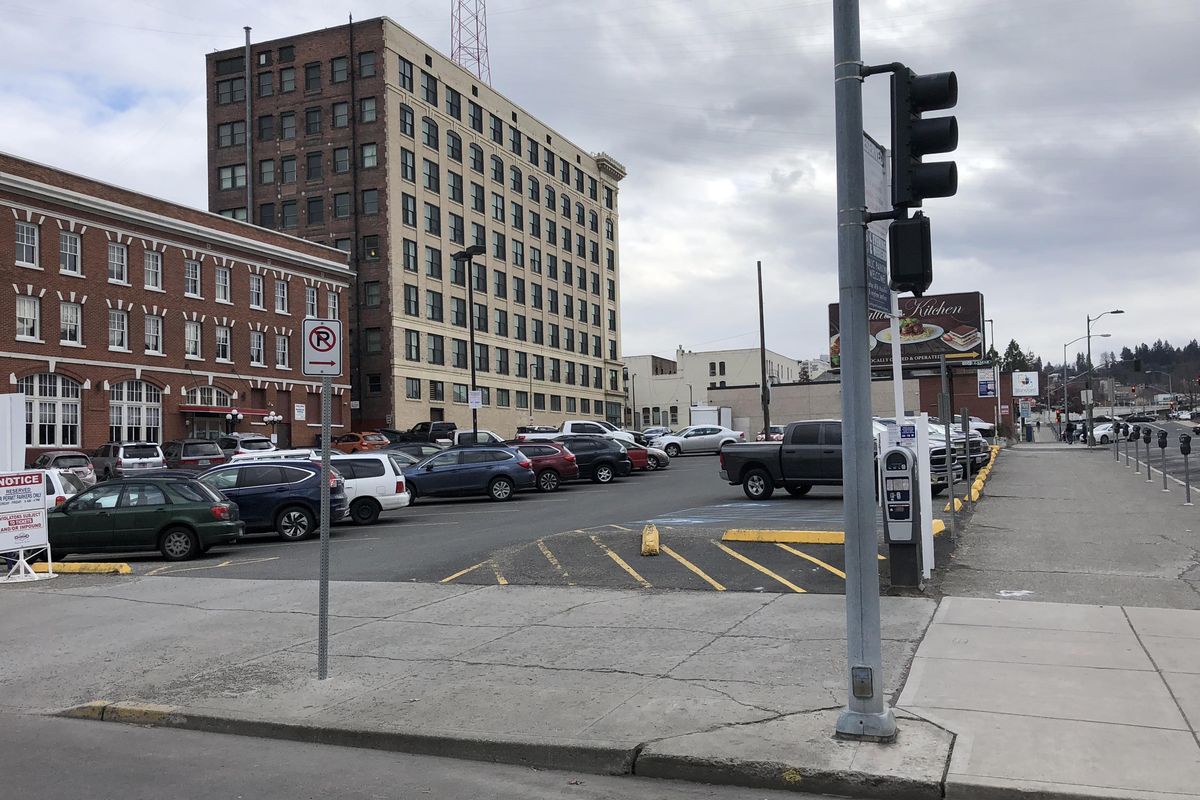 2018 - The southeast corner of Bernard St. and Main Ave. is now a parking lot, but before 1945 it was a three-story woodframe hotel called the Umatilla, built by pioneer businessman Henry French in 1889. It survived the 1889 fire but succumbed to the flames in 1945. The burned out building was finally torn down in 1947. (Jesse Tinsley / The Spokesman-Review)
The Umatilla Hotel, on the southeast corner of Main Avenue and Bernard Street, survived the 1889 fire, which stopped at Washington Street, but couldn't avoid another 55 years later.
Henry French was barely out of his teens when he came to Spokane from Arkansas in 1881. He developed a handful of downtown buildings, opened the city's first candy store and started a stagecoach service to the Idaho mining district. One of his buildings was the Umatilla, a three-story, 36-room wooden residence hotel.
The place wasn't fancy and appeared somewhat shabby compared to the new brick and stone buildings sprouting from the ashes of the great fire. It was a place where transients and railroad employees could stay cheaply on layovers.
For decades, the ground floor was occupied by side-by-side bars. To the left of the hotel entrance was the Porter and Waiters Club, a black-owned establishment welcoming African-Americans. The title mentions the two professions which black workers could hold aboard Pullman cars. Per Pullman company policy, all conductors were white.
To the right of the front door was the Eldorado Club, a not-too-highbrow establishment for white Spokanites in search of a drink.
Many cities along the country's major rail routes had a Porters and Waiters Club, where blacks were welcomed and whites were told, usually politely, to move along. Rules, both written and unwritten, kept African-Americans out of most restaurants and entertainment venues in Spokane during the first half of the 20th century. Window signs usually read "No Colored Patronage Solicited."
The Porters and Waiters bar was run by bartender Alger "Algie" Ball. Ball was arrested several times through the 1930s and early 1940s for having gambling in his bars.
Historian Jerrelene Williamson, author of "African Americans in Spokane," remembers that after the Umatilla, the bar moved to a big house at 528 E. Second Ave. and also offered rooms for rent.
Fire tore through the upper two floors of the rickety Umatilla in November of 1945. Fortunately, all the tenants got out alive. The remaining structure was torn down in 1947.
Local journalism is essential.
Give directly to The Spokesman-Review's Northwest Passages community forums series -- which helps to offset the costs of several reporter and editor positions at the newspaper -- by using the easy options below. Gifts processed in this system are not tax deductible, but are predominately used to help meet the local financial requirements needed to receive national matching-grant funds.
Subscribe now to get breaking news alerts in your email inbox
Get breaking news delivered to your inbox as it happens.
---