A&E > Beer/Drinks
Cocktail Class: Coming Up Roses for Valentine's Day
Tue., Feb. 13, 2018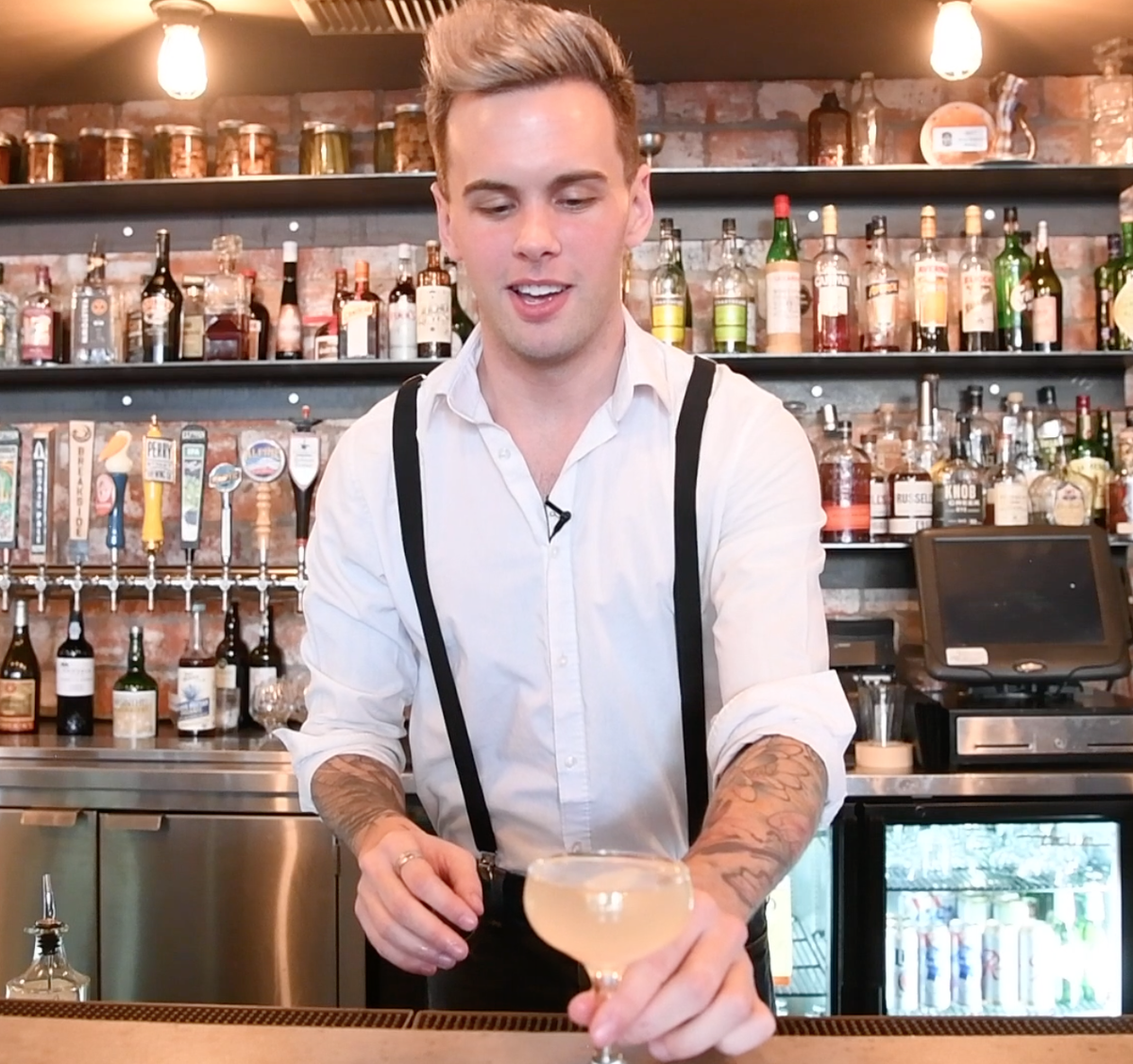 Bartender Cody Winfrey makes an original drink called Coming Up Roses at Casper Fry in the Perry District. (Jesse Tinsley / The Spokesman-Review)
Casper Fry bartender Cody Winfrey isn't afraid of floral notes. In fact, he's quite the fan.
And one of his new favorite liqueurs is Rose Geranium, from the Woodinville-based distiller broVo, which he places at the forefront of his creation Coming Up Roses.
Served in a coupe and offering hints of rose, geranium and citrus, it would make a lovely libation for spring. But why wait that long?
Roses are synonymous with Valentine's Day. Have one or two then.
"Rose Geranium is very soft and subtle," Winfrey said. "It is like a literal flower – without being soapy. It brings a nice bouquet of flavor."
Coming Up Roses uses gin as its base spirit. Winfrey opts for another favorite: Whyte Laydie, made in Montana. The Rose Geranium is balanced with Lillet Blanc, lemon and honey.
Don't have all of the ingredients? You might be able to fake it. "I've made it before with Hendrick's (gin) and rosewater," Winfrey said.
But he likes this version better.
Coming Up Roses
From Cody Winfrey
2 ounces Whyte Laydie (or London dry) gin
1/2 ounce Rose Geranium from broVo
1/2 ounce Lillet Blanc
1/2 ounce Dolin dry vermouth
1/4 ounce lemon juice
1/4 ounce honey syrup
1 dash rosewater
Add all ingredients to a mixing glass with ice. Stir. Strain into a coupe. Garnish with a swath of lemon peel.
Local journalism is essential.
Give directly to The Spokesman-Review's Northwest Passages community forums series -- which helps to offset the costs of several reporter and editor positions at the newspaper -- by using the easy options below. Gifts processed in this system are not tax deductible, but are predominately used to help meet the local financial requirements needed to receive national matching-grant funds.
Subscribe to the Spokane7 email newsletter
Get the day's top entertainment headlines delivered to your inbox every morning.
---