News > Business
Officials ponder protections for ponderosa pines, Spokane's official tree
Sat., Feb. 17, 2018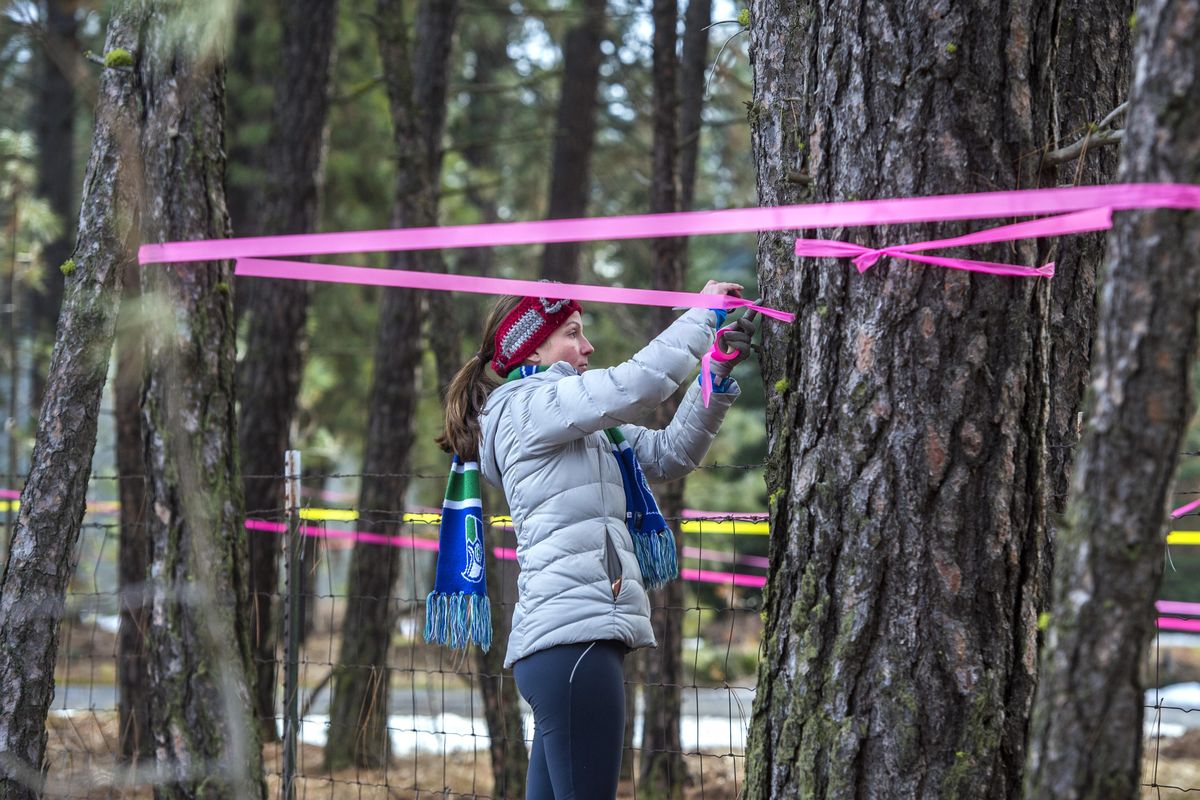 Josie Dix marks ponderosa pine trees with ribbon near the corner Grove Road and 40th Avenue, on Jan. 23, 2018, near Spokane. Dix is trying to prevent the trees from being logged. (Dan Pelle / The Spokesman-Review)
In Spokane County, where the value of ponderosa pines is often in the eye of the beholder, a kerfuffle arose last month over a 17-acre stand of the region's most prolific tree.
The incident started after a "For sale" sign appeared on the acreage on Grove Road near Interstate 90 and the Geiger exit. Earth-moving equipment showed up to clear the trees.
Neighbors were dismayed to see mature pines being bulldozed. The parcel is immediately adjacent to Dix Corp.'s offices, where the owners chose to keep big ponderosas around their building.
Clearing the site seemed hasty, particularly since there's no development plan for the parcel, said Patrick Dix, who is part of the family-run Dix Corp., a specialty contractor.
"I'm not trying to say anything derogatory about the property owners," Dix said. "I just don't think they gave it any thought."
Calls to the Realtor eventually led to a compromise. The owners agreed to keep a 50-foot buffer of pines around part of the property's perimeter.
"We're saving quite a few trees. We feel like we've gone above and beyond to accommodate them," Ken Cook, one of the parcel owners, later said.
Rapid development throughout Spokane County is galvanizing advocates for ponderosa pines, who want to find ways to preserve and replant pine trees as the region grows.
Last year, local municipalities issued hundreds of millions of dollars' worth of building permits. Demand for new houses, offices and commercial space is expanding the region's urban footprint into forested areas, while plans for denser, infill development is clearing formerly treed lots within city limits.
While growth is inevitable, keeping the ponderosa – the official tree of the city of Spokane – has proven benefits, urban forest advocates say. The drought-resistant species provides beauty and shade, reduces traffic noise and filters stormwater.
A local developer, Larry Stone, also hopes to see scenic glades of ponderosas planted along the North Spokane Corridor. As one of the region's largest pending public infrastructure projects, the freeway construction could showcase the benefits of the aesthetic, low-maintenance pines in landscaping, he said.
But strategies for preserving existing pines – particularly on private property – raise tricky questions, as the Grove Road incident illustrates.
Clearing the 17 acres was important for marketing the commercial site, Cook said. With so many trees on the property, it was difficult for prospective buyers to visualize how the land could be used for development, he said.
Preserving ponderosas will get a public airing in Spokane later this year. Spokane City Councilwoman Lori Kinnear plans to launch a review of parts of the city's municipal code dealing with urban forestry. She said it's her next priority after shepherding through changes earlier this week to the city's historic preservation law.
Spokane's code only addresses trees on public property and in the public right of way. In other Washington communities, attempts to influence private landowners' decisions about trees have been controversial. Preserving private trees usually relies on voluntary measures, such as education and incentives, Kinnear said.
"Washington is a very strong private property rights state," she said.
Ponderosas also are subject to personal preferences. What are majestic trees to some are needle-dropping nuisances or wildfire hazards to others.
In addition, the 2015 windstorm forever changed how some landowners view towering stands of pines near homes and power lines. Though ponderosas are adapted to local weather and can survive 40 to 50 mph winds, the nearly hurricane-strength gusts of 71 mph toppled thousands of trees.
"I think the windstorm scared people," Kinnear said. "They weren't prepared for the damage trees can do."
Josie Dix, the daughter-in-law of Patrick Dix, took plastic ribbons out to mark the trees in the 50-foot perimeter around the Grove property last month. She hopes to see the Greater Spokane community engage in a discussion about the best ways to preserve ponderosa pines while accommodating development.
During a visit to Bend, Oregon, Dix snapped pictures of a Safeway parking lot where a stand of older pines had been left intact.
"I'm pro-development and I'm pro-tree," she said. "We can keep our urban forest as we develop."
Property rights part of urban tree discussion
Kinnear, the Spokane city councilwoman, said it's too soon to discuss what direction a review of urban forestry issues might take. But the conversation is sure to include landowners' rights to control what happens on their property, she said.
"What Seattle tried to do is to educate people about alternatives to cutting or topping trees," she said.
Offering landowners incentives to keep trees on their property might be an option. However, "I'm not there yet," Kinnear said. Offering incentives usually costs money, so the City Council would have to evaluate that carefully, she said.
As part of the discussion, Kinnear thinks it's important to talk about how logging a stand of ponderosas affects neighboring pines. "If your neighbor cuts down 10 trees," the remaining trees lose their "herd protection," she said. They're more vulnerable to blow-downs.
Urban trees are also a piece, albeit a smaller one, of the city's multimillion-dollar solution for keeping pollution out of the Spokane River, Kinnear said. After rainstorms, trees slow down the runoff that causes some sewers to overflow, sending raw sewage into the river.
"Once you cut down a 75-year-old pine," she said, "it takes another 75 years to grow one."
South Hill resident Carrie Anderson has a Facebook page called "Spokane ponderosa Network." She's floating the idea of a 30- or 60-day cooling-off period before city residents could cut down trees on private property.
She thinks neighbors should be notified before trees are logged on private property and have an opportunity to weigh in. Anderson said a cooling-off period would reverse the current trend of "cutting it down … then talking about it." But ultimately, the property owner would make the decision, she said.
Anderson encourages local residents to get their trees assessed by a certified arborist before deciding whether to remove them. The city of Spokane's urban forestry site has a list. But Anderson said she also understands that some trees need to be cut.
"They built the house too close to the tree or planted the tree in the wrong spot," she said. "Or the insurance company is requiring it."
Kinnear, however, questions whether Spokane residents would support a waiting period for tree removal. "That might cross a line," she said.
Easy maintenance with little water
As the Spokane area talks about ponderosas, local leaders should seize on the opportunity presented by the North Spokane Corridor construction, said Stone, the developer.
Since he acquired the old Playfair Race Course in the East Central neighborhood and turned the 48-acre site into a commerce park, Stone has been incorporating ponderosas into the landscaping.
"I've had a love affair with pine trees ever since I was a kid," said Stone, a Spokane native and president of Stone Companies, which includes silo manufacturer SCAFCO.
Planting pines along the North Spokane Corridor would "soften the edges" of the high-speed route through Hillyard, Stone said. He's prepared a presentation that contrasts photos of trees at I-90's Mercer Island interchange in Western Washington with barren stretches along I-90 through Spokane Valley.
Stone has worked with the state Department of Transportation and Boy Scout volunteers to plant about 5,000 pine seedlings along the corridor over the past five years. He'd like to see local city councils endorse planting pines along the future freeway.
Even without watering, the seedlings have had survival rates of about 80 percent, Stone said. In addition to the aesthetic values, a study he commissioned from Gonzaga University indicated that planting pines saves the state money on chemicals for spraying noxious weeds.
"Spokane has always valued its ponderosa pines as part of its landscaping," Stone said. "It's not a conservative issue; it's not a liberal issue. It's an everybody issue."
Spokane Public Schools officials also have embraced ponderosa pines for landscaping. During school construction and remodeling projects, efforts are made to save ponderosas or replant them.
"Our goal is to replant two pines for every one that's removed," said Greg Forsyth, director of capital projects.
School district officials hire an arborist to assess the trees' overall health before projects begin. The third-party opinion helps prioritize which trees to keep when stands can be saved, he said.
During Ferris High School's recent remodel, the infrastructure was designed around keeping some of the stronger stands of ponderosas intact.
Ponderosas are "natural to the area and simple maintenance" compared with deciduous trees, Forsyth said. "We don't like maple trees – they're a lot of work."
At Playfair Commerce Park, young ponderosas grow out of the landscaping swales that capture and filter runoff from the pavement. Stone said he had to get permission from city officials to add the trees to swales, which are usually planted with grass.
Growing pines in swales is a modest effort compared with what Stone hopes to see happen along the North Spokane Corridor. But it's a simple, effective way to keep Spokane's official tree growing in its neighborhoods, he said.
"They're growing great," Stone said of the ponderosas, which were planted in 2013. "When you come back in five years, it will be a forest, and it will be beautiful."
Local journalism is essential.
Give directly to The Spokesman-Review's Northwest Passages community forums series -- which helps to offset the costs of several reporter and editor positions at the newspaper -- by using the easy options below. Gifts processed in this system are not tax deductible, but are predominately used to help meet the local financial requirements needed to receive national matching-grant funds.
Subscribe now to get breaking news alerts in your email inbox
Get breaking news delivered to your inbox as it happens.
---