A&E
Leaving Los Angeles: The 'Orbit Gum Girl' makes a new home on Spokane's South Hill
Feb. 18, 2018 Updated Sun., Feb. 18, 2018 at 12:25 p.m.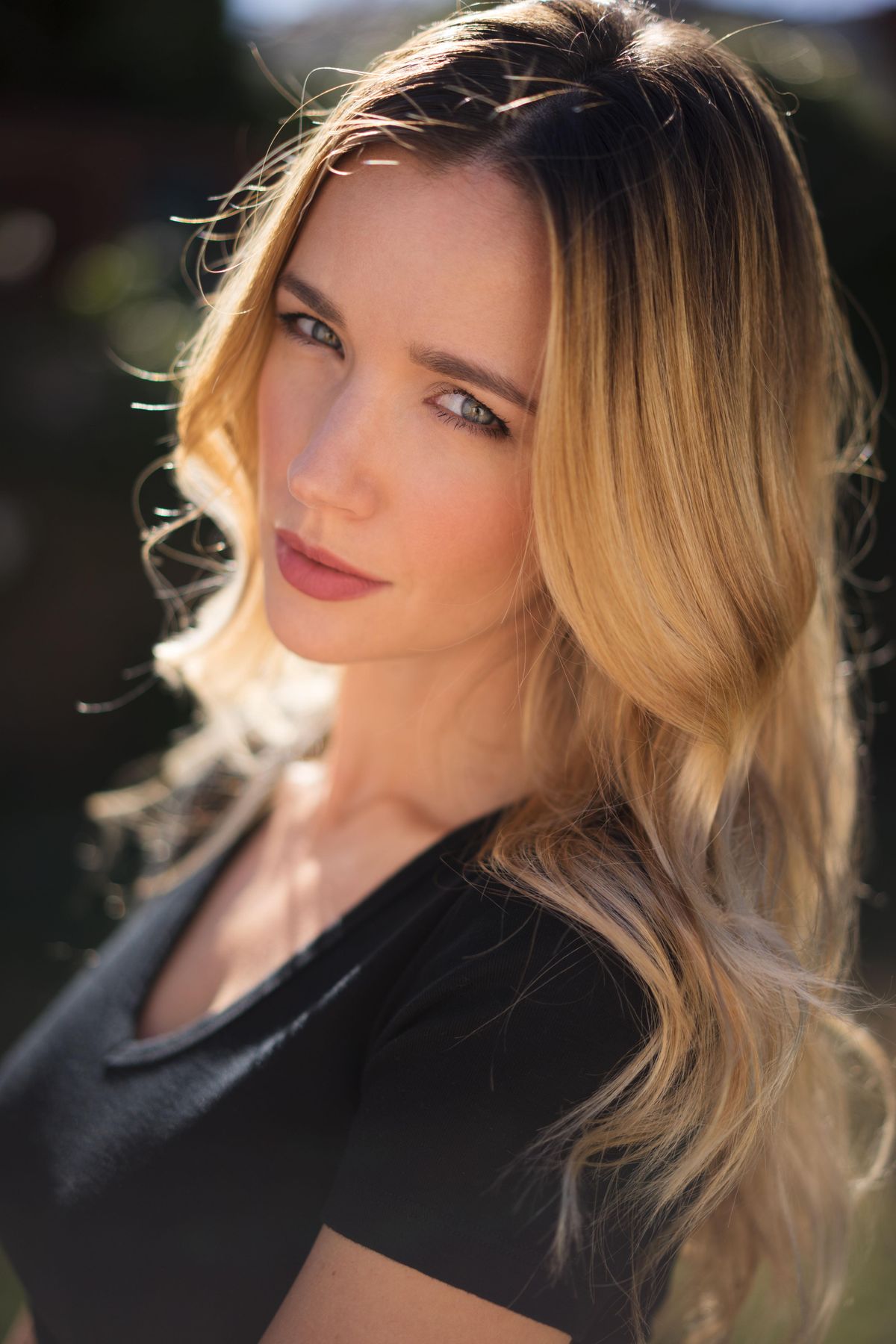 Commercial model and actress Farris Patton, who recently moved to Spokane, is appearing in a few campaigns right now, including a Sketchers commercial and print ads for Hyundai and La-Z-Boy. (Jimmy Patton)
They thought it might be Texas.
They're fans of "Fixer Upper," the home renovation and design show set in and around Waco. So they went to Waco – and Austin and Dallas – and even ended up hauling all of their stuff and young daughter to the Lone Star state in a rented truck.
Then, they decided it was "sweltering."
It wasn't a dry heat. It was humid.
And there were bugs. Lots of bugs – swarms of mosquitoes whose bites left big red welts in their wake, welts that wouldn't look good at auditions or on camera.
Plus, it turns out Dallas is a lot like Los Angeles, the place from which they were trying to escape. It was expensive, urban and crowded.
It just didn't feel right.
Farris Patton and her family – daughter Shane and husband Jimmy – went on the road late last summer, looking for a new home. The couple – sweethearts since their teens – wanted to raise their child outside of the expense and expanse of the palm tree-lined, crowded concrete jungle of Southern California.
They were searching for a more "wholesome" environment – someplace with a strong feeling of community where they could put down roots, start again and spend more time with each other and less time in traffic – when they stumbled upon Spokane.
LA was fun in their 20s but, "There's a lot of darkness there, you know," Patton said. "It's about money and status" – looks, too.
A successful commercial model and actress, Patton has about 100 national ad campaigns to her credit. She's perhaps best known for her role as the Orbit Gum Girl in the brand's "Dirty Mouth?" campaign, advertising gum with a bit of quirkiness and a British accent.
The accent is part of the character. Some people, she said, are disappointed to learn she's an American. Still, she carries extra packs of gum to give to people who recognize her. And she continues to do commercial work. In fact, she has several ads – a commercial for Sketchers and print campaigns for Hyundai and La-Z-Boy – running right now.
But, at 35, she has different priorities than she did when she first arrived in LA from Las Vegas – at 23 in 2006 – to pursue a career in front of the cameras.
But Patton never wanted to be a movie star. She wanted to star in commercials.
It was something she had dreamed of doing since she was a girl. Growing up, she was "obsessed" with TV commercials and accents of all kinds. She would watch soap operas with her mom just to see the commercials, and she would mimic them – ads for soda, toothpaste, barbecue sauce – practicing for her future career.
"I'm a big dreamer," she said.
The self-described "California girl" was born in the Golden State and raised in Arizona and Nevada. She was home-schooled through fifth grade, then attended a "really small" Christian school in Las Vegas, graduating in 2000 – a year early.
After working as a hairdresser for a few years, she started "dabbling" in modeling and acting while still living in Las Vegas. She was already married by then. She and her husband wed at the Little Church of the West on the Las Vegas strip just before she turned 19. He was 20.
When they moved to LA a few years later, she already had about 30 infomercials to her credit. And she didn't waste time trying to land more work.
"I drove there and literally went to open calls the next day," said Patton, who signed with Ford Models at 23 and started booking print jobs right away.
It took about six months to land her first national commercial gig. But, she said, she didn't get nervous going to auditions. At least, not then.
"I feel like I'm more nervous the older I get," she said. "It doesn't matter if you've booked 10 commercials or 100 commercials, it's still like your first day on the job. You're kind of back to square one every time."
She's appeared in ads for Comcast, KFC and Chevrolet as well as a Diet Coke commercial that aired during the Oscars in 2011. She's also voiced cartoons.
"I'll do cartoons because I sound like a 12-year-old boy," she said. "I can record (audition material) from home, but so can everyone else. It's so competitive."
The search for the second iconic Orbit Gum Girl, she said, spanned three continents.
To prepare for her audition, Patton watched videos on YouTube of her predecessor's work and dressed in the character's signature uniform: a white suit and scarf. After six weeks and five callbacks, she learned she landed the part, succeeding Vanessa Branch who had the quirky role – with its "Fabulous!" catchphrase – from 2006 to 2010.
Soon, Patton was shooting "weird little scenarios" on location in LA, New York, Chicago, Venezuela and Costa Rica – and loving it. "It was a dream job," said Patton, who got to be the Orbit Gum Girl for four years – from 2010 to 2014.
After the birth of her daughter Shane in 2015, Patton and her husband, a photographer who often shoots head shots for his wife, wanted a change of pace and place, a different quality of life, and began thinking about and researching their next move.
"I just wanted a nice community that was more family and less Hollywood," Patton said. "We wanted to start a different adventure somewhere" – somewhere, she said, "a little more conservative than LA. We could sell our house there and go somewhere else and not have to sit in traffic and deal with the taxes and the crowds."
Texas – where, Patton said, "the bugs were eating me alive" – was their second attempt at finding a new home. Before that, they were thinking North Carolina and spent two weeks in late 2016 touring Raleigh, Asheville and Charlotte.
North Carolina was a strong contender until their rented minivan was burglarized. Diapers were taken along with Patton's wallet.
"That felt like a sign from God," she said. "Something didn't feel right."
They learned of Spokane by word of mouth. Members of their church in LA told them about the town; before that, they hadn't heard of it. But it sounded like a place they wanted to see for themselves.
They were already enamored with the Pacific Northwest. Both of the Pattons "watch a lot of YouTube videos," including many filmed in the region. They were intrigued by the greenery, lakes, rivers and waterfalls, climate and cost of living.
So, at the end of last summer, during a visit to see Farris Patton's mom – who had recently moved to Bremerton – they tacked on a trip to Spokane.
With its evergreens and "up-and-coming but not too up-and-coming" energy, Spokane felt right. The couple liked the tree-lined neighborhoods, locally owned shops and restaurants, and sense of community.
So, at the end of October, after a couple of other false starts and lots of prayers, they moved here.
Four months later, they're still settling in, meeting new friends, getting involved with church, exploring the environs.
"I'm less stressed," Patton said. "I feel like we get to spend a lot more time with each other. It's a fresh start."
She still models and does commercial work as well as maintains several channels on YouTube, including the "Farris and Jimmy Show" with her husband. They document their daily life in 10-minute videos that show them doing things like searching for houses on Spokane's South Hill, decorating the one they bought, touring their new neighborhood and sharing sweet – and often goofy – moments.
Since arriving in Spokane, "We've been vlogging like crazy," Patton said. "We've been posting like three or four vlogs a week."
When their daughter turned 3 in January, the family marked milestone with a visit to Sweet Frostings and captured the celebration in a video they posted on YouTube.
Shane, an active, adventurous and "easily bored" toddler, is named in honor of her late uncle, a Navy SEAL who died at 22 in 2005 in Afghanistan. The helicopter Shane E. Patton was aboard was shot down during a rescue mission, and the ordeal was documented in the 2007 book "Lone Survivor" and 2013 movie by the same name.
Jimmy Patton, 36, talks about his brother's death while he's waiting in the car for his wife to finish an audition in vlog No. 17 of the "Farris and Jimmy Show," published Jan. 17, 2014. In the clip, he encourages people to see the movie, starring Mark Wahlberg.
"I'm proud of my brother," he said. "I'm proud of those guys. I'm proud of our American military regardless of what branch they're in. I mean they're fighting for our country. They're fighting for our freedoms so we can sit here in these cars and drive and go to stores and, you know, play with our phones and laugh and have fun with our families, and they're out there in the battlefield, fighting, for us."
When he's not vlogging with his wife or doing photography, Jimmy Patton works on cars, an activity he documents on "One Road Garage," a YouTube channel and website.
He's also interested in getting into the real estate business with his wife, investing in rental properties and maybe renovating – then selling homes – similar to their favorite show "Fixer Upper," starring Chip and Joanna Gaines, but without the furnishings. In fact, the couple recently purchased a second home, which they are planning to use as a rental property – as soon as they can repaint. They're also looking forward to hiking when the weather warms up as well as continuing to explore the region and rest of the Pacific Northwest.
"We have a lot of exploring to do," Jimmy Patton said. "It's a new chapter in our life. So far, it's off to a good start."
They've already found some favorite spots, including the Scoop on Spokane's South Hill. It was one of the places their real estate agent took them while they were looking for a home. They've since become frequent customers – going there "probably 10 times" just in the first six weeks they lived here, Farris Patton said. These days, they frequent the ice cream shop once or twice a week – "sometimes more."
Her favorite flavor is Banoffee Pie, one of the Scoop's signature flavors. But, she said, "I like to sample all of them. They're all seriously so good and different. Shane likes bubble gum" – when the flavor's available.
Rockwood Bakery is another favorite find. So is the Union, where Farris Patton attends spin class. She also recently joined a weekly Bible study.
"The Lord blessed me with this amazing dream-come-true career," she said. But, "maybe it's time to live a new dream. We spent a lot of time praying about what God wanted us to do. It was a really hard move for us. We were established in LA. We have a lot of friends there. But I think, ultimately, God led us on this journey. God led us here."
And, she said, "I don't really see us going anywhere else."
Local journalism is essential.
Give directly to The Spokesman-Review's Northwest Passages community forums series -- which helps to offset the costs of several reporter and editor positions at the newspaper -- by using the easy options below. Gifts processed in this system are not tax deductible, but are predominately used to help meet the local financial requirements needed to receive national matching-grant funds.
Subscribe to the Spokane7 email newsletter
Get the day's top entertainment headlines delivered to your inbox every morning.
---