The lure of sport fishing in Baja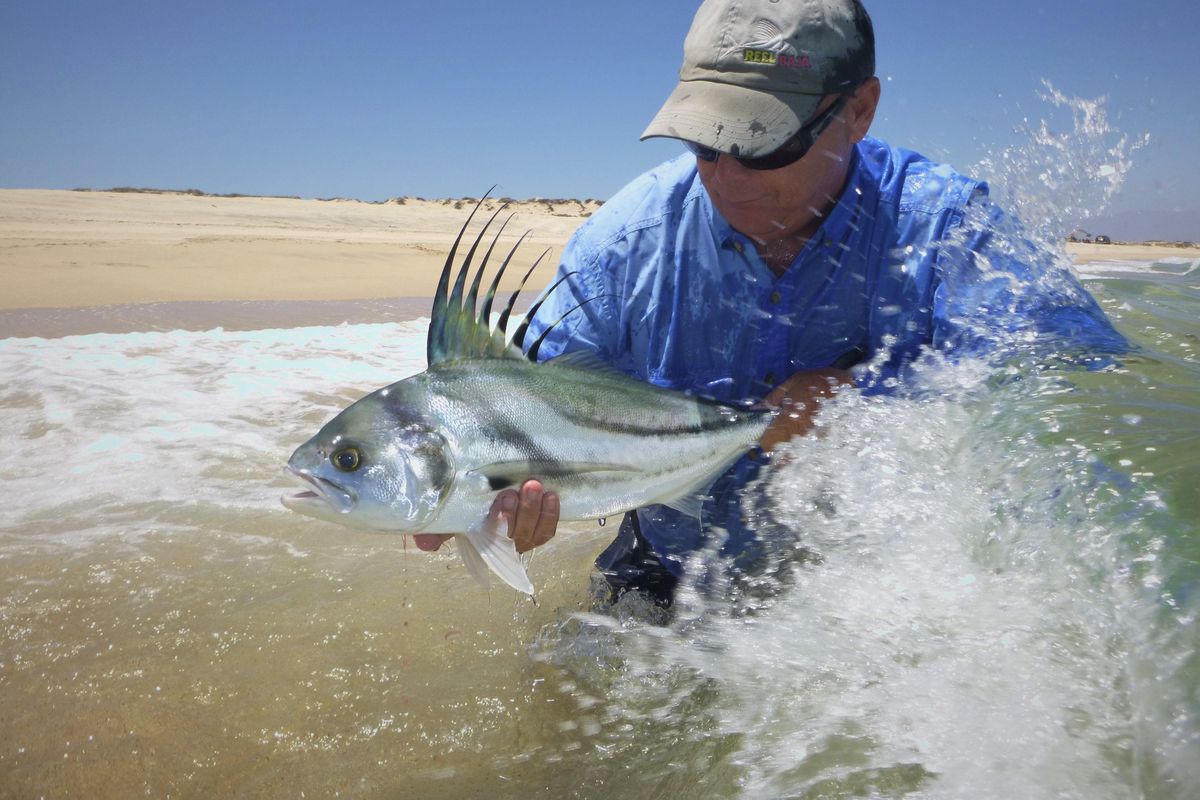 We were right there, just a short drive to the Baja tourist hot spot, but we never ventured over the hump to the party and skin show at Cabo San Lucas.
With the blessing of our wives, David Moershel and I were in Mexico to hook up – with fast fish.
It was April and pods of saltwater fish were beginning to show up for the season along the East Cape of the Sea of Cortez. We were aware the fishing would be better in May and June, but we hoped to get a jump on the fishing crowds, if there is such a thing there, and beat the heat while getting some of the first beach fly-fishing action of the season.
We understood that more and bigger fish would be caught if we hired a guide and headed out in a panga. A boat covers more water and puts anglers and their lures on the fish. Body-punishing marlin, sailfish, dorado, wahoo and other pelagic species that migrate in the nearby blue water would be available to us from a boat.
But hunting for fish and catching them with a fly from the beach simply sounded like more fun.
Soon after flying from Spokane to the Los Cabos airport, we started getting acquainted with scorpions and scoping out the fishing options.
We dropped in on Rob Benedetti, a former Spokane physician and outdoorsman who has retired to a second home at San Jose del Cabo. We hiked, mountain biked and rinsed off in his outdoor shower, where water flowed off our bodies into a bucket. Benedetti collects any gray water from showers or sinks for irrigating the desert plants growing around his yard.
"Beer can be in better supply around here than water," he said.
Ultimately, he whet our fishing appetites with grilled snapper tacos and margaritas overlooking a beach with crashing Pacific surf.
"We'll head over to the Cortez side for calmer water," Benedetti said.
We connected with Jeff DeBrown, owner of Reel Baja fly fishing guide service. He offers inshore and offshore trips, but he's also one of the pioneers of fly casting from beaches for roosterfish, bonita, ladyfish and jack crevalle.
The Beach Fishing 101 experience he gave us was money well spent. He would accelerate our learning curve through a tidal wave of mistakes.
DeBrown won our confidence by postponing our scheduled outing one day, and then again another day with reports that he simply wasn't seeing the fish, yet. "Save your money," he said.
On the third day, he reported seeing bait balls along shore, and we were off like firemen on an alarm.
DeBrown extended our reach by renting ATVs equipped with rod holders. Before the day was over, we'd cruise many miles of empty beaches from the Rancho Leonero Resort on the four wheelers as well as by foot, and sometimes in a footrace.
Standing in the sand barefooted in shorts and shirt, he did some fast tackle rigging magic with Bimini twists to connect 40-pound leaders to lines for shock absorption and strength, and perfection loop for tying flies to the tippet.
His initial pattern choices of were only about 4-5 inches long to buck the breeze.
"Longer flies work even better, but you have to be able to cast them," he said.
Each fly was enhanced with a permanent felt marker. "I'm blackening the last inch of the fly because we're imitating mullet, and those baitfish have black-tipped tails."
Armed with 9-weight rods rigged with 300-grain shooting heads, we set out.
"Mornings are usually best," DeBrown said. "And roosterfish seem more willing to hang closer to shore on incoming tides; more wary of the (shoreline) shelf in low tide."
He taught me to cast the streamer and strip in the line as though I'd win a million-dollar prize if I could get the fly back to the beach without it being molested by a fish.
"Strip like your life depends on it," DeBrown said. "Or die a loser."
Of course, the roosterfish, jacks and ladyfish we were pursuing could run down a fly no matter what we did. But the faster we could retrieve the more likely one of those fish would strike.
"Sometimes the roosterfish use the beach as a wall, herding preyfish almost to the sand before striking," he said. "If you get a follow, keep that fly coming all the way to the sand."
We'd look for dark blobs of bait moving along the shore. Cast and strip. During the retrieve, DeBrown taught us to walk backward to add even more speed to the retrieve and make sure the fly would keep moving even if we missed or hesitated on a strip.
"Bait fish don't hold their hands up and surrender," he said. "If the fly stops during pursuit, the rooster fish will turn away. Most of the time, the catch will be on the first shot. After that, the fish are likely to go on their way."
I've never looked so intensely through polarized glasses into the water as I did walking that beach. We hunted, sneaked and stalked and tried to get ahead of fish cruising parallel to shore.
Once I started running in the surf-dampened sand with the "Chariots of Fire" theme burning in my brain as I tried to keep up with a cruising pod of bonito. They won.
Casting into bait – a moving amoeba-like shadow in the water – I hooked a fish resembling a steelhead in size, silvery brightness and athletic ability. "Ladyfish!" DeBrown yelled with the inflection of a Yakima River trout guide calling out a lowly whitefish.
"I don't care what it is, that's one hell of a fish," I said after the "lady" shimmied out of the water six times before shaking me off.
Tangled line is part of the game. Surf doesn't just flow. It smashes, swirls, ebbs and flows around your feet. DeBrown fishes barefoot to eliminate straps, buckles and everything else that can – and will – snag a line.
I learned the hard way.
On my first good shot at a rooster, which turned out to be my best opportunity of the day, I bombed a second cast at a pair of hot incomers right at the beach. The surf had slipped my line over the little helper loop on the back of my otherwise smooth wading shoe. That was that.
Unlike DeBrown, my feet weren't toughened to the sand and sun. I ditched the wading shoes but kept on the socks.
A casting glove or finger cot is a good idea to protect index fingers from the cutting-edge friction of line that's always sliding – and sometimes screaming – between skin and rod handle.
We drove and hiked, taking cues on where to focus our hunt from the frigate birds, gulls and brown pelicans working the water in the distance.
Working in tandem produced some of our best action. Moreshel and I used fly rods while DeBrown and Benedetti "teased" the game fish using surf spinning rods to cast a heavy 2- or 3-ounce topwater lure 100 yards out into blue water beyond the shelf.
"I call it sucker casting," DeBrown said as he launched the lure with an athletic wind-up cast that reached out to fish beyond our fly-casting range. "A roosterfish is like a cat; it likes to hunt and chase."
They cranked the spincasting reels as fast as they could, making the lures skip across the surface chop. As the lures approached the beach, Moershel and I would cast a fly right on top of the lure to catch the attention of any following rooster fish.
The action as everything merged at the beach, especially when three or more roosters were competing for the fly, could be hysterical, and often humbling.
Crouching to snap a photo of DeBrown releasing a rooster, I braced for the chill as a wave crashed against us. But there was no chill. This was not April at Long Beach, Washington. The surf felt wonderful; not even a hint of discomfort. I took my time getting up.
"May and June can be great fishing, but it can be muggy," DeBrown said later over a beer at a beach cantina. "October might be the best month for fishing in comfort. The water is at its warmest and it's before the winds set up. The heat is falling off, but the fish are still in."
Hooking the power and speed of a saltwater fish can change an angler's perspective of life on the business end of a fishing rod. There's no turning back to trout for some anglers.
But DeBrown said he leaves Baja during the heat of the summer months.
"I head to Idaho," he said. "I head to the St. Joe, and streams like that."
"What makes you want to catch cutthroats and bull trout after matching up with finned torpedoes?" I asked.
"Because they're easy. Because they take dry flies. Because of the mountains – mountains with trees. You crave all of that when you're away from it a while."
That, and another beer or two, made the trip complete.
We'd hunted roosterfish and heard our lines sing off the reel. We'd acquired an appreciation for saltwater fish and the value of freshwater conservation. And we rejuvenated our appreciation for home waters.
It was still pre-runoff on the Coeur d'Alene River when we returned to the states. Game on.
---