Sports > NCAA basketball
Former Gonzaga Prep standout Sam Dowd plays big role at Idaho State
Tue., Feb. 20, 2018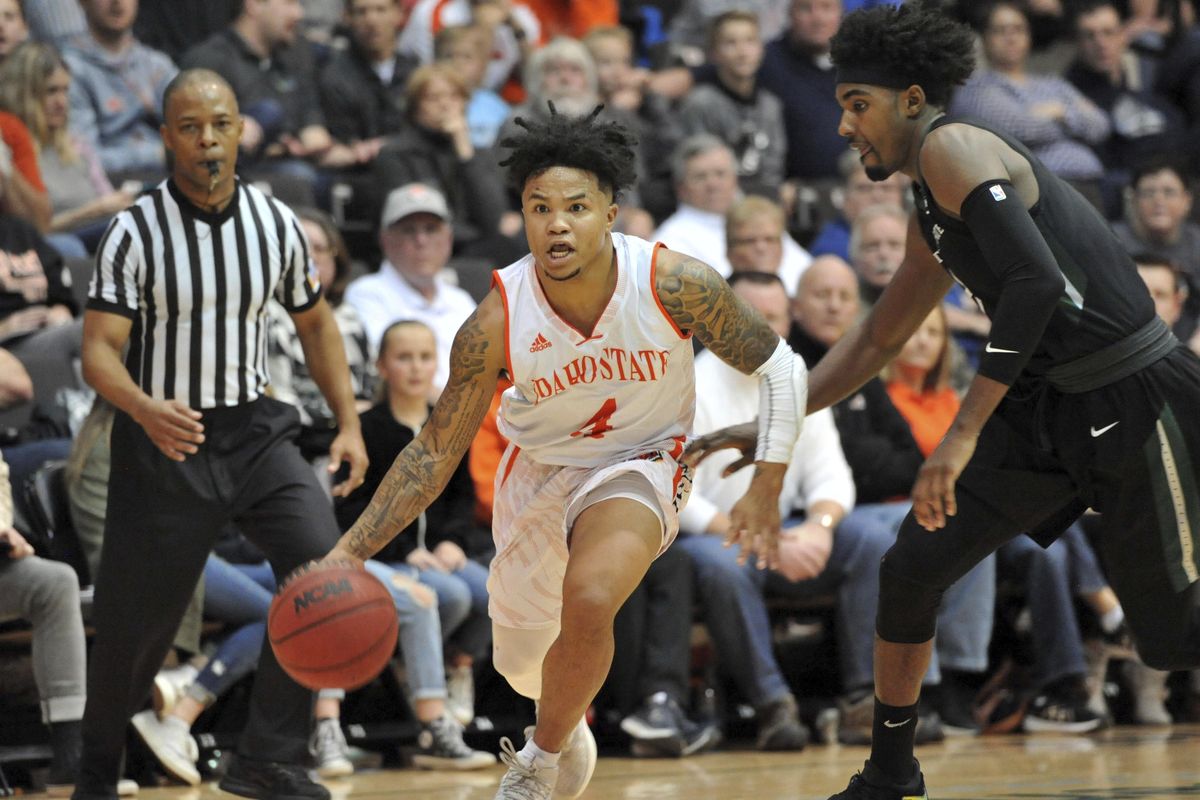 Idaho State's Sam Dowd dribbles during an NCAA college basketball game against Youngstown State in Pocatello. Dowd found himself homeless at 13 and spent the next few years living with friends, occasionally sleeping outside the school when he had no place to go. Thanks to hard work and the generosity of coaches and families along the way, the undersized point guard realized his dream of playing Division I basketball at Idaho State. (Julie Hillebrant / Associated Press)
Nothing in Sam Dowd's life has come easily.
At 13 years old, Dowd had to learn his way around the streets of Seattle after he was kicked out of his home by his troubled parents.
For two years he jumped around from one friend's house to another's. Some nights he was left without the option of a temporary bed and had to sleep outside. Often he wondered when he would get his next meal.
In his two years on the streets, he played for an AAU team in Seattle. While playing, he met Reed Hopkins, whose family agreed to take Dowd in for a year. The Hopkinses lived in Spokane, so Dowd packed up what little things he had and moved across the state.
Two days after moving, Dowd started his sophomore year of high school at Gonzaga Prep, where he played football and basketball. He became friends with football teammate Matt Miller, who convinced his family to take over where the Hopkinses left off.
The Millers eventually adopted Dowd, who has been part of their family for six years.
Moving across the state for a new start meant the possibility of living out his biggest goals in life. Dowd's dream since he was in middle school was to play Division I basketball, and suddenly it had seemed possible to achieve such a goal with the help of the Millers and G-Prep.
But Dowd still had more obstacles waiting for him on the college courts.
He was quick and scrappy. He was a team leader and earned all-Greater Spokane League first-team honors, but those qualities didn't add inches. Being on the shorter side seems like a minor issue for Dowd in high school, but height alone could keep any top-of-the-line player out of Division I basketball.
Dowd knew that better than most players looking for an opening on a D1 roster. Some coaches were impressed by his numbers he put up at G-Prep, but their interest deflated once they saw "5-foot-7" written in his profile.
Most coaches took a pass on the shorter guy with the big scores and multiple state tournament appearances. Some decided to hold out on Dowd for a couple of more years, as if he was going to get a sudden growth spurt.
"People think I'm going to wake up and I'm going to be 6-3 the next day – that's not going to happen," Dowd said.
Those who did give him an honest chance and invited him to the campus couldn't overlook Dowd's stature once they saw him in person.
"When I would get off the plane, they were like, 'Oh, you're not 5-7, you look 4-11,' " Dowd said.
Carson Cunningham at Carroll College in Helena talked Dowd into playing for his NAIA Division I basketball team with a redshirt right after high school. The following year, Dowd found another coach closer to Spokane, North Idaho College's Corey Symons, who gave Dowd a chance at the junior college level for two seasons.
NIC cut down the travel time between Dowd and the Millers in Spokane, but it left him with an itch for the Division I court he had dreamed about for so long. Dowd started contacting D1 teams again and prepared for the inevitable "too short" assessment. He managed to garner some interest from coach Bill Evans at Idaho State and was invited to Pocatello for a visit.
When Dowd finally met Evans in person, it was something similar to what he had experienced two years earlier. His height was a bit shocking to Evans, especially when Dowd stood next to Bengals 7-footer Novak Topalovic.
But Evans' optimism for Dowd becoming a D1 player was overwhelming after he came to understand Dowd's past and his resiliency, selflessness and his "desire to make others around him better."
"Those are the things that he brings every day, and not everybody can do that," Evans said. "Not everybody is willing to sacrifice themselves for the good of others, but Sam's willing to do that."
He dug into Dowd from the start of the season and pushed him to work harder than anyone else on the team. Evans was sure that improving other parts of Dowd's game would make up for his lack of height.
"He was like, 'This is what we've got to work with. So you've got to be a scrappy guy, every play, every possession, and you've got to get after it,' " Dowd said. "He challenged me. He challenged me every day."
Dowd was awarded a full ride to Idaho State and got his first start in an 83-62 loss to Washington State on Nov. 18. A week into the season, he was right where he wanted to be – leading a team on the floor for 16 minutes and scoring five points for the Bengals.
The quick promotion to the starting five was nice, but as Dowd has come to understand, nothing in his life comes that easily.
For weeks, Dowd was put back in rotation and came off the bench when needed. It wasn't until mid-January when Idaho State visited Northern Colorado that Dowd got back in the starting lineup. He started seven consecutive games before dropping back into rotation earlier this month.
But Dowd isn't concerned with hearing his name announced at the start of a game. He just wants to get better. Seven starts in a row for a self-proclaimed little guy is enough proof to Dowd that he has made noticeable strides on the Bengals' court.
"At first it was a struggle because you hit the DI level and you're just like, 'Whoa.' Especially coming from the junior college, you're just thrown into the fire coming in as a junior," Dowd said. "I struggled at first, but I just got better and never got discouraged."
This week, Dowd will be up against some familiar teams inside the Reed Gym in Pocatello. The Bengals host the Idaho Vandals on Thursday, but Dowd is most anxious for Saturday when the Bengals will welcome the Eastern Washington Eagles and Dowd's childhood friend.
Eagles forward Bogdan Bliznyuk knew Dowd when they both lived in the Seattle/Tacoma area. They often played against each other on the court throughout middle school and for part of high school, even after Dowd moved to Spokane.
Saturday will be the first time they've played against each other since their senior year of high school when the two went head-to-head in the first round of the 2014 State 4A tournament.
Bliznyuk and the rest of the Todd Beamer squad defeated Dowd and the Bullpups that day, but Bliznyuk, who stands 6-6, knows too well to not overlook the scrappy guard with the small stature.
"It's kind of his chip. It gives him drive and it gives him focus," Bliznyuk said about Dowd's height. "It really pushes him to prove people wrong and it gives him an edge when he's competing."
Dowd is convinced that on Saturday he'll be a bit quicker than Bliznyuk might remember from their high school days. Since coming up in the D1 world, Dowd said he's been "growing every day" in his physical play and in his confidence, which has started to make him feel not quite as small as he looks.
"I feel about 5-9 today," Dowd joked.
And who knows? Maybe he'll wake up on Saturday feeling 6-3.
Local journalism is essential.
Give directly to The Spokesman-Review's Northwest Passages community forums series -- which helps to offset the costs of several reporter and editor positions at the newspaper -- by using the easy options below. Gifts processed in this system are not tax deductible, but are predominately used to help meet the local financial requirements needed to receive national matching-grant funds.
Subscribe to the sports newsletter
Get the day's top sports headlines and breaking news delivered to your inbox by subscribing here.
---