Sports > High school sports
Colville's Trent Baun follows brother's path to third consecutive state wrestling title
Feb. 21, 2018 Updated Wed., Feb. 21, 2018 at 6:59 p.m.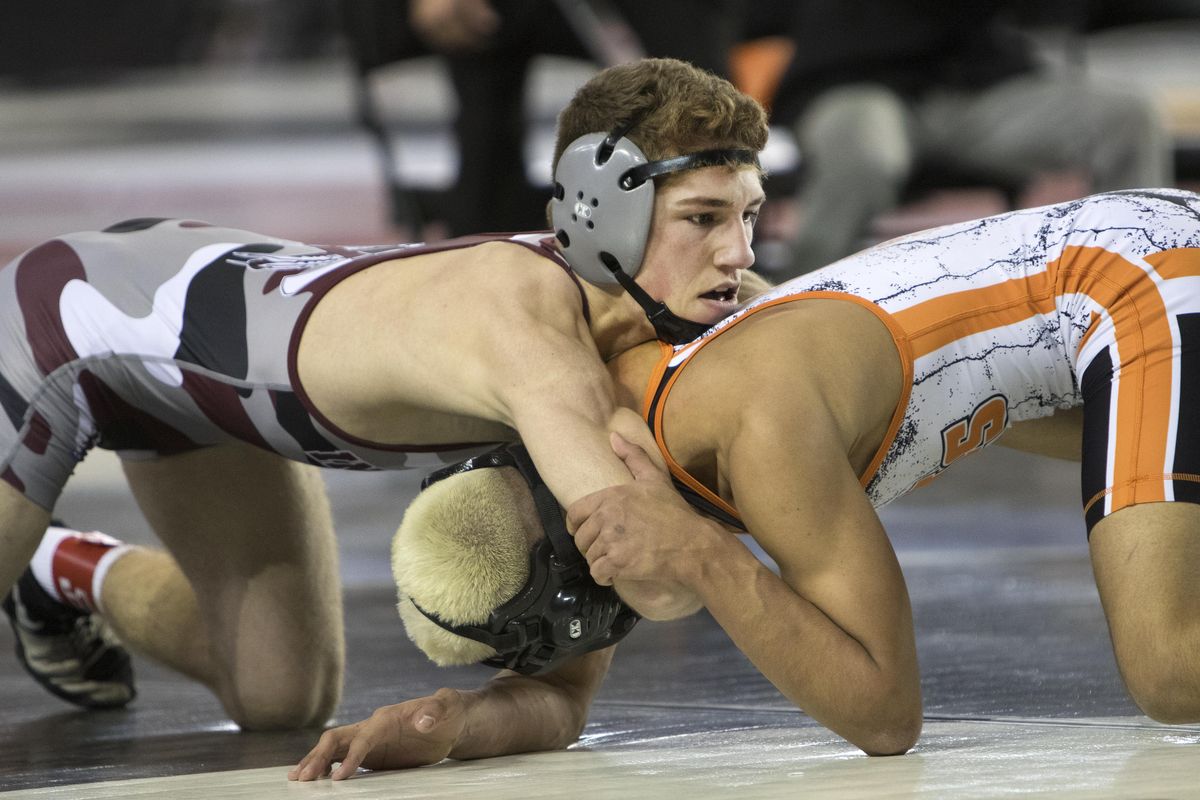 Colville's Trent Baun controls Zillah's Joel Coronel from the top in their 126-pound State 1A championship match last Saturday in Tacoma. (Patrick Hagerty / For The S-R)
Last Saturday at Mat Classic XXX in Tacoma, Colville junior Trent Baun won his third consecutive state title, pinning Joel Coronel of Zillah in the 126-pound finale.
Just one of the remarkable things about Baun's third title is that it came in his third weight class. He started at 113 his freshman year, moved up to 120 his sophomore season and wrestled at 126 this season. He's 115-11 in high school with 63 pins.
He hopes to wrestle at 132 next year to pull off a rare accomplishment of winning a state title at four weight classes.
Baun has grown in stature as he's aged, but to wrestle at 126 this season he needed to make a concentrated effort to stay at the weight.
"It's been pretty natural," Baun said of his growth spurt. "I noticed the pattern, though, starting at 113 then 120 and I was like, 'Hey, that's kind of cool if I can win at 126.' So I made it a point to drop another weight class because I wasn't sure if I was going to stay at 132 all year or not. I dropped just to try to make it a pattern."
His father, Tom Baun, said it wasn't as simple as Trent makes it out to be.
"It was no easy task for Trent to be down there (at 126)," he said. "He doesn't walk around at that weight and he ran mornings and nights besides practice just to stay in really good shape and keep that weight down.
"There were really no days off for him."
Colville wrestling coach Randy Cloke confirmed the effort Baun made this season – even though Baun admitted the running was repetitive and "boring."
"No one is going to be in better shape and conditioning than him," Cloke said. "He really works to do those kind of things outside of the practice room alone.
"He wants to make sure that he prepares himself to that level."
Trent follows in his brother footsteps. TJ Baun was a two-time state champ for Colville and could have had a third were it not for an elbow injury sustained during the state final his junior year. TJ could have taken an injury withdrawal and claimed the title, but after being cleared medically he decided to continue on.
"If TJ doesn't get up (from the injury), he would have won his second state title and we would have won our first state title in school history in the sport of wrestling," Cloke said. "But to TJ, it's just what you do. You just wrestle. It wasn't even an option."
TJ received a Congressional appointment to the Naval Academy and tried out for the wrestling team. The Midshipmen had two returning upperclassmen at his weight, so he missed on final cuts but plans to try again next year.
Integrity runs in the family, too.
There's a third, younger brother, Tyler. According to the boys' father, wrestling "isn't Tyler's love." But Tyler wrestled last year as a freshman and placed seventh at state at 138.
"He wrestled last year for his brothers," Tom Baun said. "He knew there was one year they could do it and to push through, especially in our league, to push through and make it and to place (at state) – that was cool."
Heading to state, Cloke said that Trent knew he had a target on his back. He was named one of eight "untouchables" by the Tacoma News Tribune in its annual state preview that ran last Thursday.
"Going into the tournament, he knew he was a two-timer and looking to three-time and the pressure that goes with that," Cloke said.
Cloke said Baun just went about his work.
"He's such a good kid," he said. "He's quiet that way. He's not obnoxious, he's not boastful. He just unassumingly takes this on and that's kind of the way he wrestles."
Not only did Baun win, he dominated. He earned three falls – including the final – with a technical fall added for good measure. Cloke said Baun went out of his way looking for pins to help out the team aspect.
"We talked about it going in that we were potentially in the (team) title hunt," Cloke said. "They had us picked third coming in and we wanted to take a shot at Deer Park. We knew we needed to do those bonus points (for pins) and he just took that on."
It wasn't quite enough, though, as Colville finished second in state to Deer Park.
Cloke, in his 10th year at Colville, said Baun can certainly wrestle at the next level but is happy his three-time state champ and team captain returns for his senior season. Baun also sports a 3.8 grade-point average and is a member of the National Honor Society.
"What kind of joy is that as a coach?" Cloke asked. "I tell everybody when I talk about Trent Baun he's a phenomenal young man that just happens to be a great wrestler.
"He's just truly a kid of character. They only come around once in a great while."
Local journalism is essential.
Give directly to The Spokesman-Review's Northwest Passages community forums series -- which helps to offset the costs of several reporter and editor positions at the newspaper -- by using the easy options below. Gifts processed in this system are not tax deductible, but are predominately used to help meet the local financial requirements needed to receive national matching-grant funds.
Subscribe to the sports newsletter
Get the day's top sports headlines and breaking news delivered to your inbox by subscribing here.
---